| | |
| --- | --- |
| Pigskin Prophet: Enemies With Enmity Edition | |
---
| | |
| --- | --- |
| Wednesday, July 29, 2015 8:07 AM | |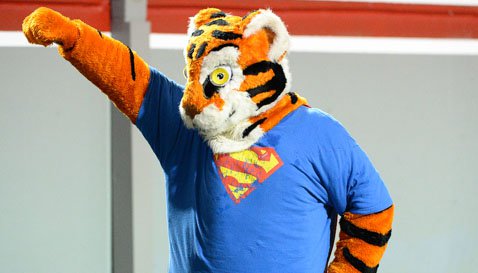 In case you haven't noticed, college football is here. The enemies are at the gate. It's time to circle the wagons, defend the fort and any other cliché you can think of. Defend yourselves!! What does the season hold for teams around the region?
The Pigskin Prophet had a relatively uneventful summer, but that all ended last week when that one friend I have from the University of South Carolina asked me to take on a special job, a job I am qualified for because I know how to turn on a computer and access the interwebs. I am now an official Defender of the Realm.
You see, South Carolina head coach Steve Spurrier called a press conference last week to announce something important – he and his program were being attacked unmercifully by Enemies With Enmity (that is the official code name for the enemies of the program). Deshaun Watson

Deshaun Watson
So. Quarterback
#4 6-2, 205
Gainesville, GA
View Full Profile was mean. Writers were mean. Artavis Scott

Artavis Scott
So. Wide Receiver
#3 5-10, 190
Oldsmar, FL
View Full Profile was mean for stepping on a player. Broadcasters were mean. And dangit, they were all making fun of the fact that he turns 87 this year.
So my department was created to point out Enemies with Enmity, and my job as a Defender of the Realm is to make a list of all Enemies, foreign and domestic, who reference Spurrier or the program in a mean-spirited way. We search for keywords like "old" and "haggard" and "whiny" and "lost his mind" in the same paragraph as the name Spurrier. Once a target has been identified, Spurrier calls them up (let's say it's someone named Tony) and says, "What do you want me to do, Tony???"
I don't man a wall, a parapet or defend a fort. I sit at a computer and I Defend the Realm from Enemies with Enmity. It's a job. And remember, it's all in fun.
NORTH CAROLINA
The Heels have had to endure a brutal summer - some of the players actually went to a real class – and now are ready to get back into the swing of football and no classes. The good news for the Heels is that after years of defensive inadequacy, they finally have a coach who can coach a little defense in Gene Chizik. Chizik is known for his brilliance in coming up with witty slogans – all on his own – that can define a program, and this year is no different at UNC. The slogan the defense has for this season is "Please don't squeeze the Charmin." It sounds good. Have no idea what it means. Chizik was asked about the slogan and if it was really his, and he called a hasty press conference to tell everyone that, "we have enemies." Stay tuned.
GEORGIA TECH
The Jackets have also had a quiet offseason after defeating a team from the vaunted SEC West in the bowl game. Ok, they didn't just beat them. They shellacked them. Paul Johnson and his crew have things on the upswing right now – he's taking 2-star and 1-star and 0-star prospects and teaching them to just lay down all over the field and it's working. Add in the new major that Tech has added in an effort to draw in football players – Shattering Kneecaps 101 – and the Jackets are considered the favorite to win the ACC Coastal Division. Johnson was asked about being picked to win the division at the ACC Kickoff in Pinehurst last week, and he picked up his playbook, hissed, "Come my precious. Yes my precious." Then he ran off into the night screaming about his "enemies." Stay tuned.
GEORGIA
The Bulldogs have as much talent as anybody in the country, but head coach Mark Bowden…errr I mean Richt…hasn't won an SEC title in a decade. That's a long time for one of the nation's premier programs to go without winning a championship. Of course, a team from the vaunted SEC Least hasn't won the SEC Championship since 2008, so it's not like other teams in that division are passing them. BowdenRicht has perhaps the nation's best running back in Nick Chubb, and there is talent to burn all over the field. Richt just needs to channel some fire and passion from somewhere – maybe he needs to dream up some enemies! That would do it!!! Stay tuned.
SOUTH CAROLINA
Snort. The paranoia is strong in this one. Stay tuned.
FLORIDA ST.
The Seminoles have NOT had a quiet offseason. First we learned that a former Florida receiver named Tyler Jacobs had "infiltrated" Jimbo Fisher's "ranks." Talk about an enemy at the gates. Then we learned that FSU's running backs don't like dogs and their quarterbacks don't like women. Yikes. Fisher was asked a lot of hard questions at last week's ACC Kickoff, stuff like "what's your favorite color" and "who was your favorite band growing up" and he answered them all with aplomb. We've heard that one of the Florida St. officials met with the team and suggested they stop frequenting bars because "we have enemies out there" who are trying to take us down. He meant the police. Stay tuned.
AUBURN
Auburn is a school that faces a lot of expectations in the rugged SEC West. They have the tradition. They have the talent. They have the chipmunk mascot who is just cute. And now they have the Siamse twins head coaching tandem (snort) of GusChamp! GusChamp has the fans on the Plains excited about the future, at least until Will Muschamp blows a vein in his forehead when two of his defensive linemen tackle each other. That won't be good. Auburn has questions at quarterback and needs to replace other talent on that side of the ball, but old Malzahn has a plan in place. He knows the enemies are ready to knock his offense off its high perch, and by enemies he means Muschamp and the defense. Stay tuned.
ALABAMA
You didn't hear this from me, but we are hearing old Nick Saban is thinking about cancelling all of his team's games this season because of distractions. Distractions are the enemy!!! They lost a bowl game because they had the distraction of not wanting to be there and they lost last year to Ohio St. because so many of his salaried players had already received their NFL draft grades. He can't have that. No sirree Bob. Other than just not playing games, he might want to kick out all of his enemies and just have no press conferences and play every game in front of only one fan – Harvey Updyke. Keep the enemies at bay Nick!!! Do it!!! Stay tuned.
MIAMI
I hate to tell you this, but Miami has been keeping away its enemies for years. And its fans. As in no one shows up for the home games at Pro Player Joe Robbie Blockbuster Coral Reef Sun Trust Pro Player Park Dolphins Stadium Land Shark Enemies with Enmity Field. Al Golden has known about this secret for years. And Clemson has to play there this season, bringing REAL enemies to the gates. Stay tuned.