| | |
| --- | --- |
| Pigskin Prophet: Championship Week Edition | |
---
| | |
| --- | --- |
| Friday, December 5, 2014 2:01 PM | |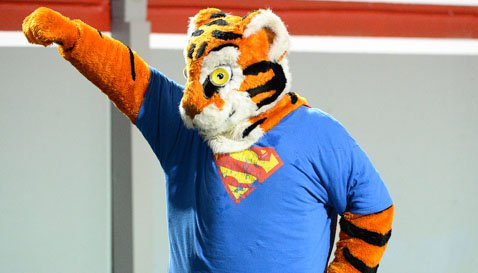 I can't believe that championship week is here already. And while I thought that I had been forced into retirement after last week's picks, Crump cleaned out his garage and found another stack of Burger King coupons and AOL start up disks next to his 8-track tapes.
So here I am. And it's a good thing because funds were running a little low. As you know, I had been working what we called the "Gamecock return desk" at a Wal-Mart down in the midlands, and that has really kept them hopping since the loss at Kentucky. Add in the loss to Tennessee at Williams-Banner Stadium, and we had more returns than we knew what to do with. We decided we would ship all of the "SEC East Champs" shirts and hats to third-world countries – like the area that surrounds Williams-Banner Stadium – but quickly found out we were taking in more than had ever been sold.
It all came to a grinding halt one day when one mullet-wearing woman came and in and tried to return a shirt that said "Beat Navy" and really and truly looked like it was from 1984. As a result, we started handing out cards directing these people that no more Gamecock gear could be returned, and we gave them directions to the nearest Goodwill.
Until Goodwill filed a court order, and now there are piles and piles of garbage littering the streets. You know, like a normal game day at Williams-Banner. But I digress…let's get to the picks. And remember (I got it Crump) it's all in fun.
FRIDAY
OREGON VS. ARIZONA
Hey Michigan!! Don't you wish you had let RichRod continue to do his thing up there? Instead, you've got a mess and RR has his guys in the championship game of the Pac-12. The Ducks have been really good over the last several seasons, except when it counted. Tonight it counts, because a win puts them in the four-team playoff. Arizona has already plucked the Ducks one time this season, and another win would certainly create chaos for the College Football Playoff Committee, a group that is already receiving death threats from Paul Finetuneinbaum. Oregon beats the rap this week, and gets the win. Finally. OREGON 42, ARIZONA 34
SATURDAY
ALABAMA (aka South Carolina) VS. MISSOURI (aka South Carolina)
Ah, Missouri (aka South Carolina). They made the SEC Championship Game because they are the strongest team in the SEC LEast, which is kind of like saying you have the biggest army out of all the Caribbean nations. But you can bet – and I mean bet – that SEC officials everywhere are pulling for the Harvey Updykes (aka South Carolina). A win by the Caribbean nation would mean the beloved SEC might not have a team in the four team playoff, and SEC fans might revolt and threaten to start their own league, where the SEC Champ is THE CHAMP every year and even South Carolina can finish with a top five ranking (well maybe not). If you wanna have a drinking game that is guaranteed to get you drunk, watch an Alabama (aka South Carolina) game and count how many times the sideline official looks back at the sticks and then nudges the ball forward when Bama (aka South Carolina) has the ball. It happened 11 times last week against Auburn (aka South Carolina), including three times when Bama (aka South Carolina) gained a whole yard off the spot. No, the fix is in, and the good news for those SEC folks is that Missouri (aka South Carolina) – while they are okay – isn't an elite program. They might hang with the Updykes (aka South Carolina) for a quarter or so, but Nick Saban understands that playing a team from the SEC LEast is like playing one from the Southern Conference – they should win easily. And they will. ALABAMA (aka South Carolina) 37, MISSOURI (aka South Carolina) 20. Yep, I'm calling it now. South Carolina wins the SEC Championship and can wear those hats with pride!!!
FLORIDA ST. VS. GEORGIA TECH
You can already write this one down. Jameis Winston could run out on the field in pregame, put Ron Cherry in a headlock and "give him the business" and ole Bimbo Fisher would run out and claim that Jameis is misunderstood and really a good kid. At that point, ole John Swofford would put Georgia Tech on probation for Winston's actions while wearing his baby blue, and Ron Cherry would jump up off the dirt and throw a flag that would disqualify a Clemson player for targeting. Ahhhh…the good old ACC. The Seminoles haven't made things easy this year, and the fact that they have kept on winning completely escapes the College Football Playoff Committee, which penalizes the 'Noles for winning. But let's face it, the committee is the only group that penalizes Florida St. football for anything, so there's that……Paul Johnson and his group of falling down offensive linemen have won the ACC Coastal, which is almost as bad as the SEC LEast. They've done ok with falling down against Duke and Pitt and the other also-rans, and caught Clemson on a day when their backup quarterback had vision problems. This one will be fun to watch, and Jameis avoids jail time with a big win….FSU 34, WRECKERS 26
OHIO ST. VS. WISCONSIN
Urbanspoon Meyer and Ohio St has to figure out a way to recover from losing yet another starting quarterback to injury. With Wisconsin, you know what you're going to get – run the football, followed by a run, followed by a run, followed by a run, followed by a run. Ohio St. hasn't fared well against the run this season, and for a team that wants to show the committee that they belong in the playoff talk this Saturday sets up as a big letdown. Cardale Jones is talented, but he isn't Barrett and Wisconsin's front four might be able to rattle the youngster. However, it seems like every time you count out Ohio St. they find a way, and this one should be one of the more fun games to watch this weekend. Can the Buckeyes use that chip on their shoulder to get a win? WISCONSIN 30, URBANSPOON 27
KANSAS ST. VS. BAYLOR
Baylor quarterback Bryce Petty has struggled with injuries all season, and I will be interested to see if South Carolina fans set up pickets outside of the stadium to protest Petty playing after suffering a concussion. As we all know, Gamecock fans have turned into a focused and compassionate fan base when it comes to injuries, and they are especially concerned with quarterbacks. But it won't matter – Petty will play and Baylor will do what it does, which is score points, Kansas St. has had a nice season, but they don't have enough athletes to contain Baylor out on the edge. Baylor wins a high-scoring affair. BAYLOR 38, K-STATE 30