| | |
| --- | --- |
| Pigskin Prophet: Big guy on a pole edition | |
---
| | |
| --- | --- |
| Thursday, September 25, 2014 11:16 AM | |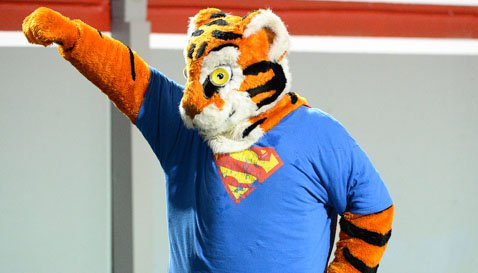 Well, the old Pigskin Prophet has been fired at Florida St. I am no longer in charge ole Famous Jameis Winston and trying to keep him out of trouble. I turned my back for one second Saturday night and he got us both in trouble.
If you remember, I took the job as the "Get Back Guy" for Jameis, and I felt like I had done a decent job all week with the kid. I had kept him away from Burger King and Red Lobster and Publix and sorority row, and things seemed like they were settling down.
Prior to Saturday's game against Clemson, I went with Winston into the Florida St. locker room, and he asked if he could be excused to use the restroom. Well, I wasn't gonna follow him in there, and even though it seemed like he was taking longer than usual I didn't pay it too much mind. Instead, I talked to a rich white kid who dresses like a Native American so he can throw a flaming spear into the ground and terrify opponents (almost as terrifying as South Carolina's rooster crow or Virginia Tech's turkey gobble).
After about ten minutes, the bathroom door opened and out raced Jameis in full uniform. He got to the field before me, and started warming up with the team. As a result, I was there for his conversation with Seminole head coach Jimbo Fisher.
Fisher: Jameis…we talked about this. You can't play today.
Winston: You was serious about that? Nah, you was just kidding. You've let me play all those other times. C'mon man, was you for real?
Fisher: Yes, I was for real. My boss says you can't play. I would let you play, but those meanies tell me you have to sit out this one.
Winston: You mean I can't wear my uniform? And I can't keep the team skrong???
Fisher: No. You have to go change.
Winston: You ain't serious. I am playing right? Where is Ashton Kutcher? I am being punked, right? Ashton, I ain't falling for it.
Fisher: Jameis, just go change.
Fisher then glared at me and told me I was fired. Tough crowd in Tallahassee.
Onto this week's games, and it's all in fun.
SATURDAY
TENNESSEE AT NO. 12 GEORGIA
The Volunteers haven't had an easy time of it so far in 2014, and this weekend won't be any different. Georgia is loaded, and we're not just talking about their players and guns. The Dawgs have the best running back in the country in Todd Gurley, but he isn't the only weapon Mark Richt has at his disposal. Freshmen like Nick Chubb and Sony Playstation Michel mean the future is bright in Athens as long as they can all stay out of jail. The poor Vols will begin a sentence of their own Saturday afternoon as the Bulldogs look to claim domination of an SEC East that is weaker than normal. GEORGIA 35, TENNESSEE 14
VANDERBILT AT KENTUCKY
ESPN tells me this is a GREAT game because it features two GREAT SEC programs. Kentucky would win the NFC East, and Vanderbilt would win the AFC West if they weren't confined behind all of those great SEC programs like Ole Miss and Florida. In truth…Yawn. KENTUCKY 34, VANDY 17. But if an SEC game is played in a vacuum and nobody watches or cares, did it actually happen???
WAKE FOREST AT LOUISVILLE
Poor Dave Clawson. Wake Forest had four out of conference games, and they used the Alabama scheduling method in playing the likes of Utah St., Army, Gardner-Webb and ULM. And still went 2-2. How bad is it for Wake Forest right now? Clawson got on Wednesday's ACC call with the media, and had exactly one question, and it was about his mother's meatloaf recipe. The rest of the time was spent in awkward silence. This week, there won't be silence as he takes on Volleyball Petrino and the Papa Johns cheer squad. This one is ugly. Really ugly. LOUSIVLLE 41, WAKE FOREST 10
WESTERN MICHIGAN AT VIRGINIA TECH
The Virginia Tech coaches wanted to get more out of quarterback Michael Brewer last week, so they sat him down to watch video of former quarterback Logan Thomas. The strategy worked, as Brewer went out and threw three of the most horrific interceptions you've ever seen in handing a personalized win to Georgia Tech. The poor kid. He just needs to be taller. Yeah, that would do it. VIRGINIA TECH 40, WESTERN MICHIGAN 17
NO. 1 FLORIDA ST. AT NC STATE
The stadium in Raleigh has been a house of horrors for Florida St., and it was never more horrible than two years ago when a talented Florida St. squad had to watch a rather portly young man do a pole dance as he celebrated a Wolfpack win. N.C. State is undefeated, but their Alabama scheduling matrix had them playing such luminaries as Presbyterian, Old Dominion, Georgia Southern and South Florida. That's weak. This week, they get the nation's number one team and it's goofy quarterback, and it will take more than a fat kid on a pole to get the win. FLORIDA ST. 45, NC STATE 13
MINNESOTA AT MICHIGAN
Michigan. The perfect example of what happens when a program gets arrogant and decides they have to change coaches every three years. Last week's loss at home was an embarrassment, and saw coach Brady Hoke cursing his assistants on the sideline and saw only nine Michigan defenders on a punt return that went for a touchdown. How bad will it get in Ann Arbor this week? Well, it can't get worse, right? The Hoke Choke escapes this week as they beat Minnesota. MICHIGAN 28, MINNESOTA 20
TEXAS AT KANSAS
Charlie Strong doesn't play around, does he? He has suspended half of his football team and kicked the other half off the team, meaning he is playing with walk-ons, 1-stars and student assistants. Which means they are still 10 points better than Wake Forest. And Kansas. TEXAS 30, KANSAS 13.
MISSOURI AT SOUTH CAROLINA
This is a game that features two of the nation's best defenses (snicker snicker). In case you missed it, the SEC is no longer about defense. Missouri is particularly awful on defense, and they are ranked 73rd nationally in total defense. South Carolina is ranked 114th in total defense (I kid you not) which puts them slightly behind traditional powers like UTEP, Kent St. and Colorado St. and just ahead of stalwarts like Troy and Idaho. While they may be bad on defense, at least their special teams are horrible (snicker, snicker) in allowing two returns for touchdowns against Vanderbilt (think Wake Forest) a week ago. This is a GameDay game, which means ESPN must think the old ball coach is gonna implode at any minute. This one could be fun, however. The home roosters get to crow….SOUTH CAROLINA 82, MISSOURI 77 in a typical SEC East shootout.
UNC AT CLEMSON
Speaking of fireworks – North Carolina gave up 70 points to East Carolina last week. This week, they get a night game in Death Valley, and their secondary gets to face Clemson's Deshaun Watson

Deshaun Watson
Fr. Quarterback
#4 6-3, 204
Gainesville, GA
View Full Profile and a bevy of young playmakers. Honestly, North Carolina's defense is now being called the "France" of college football…they just throw up their hands and surrender and head back to their AFAM Studies and straight A's. It is an academic school, after all. Yep, I am thinking that Buffy Berkeley and Milner Donovan and C. Franklin Postlethwait and the rest of North Carolina's fans can't wait for basketball season – at least the hoops team might not give up 70. CLEMSON 41, UNC 21
UTSA AT FLORIDA ATLANTIC
Again, WHOOOOO????????