| | |
| --- | --- |
| Pigskin Prophet: Banner Edition | |
---
| | |
| --- | --- |
| Thursday, October 15, 2015 4:54 PM | |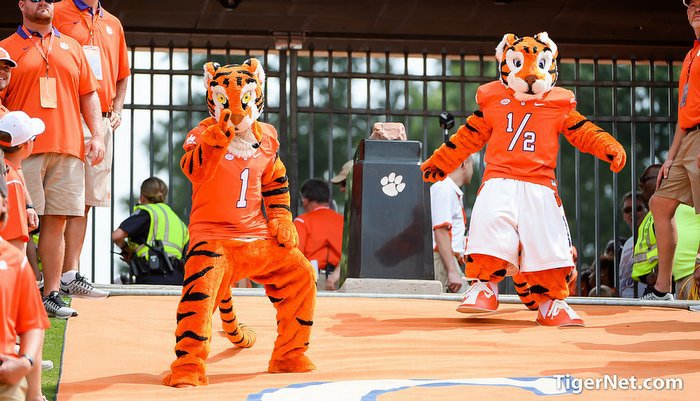 There was a time this week when I thought I wouldn't be able to write out some predictions for you guys because of the happenings down in Columbia.
The banner has to come down.
You see, the old ball coach decided earlier this week that he didn't like to lose and it doesn't take a Heisman Trophy winner to see the Gamecocks are going to be losing. A lot. So he decided he would rather do GameDay and golf and leave the mess in the hands of others.
That's where my new company – Icon Banner Removal – comes in. It seems that that people who run the program down there decided it would be a good idea to hang an 80-foot banner of Spurrier on the stadium after all of the great things he has done for the program. That's when it all went wrong, and now they can't get rid of the banner fast enough.
My guess is they won't be throwing up any banners down there in the near future. Unless they are of the equestrian or fishing coaches.
Now let's get to the picks. And remember, don't sue Crump if you get your feelings hurt. It's all in fun.
THURSDAY
AUBURN AT KENTUCKY
Guschamp hasn't gone as well as the people down on the Plains had hoped. They expected that their hard-earned dollars and nefarious academic standards would earn them another championship, but they haven't found the right preacher's son to play quarterback so they can buy daddy a new church. I'm not gonna say their quarterback play has been bad – but it's been only a little better than what South Carolina has thrown out there. Kentucky looks like a bowl team, which isn't saying much in the SEC East. Auburn will decide on a quarterback at some point during the game, and come away with the win. GUSCHOKE 27, ASHLEY JUDD 21
WEST VIRGINIA AT BAYLOR
Baylor has been one of the nation's most consistent teams so far in 2015, and West Virginia has been exactly what they've been under The Mullet, which is inconsistent. However, there is good news for everybody in this scenario – unlike a few weeks ago when the Neers lost to Boomer Sooner, no one is expecting them to knock off the Bears, and couches and cousins everywhere will be safe when Baylor runs away with it. BAYLOR 48, WEST VIRGNIA 28
OLE MISS AT MEMPHIS
Is it just me, or does Ole Miss' schedule seem like they play four bad teams, one conference game, two bad teams, another conference game and then six more bad teams out of conference? I swear this seems like their 19th out of conference game this season. However, this one won't be a pushover. Memphis QB Paxton Lynch doesn't have Swag's arrest record and his momma doesn't run Nigeria's elections with an iron fist. But he's pretty good and Memphis will keep this one close throughout. The Rebels pull away late, and a happy Mama Nkemdiche can go back to posting nasty comments under Dabo Swinney

Dabo Swinney
Head Coach
View Full Profile 's YouTube dancing videos. OLE MISS 38, MEMPHIS 27
LOUISVILLE AT FLORIDA ST.
Old Neck Brace and his band of SEC castoffs head into Tallahassee to take on The Accused But Never Convicted. The Seminoles haven't looked like world beaters this season, but they've done enough to win games and quarterback Everett Golson isn't turning the ball over. Florida's Little Jimbo Fisher has won a National Championship and a couple of conference championships, but all over the banners around Doak are of former coach Bobby Bowden. They still have good karma. Noles win. ACCUSED 23, NECK BRACE 17
PITTSBURGH AT GEORGIA TECH
The Panthers are 2-0 in the Coastal Division, while Pawwwwwl Johnson's group sits on a four-game losing streak. The Jackets are now just trying to stay alive enough to make it to a bowl game, while the Panthers have their eyes on a Coastal title. Pitt has a decent defense and they've made strides since the opener, while the only strides the Jackets have made have been backward. Old Arrogant himself is facing a five-game losing streak, and might do something revolutionary like keeping his offensive linemen upright once in a while. Won't work. PITT 27, TECH 20
BOSTON COLLEGE AT CLEMSON
The Eagles feel like they are stuck in the Hotel California – the defense is lights out and the offense has had its lights turned out. You can check out any time you like…you get it, right? Clemson has been playing a solid brand of football this season, and while the offense may struggle with the Eagles defense at times, the defense will shut down the Boston College offense. This one won't be pretty, but Dabo will still dance and Mama Nkemdiche will hate, but you can also bet nobody will ask about Clemsoning. TIGERS 27, HOTEL CALIFORNIA 0
ALABAMA AT TEXAS A&M
This one is my upset special. The national media loves them some Alabama, but anybody who watches knows that Bammer can't stop a spread attack with talent and a good quarterback. This one is also at Kyle Field. Bammer quarterback Jacob Coker is good when he has time to throw, but he is about to meet Myles Garrett, who will introduce himself early and often Saturday. Saban and the Tide get loss number two, rise six spots in the polls and are automatically inserted into the College Football Playoff. AGGIES 33, BAMMER 28
FLORIDA AT LSU
Leonard Fournette is a bad, bad man. That's kinda all you need to know about LSU's players. But Les Miles is also an idiot, and he hasn't found a way to let his wobbly game management lose a game. Florida has to find a way to get past losing quarterback Will Grier and they have to find a way to slow done ole Leonard. They also have to find a way to win in Deaf Valley. The difference is that LSU can't throw the ball, especially against the Gator secondary. FLORIDA 24, LSU 20
TCU AT IOWA ST.
TCU has Boykin but not much defense. This one will go like the rest of the games. TCU 93, IOWA ST. 90
VANDERBILT AT SOUTH CAROLINA
This will be the first game for interim head coach Shawn Elliott, who won't have a banner raised until he wins two games. Vanderbilt will stress South Carolina's vulnerable secondary, but me and six of my buddies could stress that group with a Nerf ball. However, the Gamecocks have had it rough the last few weeks with all of the losses, their head coach quitting, players squabbling on Twitter and the banner coming down. It's a perfect storm, and the offense gets prolific and scores two whole touchdowns. SCAR 23, VANDY 22
UTSA AT SOUTHERN MISS
??
UTSA has a new motto: "Hey, at least we aren't South Carolina." It doesn't matter. SMISS 38, WHOOOOOOO?? 23