| | |
| --- | --- |
| Pigskin Prophet... Autograph edition | |
---
| | |
| --- | --- |
| Thursday, October 16, 2014 3:24 PM | |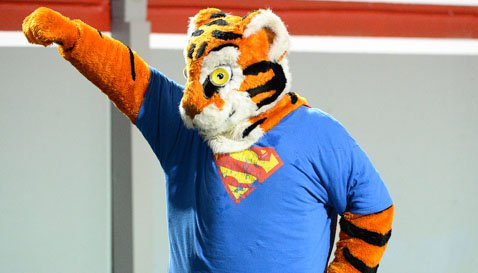 Have you ever seen a college football season quite like this? Player suspensions, crime sprees, coaches hiding behind success and not disciplining players, autographs for money, stolen scooters, BB and pellet gun attacks – and that's all just at Florida St.!!!!
Indeed, the Prophet has had a ton of jobs so far this season – all temporary as athletic departments try to get things sorted out – and I move on from job to job. Kind of like Bobby Petrino.
Now, it looks like my experience has paid off in a big way. I get to go into high-profile athletic departments and help them with players who are popular and might the kinds of players that would fall prey to these autograph sellers.
I can take all of my experience, go in and educate these young people on the pitfalls of autographs for cash, and hopefully keep them eligible. I am trying to hit three or four big schools a week right now, and so far it's working. I was too late for Georgia and Florida St., but hopefully I can help someone.
And for what it's worth, no one from the University of South Carolina reached out to me. Turns out, no one wants any of those autographs.
But I digress….we're here for the picks and it's all in fun.
THURSDAY
VIRGINIA TECH AT PITTSBURGH
At one point, we thought both of these teams might be good enough to make a run at the Coastal Division title and a high ranking. Yeah, not so much. You have to face it, this is boring football, and they will play the game in an NFL stadium that is 2/3 empty. Yawn. The only way this is exciting is if the Steelers show up…and they might even lose to the Gobblers. PITTSBURGH 23, VA. TECH 20
SATURDAY
NO. 4 BAYLOR AT WEST VIRGINIA
These poor players from Baylor – they are used to the Texas flatlands, cowboy hats and cattle ranches. In West Virginia, people have to hide their farm animals and their couches. This one could be a shootout – both schools have spread offenses and The Mullet's teams have been known to score some points. Baylor will win this one, but it might closer than you think. And if they win, get out of town before the looting and pillaging begin……….BAYLOR 42, MULLET U 33
SYRACUSE AT WAKE FOREST
I honestly don't know how Syracuse can function in an environment as quiet as Wake Forest. There will be nobody there, unless they gave away tickets to school children, and it won't be nearly as hot as the Carrier Dome, which hit a high temp of 68 degrees last week. Scorching. I guess the bigger question…if a game is played and nobody cares, does it still happen? SYRACUSE 24, WAKE FOREST 20
GEORGIA TECH AT NORTH CAROLINA
A local radio host got all excited because Georgia Tech was undefeated, and I've heard through the grapevine that he burned his Paul Johnson shrine after last week's loss to Duke. We knew that would happen, because Tech played the Women's Sunday School Class from Pelzer First Baptist earlier this season and almost got beat. Sister Darlene Woodford threw for 327 yards in that game, and she has an artificial hip. How many will North Carolina score? A lot. How many will Tech score? A lot. I call for the upset. AFAM STUDIES 37, TECH 35
NORTH CAROLINA ST. AT LOUISVILLE
This is a historic meeting in the ACC. Both Dave Doeren and Bobby Petrino thought that prior road games (South Florida and Syracuse) would prepare them for Clemson's Death Valley. Surprise!!!!!! North Carolina St. fans got all excited after giving up 55 points to Florida St., and predicted it was a precursor to greatness. SURPRISE!!!!!!!!!! It means you have a bad defense!!!! They even lost to Syracuse last week, and Syracuse couldn't score on that girl in the South Carolina tailgating video. This week, it's Papa Johns and beer and train whistle and all kinds of Big East tomfoolery. LOUISVILLE 31, NC STATE 17
CLEMSON AT BOSTON COLLEGE
It's Homecoming at Boston College, and people will show up by tens for the game. When they get there and find out it's football and not hockey or lacrosse, they will leave by the dozens. The ones that do stick around will be treated to a good football game. Boston College has defeated Southern Cal on The Heights this season, and they've lost to Colorado St. Which team shows up? The one that beat Southern Cal of course. Clemson had trouble scoring last week (they couldn't have scored on the tailgating girl) and will probably have trouble running it this week. Can the Eagles use the doom and gloom of Alumni Stadium to their advantage? Probably. Close. Really close. Like my recliner is already pinched from the puckering close. CLEMSON 27, HOCKEY 23
FURMAN AT SOUTH CAROLINA
Finally, a team that South Carolina can beat. Or can they? If Furman gets in the Wildcat it could be a long first 10 minutes or so, but then talent and the depth chart and Furman begins to pull away (snicker, snicker. I kid, I kid.) The Gamecocks improve to 4-3 and the life-size Steve Spurrier banner gets to hang outside of Wilma-Brice another week as the Gamecocks' defense rises to the occasion. SCAR 52, FURMAN 13.
NOTRE DAME AT FLORIDA ST.
The Seminoles have been less than overwhelming this season, and I still say it's because they dress up a white kid as a Native American and make him throw a silly spear. But there have been off the field issues with their quarterback, who has talent but really just isn't very bright. In fact, the whole team has talent but isn't very bright. As we heard last week, seven of their players robbed a nursing home of pills and drugs and beat up 12 old people in the process, including Sister Darlene Woodford's ex-husband Merle. The police have video of the incident, but Bimbo Fisher said all seven will play against The Irish. "I know the facts. Facts are good," Fisher said. "But those old people had pills, and my players needed them to get through their cooking classes. And they were in the way. They are good kids. How much money do the old people need to make this go away?" Shame on you Bimbo. POLICE BLOTTER U 33, NOTRE DAME 20
UTSA AT LA. TECH
Still don't have a clue. WHOO???
TEXAS A&M AT ALABAMA
Really, Texas A&M? Really? Look, just go to the Alabama player that is a dope dealer, buy his best product and go beat these guys. Or buy stuff from the FSU players. Will it be enough? Nope. The hopes of playing in a big bowl game are dashed with another loss. BAMA 37, A&M 24
GEORGIA AT ARKANSAS
Awww…does anyone remember the singing pig girl? They might need her after this one. Sony Playstation and Nick Chubby will have their way with the Arkansas defense for most of this one, but Arkansas isn't a pushover and this one goes down to the wire. Georgia pulls this one out late and the signing pig girl electrifies the internet with her scary pig hat and tears. GEORGIA 31, ARKANSAS 28
TENNESSEE AT OLE MISS
Yep, ole Hugh Freeze has put together a solid roster down in Oxford. The news broke earlier this week that there might have been some shady dealings in recruiting (SHOCKING) before Freeze got there, and he's just hoping the recent shady dealings don't come to light. Heck, ole Mama Nkemdiche is already on the warpath, threatening sports writers and people on Twitter for showing pics of her son hitting a bong. In the meantime, however, they have a football game to play, and because Ole Miss manipulates the salary cap better than Tennessee they win. And Jimbo Fisher supports all of it. MAMA KEMDEEECHHEEEEEEE 35, TENNESSEE 17