| | |
| --- | --- |
| Pigskin Prophet -The Spirit Drum Edition | |
---
| | |
| --- | --- |
| Thursday, October 17, 2013 4:48 PM | |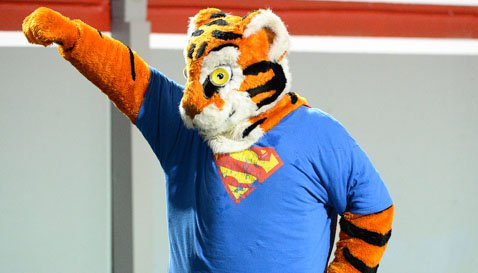 The Clemson Athletic Department has posted an All Points Bulletin for the FSU Spirit Drum.
In case you missed it, one of Florida St.'s long time traditions is the Seminole Spirit Drum, an eight-foot tall (or slightly smaller than Logan Thomas) drum that Seminole fans play for hours before each home game. Because yeah, playing a drum makes your team play better.
Anyway, Florida St. has announced that the Spirit Drum will make its first-ever appearance on the road as the Drum heads to Clemson for this weekend's showdown between Clemson and Florida St. Yep, ole Spirit has never made a road trip.
The drum will be located in the tailgating area Clemson University sets aside for fans of visiting schools, and there it is supposed to stay. In fact, a member of IPTAY's staff tweeted out Thursday morning that if you see the drum, you are to report it immediately, so the drum can be apprehended by the proper authorities.
So yes, there is an APB out on the drum. If you are out and about on campus, and you see the drum, there are rules that you need to follow so you can ascertain what steps need to be taken.
1. Look around you – if you see a bunch of people wearing glitter or perhaps waving flags that shows a screaming man with bacon on his face, you have wandered into the FSU tailgating area. Leave immediately, before they try and give you free shoes.
2. If the drum is actually on Clemson's campus, and trying to wreak havoc (like only drums can do), DO NOT APPROACH THE DRUM. Do not try to SNARE the drum, it might hit you over the head and give you a percussion. It cymbalizes all that is wrong with FSU.
3. Contact the authorities so they can apprehend the drum.
4. Call Neil Pert.
Now on to this week's games, and remember, it's all in fun.
THURSDAY
NO. 10 MIAMI AT UNC
Wow. What do we call this game? The academic cheaters vs. the strip club cheaters? The Slap On the Wrist Bowl? The John Swofford "Boys Will Be Boys" Game? It doesn't matter. The only thing you have to look forward to at UNC is the wine and cheese before the game, and maybe meeting Tyler Hansbrough's mom after the game in a dark alley. She can also fix your grades. STRIPPERS 34, FIGHTING SWOFFORDS 24
FRIDAY
CENTRAL FLORIDA AT NO. 8 LOUISVILLE
Hey look!!!! Louisville actually gets to play a real team. Central Florida took South Carolina to the wire, and they shouldn't be taken lightly in this Friday night contest. I guess the powers-that-be figured if Louisville was going to play high school teams each week, they should play on Friday nights. Both of these teams have had success defensively this season, so I don't expect a lot of points scored. If this one were played in Florida, I would be tempted to take the Knights. But this one is played in Pizza Stadium, so Teddy Bridgeovertroubledwaters has the edge. PIZZAS 27, UCF 20.
SATURDAY
NO. 11 SOUTH CAROLINA AT TENNESSEE
WHO?????? Hahaha, gotcha. I've obviously heard of Tennessee. WHO 30, TENNESSEE 23.
NO. 15 GEORGIA AT VANDERBILT
How bad has Georgia's luck been lately? I got carpal tunnel just writing about this game, that's how bad it has been. Can Aaron Murray find somebody, anybody, to play on the offensive side of the ball with him? The Bulldogs are favored to win in this one, but they took a giant step backward last week in the loss to Missouri, dashing any hopes of a national championship. The good news is that Vanderbilt has been awful against the pass, but Murray's offensive weapons are limited. I think Vandy pulls off the upset…..VANDY 30, GEORGIA 27.
NO. 22 FLORIDA AT NO. 14 MISSOURI
Are the Tigers for real, and can they continue their undefeated ways with a win over the Gators? Florida has been a bit of an enigma – they have recruited some pretty good offensive players recently but can't seem to figure out what kind of offense they can be. Meanwhile, that defense is pretty good. At Missouri, they have to deal with the loss of their starting quarterback, but Maty Mauk looked good in closing out the win over Georgia. Mizzou wins and sets up a showdown with WHO next week. MIZZOU 28, FLORIDA 20.
SYRACUSE AT GEORGIA TECH
The best coach that has ever lived (hey, I listen to talk radio) tries to keep his group of 1-star recruits from falling under .500 on the season, and they get to do it against a Syracuse squad that likes to talk a little smack. Honestly, though, the best thing about this game is seeing which coach drops the most F-bombs that are caught by the cameras. Hopefully the Bees won't wear those hideous uniforms that look like the front of a box of Honeycombs. BEES 34, CUSE 24.
NO. 24 AUBURN AT NO. 7 TEXAS A&M
Don't look now, but Auburn seems to be playing pretty well, and Gus Malzahn is actually using some pretty good recruiting classes to put together a solid season. This week, the Tigers get Manziel and the Aggies. If you like college football, this one will be fun to watch. Sure, Manziel is a jerk and everybody knows he made some money off his autographs, but that cat can play some football. Personally, I think Auburn has been playing better because they don't have to listen to Gene Chizik steal slogans from other coaches and teams. AUTOGRAPHS 42, AUBURN 33.
MARYLAND AT WAKE FOREST
This one will be epic. Except it won't. But honestly, I have Maryland figured out. When they wear those uniforms that look like TV test patterns, they keep the games close because they give opposing teams vertigo from all of the patterns and colors. My brother grew up in the 60's – he's told me what a PCP high looks like, and he swears someone was high when they designed those uniforms. Against FSU, they wore plain white and lost 63-0. Do they break out the patterns this week? Who cares. No, really. Who cares? TEST PATTERNS 30, WAKE 20.
USC AT NOTRE DAME
Honestly, I like Southern Cal in this game, if only because interim head coach Ed Orgeron is now letting the players eat cookies. I'm being serious. In case you missed it, he is letting his players have cookies again after that villain Lane Kiffin took their cookies away. "You feed a lineman a cookie, he's happy, you know?" Orgeron told the media. And in case you missed it, I am not making this up. http://espn.go.com/los-angeles/college-football/story/_/id/9761674/usc-trojans-hold-first-practice-interim-coach-ed-orgeron. However, despite the cookies and the new way of doing things, the Irish have more scholarship athletes they can trot out on the field. IRISH 27, COOKIES 21.
NO. 5 FLORIDA ST. AT NO. 3 CLEMSON
So, I am hearing that FSU has some kid named Famous Amos, who really should play for Ed Orgeron because of the whole cookie thing. But from what I hear, Famous Amos has won two road games – in front of 67 people at Pitt and 14 people at Boston College, and now he is the best college quarterback since maybe ever. And he is ready for the rigors of playing in Death Valley, this Famous Amos, because he once played a high school game in Alabama. Add in the Spirit Drum, and the Seminoles have the decided advantaged right up until kickoff. Clemson has a cat named Vic Beasley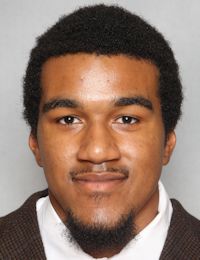 Vic Beasley
RS Jr. Defensive End
#3 6-3, 225
Adairsville, GA
View Full Profile , and he likes cookies, and something tells me this Tiger is gonna enjoy a mid-game snack or three. TIGERS 34, FSU 28.