---
| | |
| --- | --- |
| Thursday, October 3, 2013 4:43 PM | |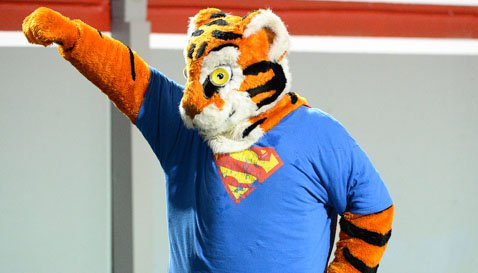 The search for gainful employment in a tough economy continues. I was going to apply for a job with the government, but the goofballs in Washington have made that seem unattractive.
And then, I watched college football last week and had an epiphany – I need to become the team doctor for the football team at the University of South Carolina.
South Carolina has the Greatest Player That Ever Lived on its roster – I heard he once snatched a falling airliner out of the sky and set it gently on a runway before it crashed – but they can't seem to keep the Greatest Player That Ever Lived healthy.
The first week he had a tummy ache, and then there was that awful hangnail and then the infection in the dreadlocks. Poor guy – I heard the Greatest Player That Ever Lived once saved ten people from a burning building using only his mind - he needs to be able to play.
But The Greatest Player That Ever Lived – he once saved thousands of animals from a flooded zoo using only a straw – followed up a healthy off week with an ingrown toenail that caused him to only have two tackles last week.
And he isn't the only one – one running back said he was under the weather because his roommates turned the temperature in the Whitney too low – and others have also had stomach ailments. Yep. This group needs a good physician.
And hey, they also need someone to keep the old man out of the "medicine cabinet" before he does his coaches show.
On to this week's picks – and remember it's all in fun.
CLEMSON AT SYRACUSE
The good news for Clemson is that it has yet to snow 12 feet in Syracuse, so travel in and out for the Orange's first-ever ACC game should be easy. Heck, maybe even Jim Boeheim can even show them some nice places to eat. The bad news is that basketball hasn't started yet, so the fans might actually care for a quarter or more about football Saturday, and the Pride from Pickens (thank you Leonard) might have a tough time with the Cuse. Which brings up another questions..is their mascot a color or a fruit? If he is a color..WHY??? If he is a fruit…WHY??? And if you are going to name your mascot after a fruit, perhaps a banana would be more threatening? But I digress….PRIDE 38, FRUITS AND COLORS 20
LOUISVILLE AT TEMPLE
Boy, that Louisville sure has a tough schedule, don't they? Kinda makes me wonder what will happen when they play a team that actually matters. Which isn't this week. About the only thing Temple can brag about is the fact that Bill Cosby once went there and still hangs around, looking at people funny. This one won't be close. TEDDY BRIDGE OVER TROUBLED WATERS 45, THE FIGHTING BILL COSBYS 10.
MARYLAND AT FLORIDA ST.
Awwww, how cute. The Noles finally play someone with a pulse. Maryland had Sister Sadie Mae Dinkins playing quarterback last year after all 12 regular quarterbacks suffered from Clowneyitis and had to miss the season. However, the athletic and popular C.J. Brown is back at quarterback, and he might just give that FSU defense (they are so athletic!!!) fits. In case you missed it, FSU gave up 34 points to Boston College last week, and those people up there only care about the Red Sox and fantasy hockey. Fortunately for the Noles and little Jiimmie Fisher, this is one is in Tallahassee, and that could be the difference. This one could be closer than people think, but Jimbo's luck holds out and Chief Nocahoma or whatever he is called throws a spear in the turtle at the end. FAKE NATIVE AMERICANS 34, MARYLAND 26.
BALL ST. AT VIRGINIA
Serious question. If someone GAVE you tickets and air fare to go to this game, would you? Heck, the people up there probably won't go. Virginia's well-oiled offensive machine managed just a few points and less than 200 yards last week against a Pitt defense that gave up 868 yards to Duke the week before. But can the Fighting David Letterman's compete? I think they can. JEFFERSONS 13, LETTERMANS 7.
UNC AT VIRGNIA TECH
I have to give Logan Thomas credit – he was almost accurate at times last week and the Hokies beat Paul Johnson and the Smoking Jackets. This week, the Hokies get to take a crack at UNC, and North Carolina fans are already counting down the days until basketball starts (that's right, they ARE Syracuse). Larry the Hat and his boys gave up a ton of points to East Carolina last week, but won't face anywhere near that kind of fire power this week with Logan Thomas, the Tallest Player That Ever Lived. After losing to Bammer to start the season, however, the Hokies had a perfect September and will start out October perfect as well. STATUESQUE THOMAS 20, UNC 13
UTSA AT MARSHALL
We are UTSA!!! And we are gonna lose!!! MARSHALL 30, UTSA 16
GEORGIA AT TENNESSEE
Don't look now, but after a season-opening loss to Clemson the Bulldogs are whipping all comers. This week, that will be Tennessee. Things don't look a heck of a lot better on Rocky Top under Butch Jones, while Mark Richt has managed to keep most of his players out of jail. This one is 10 points in a lot of betting circles, but won't be that close as Todd Gurley and company scale Rocky Top and plant the Bulldog flag squarely on top. GEORGIA 35, TENNESSEE 13.
GEORGIA TECH AT MIAMI
I hate to break it to a local radio host – who I've heard volunteers to trim Paul Johnson's toenails each week – but the Smoking Jackets at Georgia Tech won't win the national championship this year. The last three trips to Miami have not been kind to the Book Jackets, who have gotten walloped twice by the Canes and once in the Orange Bowl. Something about South Beach just doesn't agree with that old sourpuss, and this week won't be any different. The Canes get out the pesticide and do away with the pesky Bugs. MIAMI 27, JACKETS 21
OREGON AT COLORADO
The Ducks scored a bajillion points in a driving rain storm last week, and this week they take on hapless Colorado in a game that has all the makings of yet another smackdown. The Ducks are definitely a player on the national stage, but need some competition before that date with Stanford in early November. Stanford looks physical and mean, but that has nothing to do with this game, which will be another blowout in a long line of blowouts. OREGON 55, COLORADO 13.
KENTUCKY AT SOUTH CAROLINA
Now THIS is what SEC football is all about!!! Or it isn't. IF South Carolina can keep their players healthy and away from the stomach virus (which means no ice once you get to the stadium) and their coach out of the medicine cabinet, this one won't be close. If there are ailments aplenty and Clowney has Clowneyitis and the coach is tipsy, it still won't be close. Kentucky is just bad, and if the Ole Ball Coach ever figures out he has a big offensive line and a dang good running back in Mike Davis, the Chickens will be a tough out for anybody. But can they stay healthy? Can the air at the Whitney be fixed? Can the old man stay out of the "medicine cabinet?" Yeah, probably. ER PATIENTS 34, KENTUCKY 20
Game Simulation of Kentucky-South Carolina