| | |
| --- | --- |
| Pigskin Prophet - The Citadel Edition | |
---
| | |
| --- | --- |
| Thursday, November 21, 2013 3:28 PM | |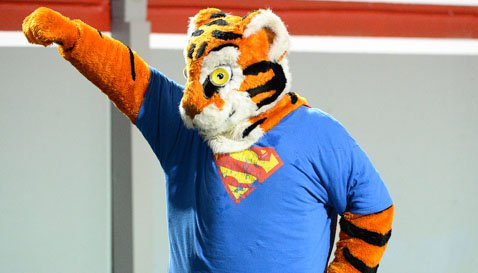 I like to have fun, poke fun at myself and others and generally be a goofball. There is really no harm in that, because I think that college football coaches, players and fans take themselves and their teams way too seriously at times.
Last Sunday, I laughed and laughed and laughed. And then I laughed some more. And then, I laughed even more.
Like a lot of people, I have a smartphone that is way smarter than I am, and I use a lot of the news apps to keep connected with the world. Sunday afternoon, I clicked on the Facebook and saw where WYFF posted a story on their site that talked about the polls, and how South Carolina fell after the win over Florida.
And here is where it gets interesting: You see, Clemson fans and South Carolina fans get on there all the time and fight. It's entertaining for the most part. And then you have those people – on both sides – who you wonder how they made it out of school without getting put in a facility somewhere. They just don't use a lot of sense.
I read the comments on the poll story, and one good ole South Carolina fan named Rob posted (excuse the spelling and punctuation or lack thereof, I left it like he posted it): It's ok with me,with the Georgia loss,we need to beat Clemson when there ranked high,then hopefully a miracle happens and we beat bama at #1,and Missouri loses a game,if every happens right it could be hard to deny us a national championship shot,so Clemson rising higher is not a bad thing for Carolina,they got to come to Williams Brice and all us gamecocks fans know we got Clemsons number,GO COCKS!
Yep, I read that run on sentence, and the thought behind it, and fell out of my seat laughing. I thought, this guy is a genius!!! He is funny and smart. And then I realized he was serious. And yes, he is actually cheering for a male appendage on a public website.
I have laughed all week. Thought I would share. I guess he thinks a five-point win over an unranked Florida team playing a nine-year old at quarterback is worthy of a championship. Or that loss to Tennessee. Or that loss to Georgia.
C'mon. You can't get mad at 'em. You just gotta laugh.
On to this week's picks, and remember, it's all in fun.
DUKE AT WAKE FOREST
How about those Dookies? They've got a chance at playing in Charlotte in the ACC Championship Game, where Florida St. might score 80 on those slow white kids. Yep, the ACCCG was a stinker last season, and promises to stink even more this year. In the meantime, Duke wins again. DUKE 27, WAKE 21.
VIRGINIA AT MIAMI
Hey, didn't you used to be Miami and ranked in the Top 10? Losses to FSU, an average Virginia Tech team and that mystifying Duke squad have Miami reeling. The good news is they get Virginia, which would struggle to win South Carolina's Region 2-AAAA. They could win the AAC and defeat Louisville, but Gaffney would give them fits. Meanwhile, Miami fans are to be commended – more of them showed up at Duke last week than actually show up at home games. My guess is that if you want a ticket to this week's game, they will be easy to come by. MIAMI 40, VIRGINIA 20.
MICHIGAN AT IOWA
Five years ago, this might have been worth watching. But has the B1G ever had so many teams that aren't relevant? Let's face it, football in the cornfields of Iowa is bad right now. Maybe the B1G needs to change their logo. Maybe Maryland's entrance into the league will give football a boost. Hahahaha, I sounded just like Rob the South Carolina fan there. WHO CARES MAIZE 27, STEELERS 23.
THE CITADEL AT CLEMSON
There are a lot of good things going on at Clemson Saturday, and the football game itself is more of an afterthought. The Citadel was added after the ACC went all stupid and went from eight conference games to nine and then back to eight. Clemson gets the triple option a second week in a row. They stop it for the second week in a row, even though a local radio host says the military boys win because they run the option. Hey, has anyone ever checked to see if that guy is actually a South Carolina fan named Rob? CLEMSON 50, THE CITADEL 10.
PITTSBURGH AT SYRACUSE
I really like the 'Cuse guards in this one, even though the Pitt frontcourt will give the Orange problems inside, Jim Bayhime pulls it out. SYRACUSE 90, PITT 87.
EAST CAROLINA AT N.C. STATE
How bad are things at NC State? They are an underdog to East Carolina. At home. At least it isn't Senior Day. They get to lose to Maryland next week on that day. PIRATES 35, NC STATE 27.
COASTAL CAROLINA AT SOUTH CAROLINA
For this one, I have let my new friend Rob the South Carolina fan write the prediction.
We Gamecocks are loaded for bare and will wipe,up the field,with the kids from the beach,Clowney is best player I've ever seen and our offense,is clicking on all sillinders after we beat,Florida last week,we just need to run Mike Davis, a lot,and keep Shaw healthy and we will won this game by 50 and, no one can deny us our rightful place,in national championship after we beat Bama,sandstorm all day baby,cause we play in SEC,and haven't won anything but we are same bas Bama,cause we play in SEC. SOUTH CAROLINA 97, COASTAL 2.
Sure, sounds reasonable to me.
ALABAMA A&M AT GEORGIA TECH
Good for Paul Johnson. He gets to play a team his option can beat. Bad for Georgia Tech fans, who have to put up with this crap. Good for Clemson. He gets to stick around and recruit kids against Wofford. GEORGIA TECH 60, A&M 10.
TEXAS A&M AT LSU
This one will be fun to watch. As it turns out, LSU couldn't just reload after losing all that NFL talent on defense, and they have struggled at times despite having an offense with a pulse. Unfortunately, Johnny Football and those cats can score some points, and they will. Fortunately, the Texas A&M defense is apparently a bunch of cheerleaders. They can't stop anybody. Of course, this is the SEC, so defense is the name of the game. Right? Nah. First one to 40 wins. My upset pick. Which means it won't happen. Unless it does. JOHNNY FOOTBALL 41, LSU 40.
KENTUCKY AT GEORGIA
I have inside info on Georgia. This week, they've learned to JUST KNOCK THE BALL DOWN. It pays off. GEORIGA 44, KENTUCKY 20.