| | |
| --- | --- |
| Pigskin Prophet - Spring edition | |
---
| | |
| --- | --- |
| Monday, March 31, 2014 11:10 AM | |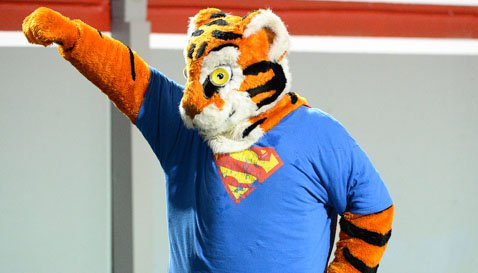 It's that time of year. Spring practice is underway for college football programs all across the country, and fans that are having withdrawals hang on every word of coaches and players and listen to every practice report as they try to get their fix.
I've still been following my dream of becoming a full time writer – I even covered a garden show two weeks ago – and I've taken the odd job here and there while trying to convince Crump to pay me in something other than AOL CD's with complimentary dial-up internet. Yep, that Crump is a big spender.
I did take a job working for President Obama answering phones and trying to get people signed up for the Affordable Care Act, but that gig only lasted a couple of weeks. I didn't like getting cussed out for one thing, and then of course people just stopped calling. I knew I might be let go when the supervisor came in and found cobwebs on my phone.
So here I am writing about college football, and we are going to take a very serious look at some of the top programs and some of their big storylines for the spring. Yep, very serious. No, I mean it. Gonna be really serious this time.
ALABAMA
It's been relatively quiet down Tuscaloosa way as Nick Saban has tried to figure out how to stop opponents from returning field goals 109 yards and how to stop spread offenses. Saban went out and spoke to a local group of Tide fans, and talked about how the spread offense is "poisoning" college football and how kicks shouldn't be returned. He didn't get legislation passed for the spread, but now he is working on legislation that says returning missed field goals is VERY dangerous for the players, and someone could actually get hurt doing it. Word on the street is that he hired Harvey Updyke to stop the poisonous spread of all that Saban hates…………
LOUISVILLE
Of course, the big story around Louisville is the return of Bobby Petrino, who has made sure he brought in a quality staff at his new-slash-old gig. He has two former female volleyball players working with the defensive line, a former female golfer working with the running backs, and he has hired former softball phenom Jennie Finch to work with the quarterbacks "because the throwing motion is almost the same, except for the whole underhand thing." All male fans who show up at the spring game with a young blonde who is not their wife win a free motorcycle, courtesy of Petrino. Should get pretty interesting around there quick.
MARYLAND
Maryland is preparing for the move to the Big 10 in a big way. They've planted lots and lots of corn outside Byrd Stadium so fans will get used to what they see on road trips, and the hope is that at least 400 people show up for the spring game so they can see what it will be like playing in front of big crowds at Indiana and Indiana St. Of course, with geographic rivals like Nebraska already built in (they are ONLY 1250 miles apart), who can't help but love this move?
SOUTH CAROLINA
South Carolina has to replace a lot of key players, including the guy that provides the free cars for players like Jadaveon Clowney. Of course, Clowney isn't the biggest name that has to be replaced, that honor would belong to Connor Shaw. Word on the street is that head coach Steve Spurrier is actually looking for a Connor Shaw lookalike, and he doesn't care whether he can play football or not. Just needs to look like Shaw. Dr. Evil from Austin Powers is the front-runner, but Bruce Willis is making a strong push. We will have to see how this battle shapes up. My money is on Sinead O'Connor in a close one over Dr. Evil.
VIRGINIA TECH
Another school that has to replace their quarterback is Va Tech, who has to replace Logan Thomas, the highly-decorated quarterback who almost completed 12 passes last season. Hokie coaches have been out on the recruiting trail, checking out every AAU basketball game in the Virginia area, looking for the right center or power forward to take over the reins. The only requirement is that he has to be really tall and can't throw a pass to a person in a like-colored jersey. Shouldn't be hard to do.
GEORGIA
Spring practice got off to a rousing start down in Athens – the first few days of practice were delayed while the entire football team finished taking classes in a new field of study down at Georgia – How to Defraud Your Local Bank and Not Get Caught by Cashing Checks Twice. Apparently this is a big draw to recruits, who understand that the payments they receive will be double what the other schools get. Mark Richt understands that four players got caught doing it the wrong way, and he wants to make sure they get it right. The four who did it wrong will be dealt with severely, however, as Richt will take a page from Spurrier's book and have them suspended from class for a month.
FLORIDA ST.
Honestly, just keep Jameis away from the co-eds. That's all you have to do. Just give him a minder.
GEORGIA TECH
Paul Johnson knows that many of the problems his team has had stem from poor offensive line and quarterback play, so he instructed his coaches to go out and get better players during the last recruiting cycle. They accomplished that feat, getting one player who is almost a 1-star and another player who would be a 2-star if he committed to an SEC school. However, he is still teaching all of his offensive linemen to fall down, and as a result could only find former Duke and North Carolina basketball players who want to flop that much. Could get ugly in Atlanta.
DUKE
Duke is officially a football school now, and that will be borne out when 30 or 40 people show up for the spring game. The Blue Devils held a scrimmage the other day, but the game went on for 19 quarters as ACC basketball official Les Jones (pinch hitting for Ron Cherry) kept putting time back on the clock. The good news was that with so many Duke jerseys on the field, there were no penalties called……
UTSA
WHO?????????????