| | |
| --- | --- |
| Pigskin Prophet - Rivalry Edition | |
---
| | |
| --- | --- |
| Thursday, November 28, 2013 2:52 PM | |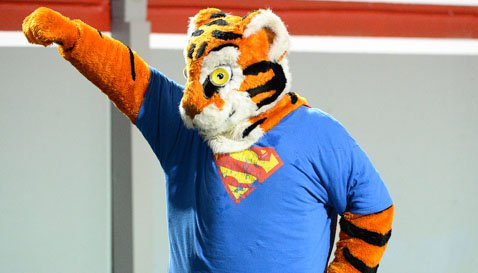 The Prophet has taken a week to gaze deeply into his crystal ball, endeavoring to peer into the future and perhaps come away with a glimpse of how Saturday's state rivalry game between the South Carolina Gamecocks and the Clemson Tigers will play out.
Thanks to some cold medicine and a lack of sleep, I believe I have seen a vision. A prophecy, if you will, and instead of writing about all of the games on this week's schedule, I am going to go ahead and give you the play-by-play of how the game will unfold Saturday in Lee Brice Stadium.
If you have taken the time to bet according to my picks this year, you're probably poor, but not as poor as if you have listened to a local radio host. So be warned. It may or may not happen this way. And remember, it's all in fun.
CLEMSON AT SOUTH CAROLINA
6:52 PM -If you have tickets to the game, and you've never attended a game in this place, you need to be in your seat at least 10 ten minutes before kickoff so you can see the incomparable entrance the Gamecocks possess. Instead of "The Most Exciting 25 Seconds in College Football" that Clemson has, and the networks like to film, the Gamecocks bring out their own unique entrance, which is what you get when have a tradition of "Four Whole Years of Football Excellence."
Take your seat, tell the mullet-wearing person sitting in front of you to take the Budweiser away from their 8-year old and sit down so you can see. Once that is accomplished, prepare to be amazed. The first thing you will notice is that they are about to play a movie, and that is why you hear the theme from 2001: A Space Odyssey. However, you will quickly realize that you aren't going to see a movie, but these people actually use the music for football.
6:55 PM- Next, out comes a shower curtain on an elevated platform. DO NOT BE FRIGHTENED!!! Old lady Gamecocks are not behind the curtain!!! They cue the movie music again, the shower curtain shakes, and out pops a…wait for it…wait for it…a chicken in a dress!!!!!
Yes, I know their masot is supposed to be a Gamecock, which is a male fighting bird. But this is the 21st century and the Democrats control the White House – he can wear a dress if he wants to!!! Meanwhile, the fans go nuts, most of them having never seen a chicken in a dress at their own homes.
6:58 PM - The next thing that happens is that the stadium personnel do a fire safety check, and they try and make sure that all of the fire extinguishers in the stadium are working, and they take them down to the tunnel where the players dress. Listen, I don't get it either, but apparently they take fire safety very seriously in Lee Brice. For some dumb reason, the fire extinguisher check happens at the same time the Gamecocks run on the field, and they run on the field fairly quickly, probably hoping they prevent the chicken from taking his dress off.
7:05 PM - This is the official kickoff for the game. This is also a special moment, because they once again blast music from the loudspeakers, something called Hurricane or Tornado or Sandstorm, and they wave a bunch of towels around. BE CAREFUL OF THE TOWELS!!! If a call goes against them at some point, they will endeavor to throw towels on the field!!! Of course, with most of these students going to South Carolina, they don't understand physics and the towels go about three rows. Collect a bunch and give them to your redneck friends at weddings.
1ST QUARTER, 11:05 - The Gamecocks take the lead on a Mike Davis run. Towels are still firmly in hand. But Ric Flair, who used to be somebody, keeps screaming something into the loudspeakers. Or maybe its Todd Ellis. Remain calm.
1ST QUARTER, 3:11 - Clemson dents the scoreboard on a long pass play from Tajh Boyd

Tajh Boyd
RS Sr. Quarterback
#10 6-1, 225
Hampton, VA
View Full Profile to Sammy Watkins

Sammy Watkins
Jr. Wide Receiver
#2 6-1, 205
Fort Myers, FL
View Full Profile . 7-7. We have the first visor throw of the night.
1ST QUARTER, 0:36 - Clemson gets the ball back after a turnover, but ESPN suspends production while the world awaits word on Jadeveon Clowney, who will miss several plays with a hangnail. ESPN endeavors to have the game suspended, but the ACC officials say they must play on.
2nd QUARTER, 12:57 - Clowney braves the hangnail and runs back onto the field. Turns out this miracle has occurred because some fan sacrificed the live chicken that inhabits the sidelines. The chicken in the dress goes and hides.
2nd QUARTER, 10:01 - South Carolina quarterback Connor Shaw leaves the game with a broken foot. The chicken in the dress cowers behind the shower curtain as angry fans look for another sacrifice.
2nd QUARTER, 9:57 - Four seconds later, we learn that Shaw is coming back out on the field, and the original reports of a broken ankle were premature. It was a hangnail.
2nd QUARTER, 6:06 - South Carolina goes ahead on a field goal by Elliott Fry, who looks a lot like an Elliott.
2nd QUARTER, 5:27 - The stadium hushes as play stops – Clowney's shoe is untied and the Sports Information Department is unsure if he will return. The lace COULD be broken.
2nd QUARTER, 4:09 - Clemson ties the score at 10-10 on a field goal by Chandler Catanzaro

Chandler Catanzaro
Gr. Punter / Kicker
#39 6-2, 195
Greenville, SC
View Full Profile .
2nd QUARTER, 2:06 - The game is stopped while stadium officials check out a rumor that there is doo doo in the ice. Turns out the rumor is true. Stadium officials are thrilled – it's the best that the breath of most of its denizens will smell all night.
2nd QUARTER, 0:11 - The Gamecocks get a touchdown pass from Shaw to Bruce Ellington. Ellington is in his 43rd semester at the school. His grandkids will enroll next week.
HALFTIME - If you need to leave to take a potty break, please do so at your own risk. These people are nuts, and they keep trying to do bad things with their thumbs.
3rd QUARTER, 13:54 - Play is stopped for the 43rd time, this time to give championship rings to the intramural rugby club, which finished in 9th place at a recent tournament.
3rd QUARTER, 12:06 - Elliott kicks another field goal, even though the school name on the front of his jersey is misspelled. Gamecocks lead 20-10. More thumb action.
3rd QUARTER, 11:50 - The Tigers return the kick past midfield, and Spurrier loses his fourth visor of the night. Five plays later, Roderick McDowell

Roderick McDowell
Gr. Running Back
#25 5-9, 195
Sumter, SC
View Full Profile runs past Clowney for a touchdown. Clowney immediately summons the trainers, who find out he has cramps. He is given Midol and the game resumes as ESPN exhales.
3rd QUARTER, 5:55 - Play is once again stopped as a South Carolina coach is shown on camera doing a little something in the bushes in the endzone. South Carolina fans try to throw him towels, but they don't travel far enough to reach him. Spurrier loses his 12th visor of the night.
END OF THIRD QUARTER: SOUTH CAROLINA 20, CLEMSON 17
4th QUARTER, 13:11 - Highlights of Missouri scoring yet another touchdown on Texas A&M are shown on the video board. The chicken runs and hides again. Towels float two and three feet. Getting ugly in Lee Brice.
4th QUARTER, 9:06 - Clemson scores a go-ahead touchdown on a long pass from Boyd to Martavis Bryant

Martavis Bryant
Jr. Wide Receiver
#1 6-5, 200
Calhoun Falls, SC
View Full Profile . Clowney leaves with an eyelash in his eye. ESPN wonders if he will lose the eye. The chicken – trying to run and hide – runs so fast by the trainers' table it blows the eyelash out. Clowney is good to go.
4th QUARTER, 7:07 - South Carolina retakes the lead. Shaw – sporting two crutches and a bandaid – runs for a touchdown. 27-24 South Carolina. ESPN later learns that Spurrier brought former back Kenny Miles out on the field for "a shot in the arm."
4th QUARTER, 6:01 - Mike Williams

Mike Williams
Fr. Wide Receiver
#7 6-5, 205
Vance, SC
View Full Profile scores after a screen pass turns into a long touchdown. Towels continue to float. A towel hits Clowney in the head, rendering him unconscious. He wakes up and asks, "Where did I get drafted?" Spurrier is noticed taking a sip OUT OF THE VISOR!! 31-27 Tigers.
4th QUARTER, 4:08 - The Gamecocks are driving, but Shaw trips over his cast and fumbles. The loose ball is returned for a touchdown by Stephone Anthony

Stephone Anthony
Jr. Linebacker
#42 6-2, 235
Polkton, NC
View Full Profile . 38-27 Tigers. The eight-year old with the Bud and his girlfriend Thumbelina head for the exits.
4th QUARTER, 3:03 - A 3-and-out forces a punt, and Clemson runs out the clock.
POSTGAME – Spurrier cancels his postgame television show saying he "was going to be too negative" to do it.
Happy Thanksgiving everybody!!