| | |
| --- | --- |
| Pigskin Prophet - How to think like a Wahoo | |
---
| | |
| --- | --- |
| Thursday, October 31, 2013 3:25 PM | |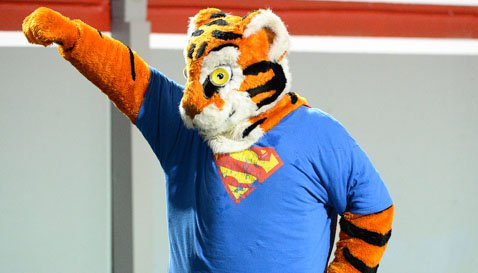 Earlier this week, I came up with the bright idea that I would make a trip up to Charlottesville this weekend to catch Clemson versus Virginia in Scott Stadium.
I've never seen a game up there, and seeing as how Clemson won't play up there again until sometime in the next century (or so it seems), I thought this would be a good time to go check out Scott Stadium.
Once I made my plans known on Facebook, however, one of my buddies who lives up there called me, and said, "Are you crazy?"
The answer to that is yes, but I asked what he meant by that, and I got a lesson on the University of Virginia. He knows how I like to make fun of UNC and their highbrow fans eating cheese and drinking wine at a tailgate, but he told me that Virginia might be even worse.
He said that one thing they won't let you do up there is have fun at your tailgate. He said if you try to the throw the football or play a game or even remotely look like you are doing anything other than discussing the life of Thomas Jefferson and his profound impact on college football, you are kindly asked to leave by someone holding a silver chalice full of wine.
Also, the Virginia fight song (of sorts) is set to the music of Auld Lang Syne. Apparently, you have to provide your own party hats, streamers and sparklers, and every time Virginia scores you shout "Happy New Year" and throw the streamers.
Also, and I kid you not (you can look this up), you are PROHIBITED from calling their campus a campus. Even though it is a campus, you can't call the Virginia campus a campus. It's "The Grounds." So if you make the trip up there this week, and happen to ask for directions, don't say campus. Say "The Grounds." Apparently, if you are caught saying "campus" you are given a stiff punishment – Virginia season tickets.
Also, if you run into any students while you are there, don't ask if they are a freshman or sophomore, etc. They go by First Year, Second Year, Third Year, Fourth Year, and I Am A Spoiled Rich Brat Living Off Daddy's Oil Money Fifth through Infinity Years.
And finally, I was told that Scott Stadium is intimidating. They have a pergola, which is designed to throw fear into the hearts and minds of opponents. I mean, how many times have you walked into a stadium, seen a pergola, and thought, "Oh no!! They have a pergola!!! We don't have a chance!!!"
Lol, yeah me neither.
And in case you were wondering exactly what a Wahoo is, here is a link that tells all UVa students how to be a Wahoo. It includes a wardrobe chart for her, how to wear a baseball cap (with a crease of course) for him, along with how to accessorize. http://people.virginia.edu/~sfr/enlt214m/wahoo/
Honestly, you just can't make that stuff up. I encourage you to click on all the links, including the Where To Go and read the football posts.
Also, please go to the Streaking section under What To Do…where you see this quote…"Somehow, this tradition tends to cause University students to be very careless and forget that public nudity is actually against the law, so it is best to circumvent as many problems as possible. The University Police do actually frown upon this school tradition and they have been known to arrest or strongly lecture naked students on the social ills caused by being caught in a state of public nudity. The strongest argument offered by the police seems to be that "you will never be able to get a job working with children." However, no one seems to pay any mind to these idle threats."
Now it's time for the picks. And remember, it's all in fun.
FRIDAY
USC AT OREGON ST.
Despite everything that has gone wrong at USC this season, they become bowl eligible with a win. However, USC has not defeated Oregon State at Reser Stadium in Corvallis, Ore., since 2004. They also face the nation's passing leader in Sean Mannion, who is averaging 408 yards per game. Ed Orgeron has to wait another week. BEAVERS 28, USC 21
SATURDAY
NO. 8 CLEMSON AT VIRGINIA
The rousing strains of Auld Lang Syne and the Pergola frighten the Tigers into a quick 3-0 deficit Saturday, but once Clemson realizes they are on The Grounds and facing a bunch of First Year and Second Year players, the talent begins to take over. The Wahoos (hats creased of course with the right earrings) are just too young to stay with a Clemson team that needs to win out to earn a BCS bowl berth. CLEMSON 38, VIRGINIA 20.
VIRGINIA TECH AT BOSTON COLLEGE
Just when we thought Logan Thomas might be figuring things out, he goes out last week and throws 16 interceptions to Duke. DUKE!!! Could he not tell those were blue jerseys? Poor guy. I honestly feel sorry for him, right up until the part where I realize he will be making millions of dollars next season because he is so tall (SO TALL!!) and I will still be earning Burger King coupons from Crump. Oh, for a couple of more inches……Meanwhile, Boston College looked decent in defeat to FSU and Clemson, but got beat by a bad UNC team by 24 last week. Who shows up? And how many interceptions does Logan throw? TALL QB 17, BOSTON COLLEGE 14
MISS. ST. AT SOUTH CAROLINA
This game will start off the same way every other South Carolina has this season – Clowney will have mild heartburn and take plays off while still being called the Best Player That Ever Lived, and the school will announce that quarterback Conner Shaw is NOT available after breaking both legs and both arms in a visor-tossing accident at practice last week. Scar then trails Miss. St., and Shaw comes off the bench to save the day. Sound about right? SCAR 33, COWBELLS 20.
UNC AT N.C. STATE
This game will begin once the wine tasting events are over at the UNC tailgate, and the fat kid finally ascends his pole in the student section. Once the action starts, however, both fan bases soon realize that basketball season is just around the corner and they can begin hating each other on a whole other level. DEAN SMITH 30, HERB SENDEK 27.
GEORGIA AT FLORIDA
Both of these teams have battled significant injuries, and those injuries have caused both teams to need help when it comes to winning the SEC East, a division that no one seems to want to win. The winner keeps a precarious seat at the table, while the loser will need to soak their sorrows in alcohol. The World's Largest Outdoor Cocktail Party is what this game is called, but what it should be called is the World's Largest Gathering of Drunk Rednecks. Which one wins? Georgia has too much talent on offense. BULLDOGNECKS 24, GATORNECKS 17.
UTSA AT TULSA
WHO???????????
MIAMI AT FLORIDA ST.
For the second time in three weeks, the ACC has a battle of top ten teams. For the second time in three weeks, FSU wins in a blowout. Ouch. FSU 40, MIAMI 17.
OTHER PICKS
Michigan St. 27, Michigan 20
Notre Dame 30, Navy 20
Auburn 34, Arkansas 20
Georgia Tech 28, Pitt 20
Missouri 31, Tennessee 20
Texas A&M 60, UTEP 17