| | |
| --- | --- |
| Pigskin Prophet - Get Back Guy Edition | |
---
| | |
| --- | --- |
| Thursday, September 11, 2014 4:01 PM | |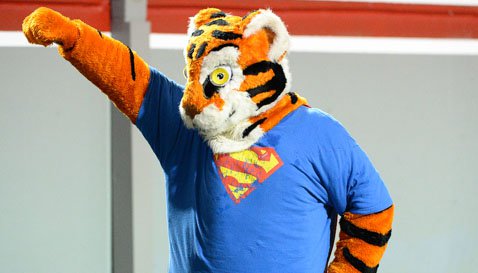 Well, I have to admit that I got in trouble. I was finally comfortable and enjoying my job driving around former South Carolina football players from the jail to their work release jobs. However, Texas A&M went and beat South Carolina on opening night, there was a prison riot and all prisoners have been confined to their cells until South Carolina is relevant again.
Not wanting to wait for the 10 years that could take, I had to find another job.
I looked online, and I found the perfect job working at USC. No, not South Carolina. You know, USC. Southern Cal. The Trojans. All those Heisman winners and national championships and tradition. Turns out that their athletic director – Pat Haden – charged down onto the field last week and berated officials for picking on his coach. That didn't sit well with a lot of people, because Haden is part of the playoff selection committee, and his outburst makes the whole process look bad.
I'm now Get Back Guy. It's the same thing that Clemson has with defensive coordinator Brent Venables

Brent Venables
Def. Coordinator / Linebackers
View Full Profile , who frequently goes charging onto the field with his headset wrapped around his neck. Sometimes that acts as a leash and he gets pulled back onto the sideline like a leashed dog chasing a car, but other times there has to be a Get Back Guy to grab and keep him from wishing an official a fine afternoon.
I think I will like this job – Haden is old and not much trouble. And my cousin got a similar job at South Carolina – he's the Catch the Headset Guy when things go bad. I told him he'd better wear a catcher's mitt – could be a long season down there.
On to the picks, and remember, it's all in fun (Crump disclaimer).
THURSDAY
HOUSTON AT NO. 25 BYU
The kids from Provo went into Texas and laid a beat down on Charlie Strong's boys last week. Things look bleak in Austin right now, and Strong might be wishing he hadn't dismissed half of the team before the season for not being All In. But that doesn't take away from the fact that BYU is a program that has beaten up on some really good teams and Georgia Tech in recent years (see what I did there?). Houston isn't the same since Kevin Sumlin left for a bigger payday, and it won't be easy Thursday. BYU 41, HOUSTON NUTTS 16
FRIDAY
NO. 8 BAYLOR AT BUFFALO
My first instinct when I saw this was to pick Baylor, simply because Bryce Petty is a far better quarterback than E.J. Manuel, who somehow completes a pass every once in a while. Then I realized that Baylor is playing the college team Buffalo. Even though college Buffalo has a better quarterback than old E.J. (really, your grandma is better), this one will be over sooner rather than later. BRYCE PETTY AND THE HEARTBREAKERS 55, BUFFALO 20
SATURDAY
EAST CAROLINA AT NO. 17 VIRGINIA TECH
How about those Hokies, getting the win over Ohio St last weekend? I've tried to tell you about quarterback Michael Brewer – the former Lake Travis (TX) product who is at Virginia Tech because of Clemson's Chad Morris

Chad Morris
Offensive Coordinator / QBs
View Full Profile . Brewer isn't tall, but he is effective, and it's amazing what the Hokies can accomplish when they have a normal-sized quarterback. In other news – not related – seven former tight ends have been moved back to that position from quarterback by Frank Beamer. East Carolina meanwhile, scared poor South Carolina fans to death last weekend before losing. East Carolina isn't bad, and they'll give the Hokies all they can handle. LAKE TRAVIS 34, EAST CAROLINA 24
KENT STATE AT NO. 22 OHIO ST.
Ohio St.'s offensive line and quarterback got exposed last weekend in the loss to the Hokies. In fact, Ohio St.'s last two games against ACC schools have been less about "dotting the I" and more about "get your eye dotted." However, they are now back to playing the familiar part of their schedule – you know, the teams from that area that they can beat up on and rack up wins. Ohio St. in a laugher. DOT THE BLACK EYE 40, KENT ST. 13
WEST VIRGINIA AT MARYLAND
You know, the more I thought about this game and how much there is to make fun of, my head froze up and I got a headache like you get when you eat ice cream too fast. From the mullets to the kissing cousins to the couch burning to the awful uniforms, it was overwhelming. It's now up to you to guess which one I think is the winner, and I am going to leave clues that are VERY hard to figure out. WE BURN COUCHES SO OUR COUSINS/WIVES WON'T HAVE TO GIVE THEM TO GOODWILL 35, WE PLAY FOOTBALL IN A REAL FOOTBALL CONFERENCE 32
NO. 6 GEORGIA AT NO. 24 SOUTH CAROLINA
The eyes of the Peach State (no one cares about Georgia Tech anyway) and the Palmetto State will be on this matchup this weekend. The Bulldogs ran roughshod over Clemson in the fourth quarter of the opener, and it would be hard to argue against Todd Gurley as the best player in the nation. Heck, he has my vote. The Gamecocks, meanwhile, have a defense that has been shredded to date, giving up 9,462,786 yards to Texas A&M and getting scared by East Carolina last week. Georgia hasn't played well at South Carolina in recent memory – the gangs and the smell get to them – and the Head Ball Coach might just put up a fight. However, Georgia has Gurley, and Slurrier doesn't have a Clowney or a Shaw to help him escape his bad coaching decisions. DAWGS 34, SOUTH CAROLINA 28
UTSA AT OKLAHOMA ST.
WHO???????????????
WAKE FOREST AT UTAH ST.
Don't look now, but Wake Forest football is definitely NOT back. They go out West. Get trounced. UTAH ST. 31, WEAK FOREST 14
TENNESSEE AT NO. 4 OKLAHOMA
If this one were played at Neyland Stadium, I would give the Vols a fighting chance. As it is, I think Tennessee is better than people think and will surprise some SEC East teams this year. Oklahoma hasn't missed a beat after its beatdown of Alabama in the Sugar Bowl, and they have the look of a team that could crash the four team playoff. For the Vols, however, this isn't Rocky Top, it's the Rocky Road. And Oklahoma isn't most of the SEC East, it's actually pretty good. BOOMER SOONER 38, TENNESSEE 21
NO. 12 UCLA VS. TEXAS
Charlie Strong's initial season will be a long one, but at least this week he won't lose in Austin but up the road in Arlington. UCLA hasn't been as dominant as people would have liked in its first two wins, and this one could settle into one of those boring back-and-forth affairs before talent and the depth chart win out. UCLA 29, TEXAS 17