| | |
| --- | --- |
| Pigskin Prophet - Georgia Tech edition | |
---
| | |
| --- | --- |
| Thursday, November 14, 2013 9:42 AM | |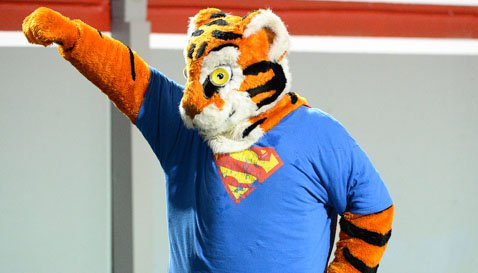 Belly floppers unite!! Your team is coming to town.
Yes indeed, the Georgia Tech football team makes its way up Interstate 85 Thursday for a date with the Clemson Tigers, and you can easily follow the progress of the team as they make their way out of Atlanta and onto the interstate by the number of bystanders who are blocked and cut off at the knees by the police escort "blocking" traffic for the buses.
Yep, Georgia Tech means the cut block and the chop block and knee injuries galore as Paul Johnson's belly floppers bring the hambone or flexbone or wishbone or trombone offense or whatever it is called to Death Valley.
Is there a difference between a cut block and a chop block? Yes, one is illegal and one is legal, but Tech does so many both that officials simply don't call the illegal blocks. As I've stated before, it's easy to be an offensive lineman under Paul Johnson and the Trombone offense – you don't have to learn footwork or hand placement or how to run block or pass block. You belly flop and aim for the knees of your opponent.
In fact, all you have to learn is one other thing, and that is where you go on a certain play. If you are required to man block, you simply launch yourself at the lineman's knees and hope he falls over you. Sometimes, you are allowed to "pull" which means you get a head start on some unsuspecting linebacker or defensive back and you get to go full speed at their knees, which causes much more damage and earns you a smile from your beloved coach.
Who is this head coach? He will be easy to spot – he will have a local radio host wrapped around one of his legs, and he will be dragging him up and down the sideline.
Yep, the belly floppers are here. If you want to see the Yellow Jackets as they arrive at the stadium Thursday night, just look for the people dressed like bumble bees as they line up waiting for the buses. Once the buses arrive, stick around for the show. The players jump off the bus and start launching themselves at their fans knees, and they all roll around on the ground while singing the "Budweiser" song. It's quite a spectacle.
And one more bit of fun – Jesse Palmer actually has to make a trip to Clemson. He is easy to spot – it looks like he shops at Baby Gap and all of his clothes are a little too tight.
Now on to the picks, and remember, it's all in fun.
THURSDAY
TROMBONES AT CLEMSON
The Tigers won by 16 in Death Valley last season, but it was a one-point game in the fourth quarter until a late safety and two touchdowns accounted for Clemson's final points. The knee-choppers are usually able to keep games close because of their offense, which moves slightly faster than a glacier, running lots of time off the clock. Tech's defense has improved under Ted Roof, however, and this one should be a fight from beginning to end, with an angry Paul Johnson throwing F-bombs from the opening kickoff to the final whistle. Tigers win after pulling away late. Again. CLEMSON 34, TROMBONE 20.
SATURDAY
OHIO ST. ILLINOIS
Hey look!! Ohio St. FINALLY plays a real team!!! Hahahahahaha…yeah, I thought that was kind funny as well. Their schedule is almost as bad as Bama's or anybody in the SEC East. OHIO ST. 52, ILLINOIS 14
TROY AT OLE MISS
Well, Ole Miss spent a few weeks in the Top 25 because of the SEC/ESPN rules which states that any SEC team that starts out 2-0 automatically has to be ranked. The Rebels have a chance against Troy to improve their bowl possibilities, but it's obvious that last season's recruiting success hasn't paid off this season. My advice – add more hospital jobs to lure recruits!!!! OLE MISS 50, TROY 24
N.C. STATE AT BOSTON COLLEGE
Funny thing about N.C. State head coach Dave Doeren. I remember the week of the Pack-Clemson game, the N.C. State game notes mentioned several times that Doeren was undefeated as a head in home games, as if that magical power would somehow lift the Pack to greater heights. Here is a stat for ya Pack – Dave Doeren has never won an ACC home game. Nor has he ever won an ACC game. And it won't be this week. BOSTON COLLEGE 31, WINLESSINRALEIGH 20.
UNC AT PITT
This UNC program is a model of consistency. They lost one. Won one. Lost four in a row. Now they've won three in a row. So they have to win this week, right? Pitt is coming off an emotional win over Notre Dame, and might find it hard to replicate that emotion over the Heels. And let's face it, both of these fan bases are really only looking forward to basketball season when these two match up. If a game is played and nobody cares, does the score still count? PITT 28, UNC 27
MARYLAND AT VIRGINIA TECH
Holy cow. Logan Thomas actually played decent last week, and I have a theory about it. See, the game was played in the middle of a rain storm, distorting his vision enough to where he couldn't pick out the Miami jerseys in order to throw to them. The forecast for Saturday in Blacksburg is clear, and he is tall, and Maryland will probably wear those crash test dummy uniforms that everybody hates, so he will be able to see them just fine. He throws 10 interceptions, rockets up the draft charts because it is learned he grew a centimeter last week, and the Hokies still win. HOKIES 27, CRASH TEST DUMMIES 10.
SYRACUSE AT FLORIDA ST.
Memo to FSU's grounds crew – please have one person assigned to Syracuse head coach Scott Shaffer, and please make sure they have spent time around a Navy Petty Officer (like my buddy Deante Brownlee) so they are used to cursing. This person needs to have a pooper scooper available to pick up Shaffer's gum when he throws it at Jimbo Fisher when things go wrong. He also says a lot of bad words. And things will go wrong. Quickly. And often. Hey!! It's Jim Boeheim!!! Has basketball started yet??? NOLES 67, GUMTOSSINGCUSSINGCOACH 7.
GEORGIA AT AUBURN
I don't know what's the bigger surprise, the fact that Georgia is missing a ton of players who aren't in jail, or that Auburn could still field a team this season after almost all of their team was arrested for something last season. On August 31st, you would have said Georgia in a blowout. Now it might be the other way around as Auburn makes a run at a special season. This one is close. Really close. Give the points to the home team with six mascots (are they a Tiger, a bird or that squirrel-looking thing that they have that runs around on the sidelines?). JURDAN-HAIR Stadium makes all the difference. ALLBARN 30, JAWJA 27.
UTAH AT OREGON
Oregon fans, you can rest easy. This isn't Stanford. Maybe you can make up shirts this week that better reflect what you really think. Instead of printing shirts that say We Want Bama, maybe you can make up shirts that say We Want a Real and Physical Offensive Line. One good thing about those Bama shirts, however – you have clothed an entire third world country for a year!!! OREGON 47, UTAH 20.
FLORIDA AT SOUTH CAROLINA
How goofy is college football? Traditional doormat South Carolina now looks down on the mighty Florida Gators, who have to beat Georgia Southern and either South Carolina or Florida St. in order to be bowl eligible. And the coach who took Florida to great heights – Steve Spurrier – is now coaching for South Carolina while Lou Holtz spits all over our television screens every Saturday. Goofy. The bad news for Florida is that they won't win this week. They might not beat Georgia Southern. And they definitely don't have a chance against Florida St. Ouch and double ouch. FIFTH PLACE RINGS 30, FLORIDA 13.