| | |
| --- | --- |
| Petrino doesn't expect Death Valley to be louder than Syracuse | |
---
| | |
| --- | --- |
| Monday, October 6, 2014 5:32 PM | |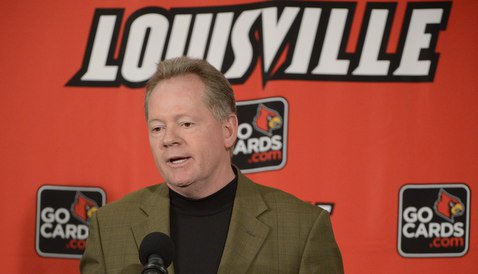 For the second week in a row, Clemson fans have had the gauntlet thrown their way by an opposing coach.
Prior to last week's home game against North Carolina St., Wolfpack head coach Dave Doeren told the media that playing one road game at South Florida and a home game against Florida St. had his team prepared for the noise at Death Valley.
This week, Louisville head coach Bobby Petrino got in on the action, telling the media at his weekly press conference that he doesn't expect Death Valley to be any louder than the Carrier Dome at Syracuse was when the Cardinals played at Syracuse last Friday.
Louisville travels to Clemson for a 3:30 pm kickoff and Petrino said he expects the same noise level as his team experienced last Friday.
"I think it's something you look forward to and you enjoy. And to be real honest with you, it's going to be very similar to last week," Petrino said. "That was a loud place. I don't know if it can get any louder, even though the crowd wasn't that big. That first third down – when everyone started screaming and yelling – maybe it can't get any louder than that. But the stadium will be big and there will be a lot people there.
"It will be a fun trip for us. When you look down at the schedule and you say, 'hey, we get to go play down at Death Valley.' These are the types of games that the players we recruit and the guys that are here came here to play in. We have to have a great week of preparation and go attack the week and go down there and play very good football to come away with a win."
He then said he expects his team to treat it like they would any other stadium.
"But the field is the same length and the goal posts are the same height. So, we have to go in and enjoy it," he said. "This is one of the things that's exciting about being in the ACC is some of the venues we get to go play at. This is our first real experience in that. We just have to focus on getting better and go play football."
Petrino did say that Clemson's football team will present a challenge.
"We have a great challenge ahead of us. Clemson is a very, very good football team," he said. "They are very explosive offensively, and I think it will be the biggest challenge our defense has faced to date as far as their ability to throw the ball deep and a running quarterback. They have a great receiver and a lot of pieces in that offense.
"Defensively, they have been very good. Last week they were extremely good against North Carolina St. But they've shown they can play good defense in both stopping the run and defending the pass. It will be fun. They are a great team."
During the press conference, Petrino said there is "a good chance" that star wide receiver DeVante Parker will make his 2014 debut this Saturday. Parker suffered a fifth metatarsal fracture in his left foot on Aug. 22, and has not dressed for the first six games of the season.
"Yeah, there's a good chance," Petrino said when asked about Parker playing this weekend. "He's been out there running routes for over a week. The team has an off day today, but he'll practice tomorrow and we'll see how he does the rest of the week."