| | |
| --- | --- |
| Patience pays off for Hopper in big afternoon | |
---
| | |
| --- | --- |
| Sunday, November 22, 2015 10:23 AM | |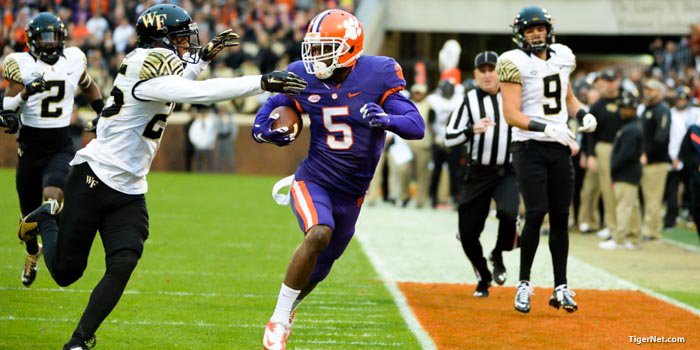 Germone Hopper didn't get many opportunities to catch the ball through Clemson's first eight games.
But that has changed the past three games, and Hopper has made the most of those chances.
After recording just six catches through the first eight games, Hopper has 11 catches the past three games, and he had his best game of the season Saturday against Wake Forest. Hopper had three catches for 120 yards and his first touchdown of the season in a 33-13 Clemson win.
"Just going out there and helping my team," Hopper said. "First and foremost, I just wanted those seniors to go out on their last home game ever. It was about them. I was just giving my part, doing my part, my 1-11.
"It's just the way it goes. This is Wide Receiver U. It could be my night. It could be (Artavis Scott's) night. It could be (Ray-Ray McCloud's) night, Deon (Cain), Charone (Peake), (Hunter) Renfrow, all them boys, Trevion (Thompson). It's just how it goes when you're Wide Receiver U."
That's especially true with a quarterback like Deshaun Watson. The Tigers' sophomore quarterback completed 24-of-35 passes for 343 yards.
That included a long of 63 yards to Hopper in the first quarter to set up an 11-yard scoring pass from Watson to Cain.
"With a good quarterback like that, I knew he was gonna come to me," Hopper said. "As soon as I saw that there was nobody over on that side, I knew Deshaun was coming to me. We practice that play a lot, so I was prepared."
Hopper didn't score on that play, but he made up for that with a 47-yard scoring catch in the second quarter.
"He throws the perfect deep ball," Hopper said of Watson. "You really just gotta do your part, and the rest, he will take care of it. I knew my time was coming. Just stay committed and stay all-in. I knew my time was coming. I just have to stay patient and let the chips fall where they may.
"They were giving me trouble on the sideline for not scoring on that first play, so I knew I had to do something to make up for it. I was just doing my best that I could, and Deshaun put it out there for me, I broke a tackle and scored."
The Tigers did a lot of scoring in the first quarter, putting 20 points on the scoreboard to essentially put the game away. Clemson led 30-7 at halftime.
"That's what we take pride in; our offense takes pride in that," Hopper said. "Our first plays that we call, we try to get 14 points out of them. It's just something that we take pride in, and we try to do the best that we can to make that happen."
Now the Tigers turn their focus to their annual rivalry game with South Carolina. Clemson snapped a five-game losing streak to the Gamecocks with a win last season.
"We know when go down there, it's going to be tough," Hopper said. "They play us different than they play everybody else. It's the last game of the season. It means a lot. We beat them last year. I've got a chance to be 2-2 against those guys or 3-2 against those guys. I'm ready to go down there and play those guys."
*Daniel Shirley is the sports editor of The Telegraph in Macon, Ga., and co-host of The Morning Show on FoxSports 1670 AM. Follow him on Twitter at @DM_Shirley and read his blog at macon.com/peachsports.