| | |
| --- | --- |
| Parker Boudreaux breaks down his Top 10 and decision date | |
---
| | |
| --- | --- |
| Wednesday, April 15, 2015 10:06 PM | |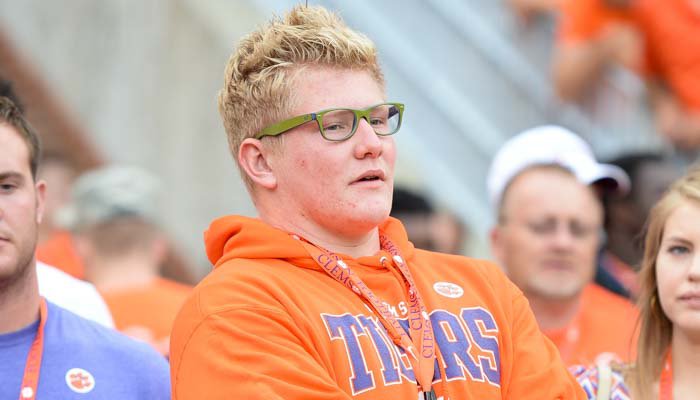 Four-star offensive line prospect Parker Boudreaux

Parker Boudreaux
Offensive Tackle
6-5, 282
Orlando, FL
ESPN:


View Full Profile narrowed his list of schools down to 10 Wednesday evening, tweeting out his list on social media, and it came as no surprise that Clemson was in Boudreaux's top ten.
The 2016 guard prospect out of Orlando (FL) Bishop Moore holds roughly 70 offers, but Wednesday's announcement narrowed that list down to Georgia Southern, Clemson, Penn St., Notre Dame, Auburn, Oklahoma, Alabama, Ole Miss, Florida and Iowa.
Shortly after the announcement, TigerNet spoke with Boudreaux to get his thoughts on each of his top ten.
CLEMSON
"Well, I've been there twice and obviously they're the most genuine people up there. The coaches are really cool. You can feel the great tradition and culture and family atmosphere. I'm just really comfortable up there. One of my trainers is a guy that played for Coach (Robbie) Caldwell at Vanderbilt so I learned a lot of the same techniques. I know how he coaches because I've watched a practice. It just feels really comfortable up there."
Georgia Southern
"They were one of first offers and they gave me the nickname P-Money. They're probably the coolest guys up there. They are my favorite from all of the smaller schools. They're just so cool up there."
Penn St.
"I went there for a game against Ohio State and got a chance to sit down with Coach [Tony] Franklin and Coach [Herb] Hand for a little while. The fans are the most friendly fans ever. Everybody is just really friendly up there. You can feel the family atmosphere up there and I'm pretty comfortable. I think Coach Franklin is going to do a really good job and bring them to be one of the top Big 10 schools."
Notre Dame
"Bishop Moore is like a smaller Notre Dame. It's private and Catholic. They have good academics. The coaches are really, really good coaches and they genuinely care about you. I'm going up there in the summer and I'll be visiting them in June along with Iowa."
Auburn
"I've been there three times. I've really liked it all three times. It's pretty nice. It's small college town and everything revolves around football. Coach [Gus] Malzahn is a real genuine guy. He's going to build good character on and off the field to make you be the best person you can be."
Oklahoma
"I visited them recently. You can just feel the tradition. It's all about winning and family. Also, there are really friendly over there. It's kind of far away from home but not really. It doesn't feel like when you're there. Coach [Bob] Stoops is an awesome coach and he's been there for a while and been in a lot bowl games."
Alabama
"I visited them over spring break. Coach [Mario] Cristobal - the line coach - he's one of the best coaches I've met so far. He knows what he's talking about. Great guy. The football facilities and academic support over there are insane. It's really, really impressive. The campus is really pretty."
Ole Miss
"Coach [Hugh] Freeze is a lot like Dabo Swinney

Dabo Swinney
Head Coach
View Full Profile . He's a super Christian, genuine, family guy. He treats his players like his family. He cares about them. The campus is super pretty. Everything is walkable. It's a good chance to come in and play early."
Florida
"It's right by home. It's an hour and 20 minutes away. Coach [Jim] McElwain is changing the program back to a top 10 program. He did that at Colorado State and that's pretty hard to do. The need for offensive lineman - they have six or seven scholarship offensive linemen right now, so it's a great chance to come in and compete for a spot as a freshman. I love Coach [Mike] Summers, he's been there forever. He's the only coach that stayed with the new staff."
Iowa
"I haven't visited but I'm going to visit this summer. They put a lot of linemen in the league every year. I just want to go up there and see what it's about. Coach [Kirk] Ferentz is a really cool guy. They really like offensive line up there. I just want to go up there and check everything out because they are the offensive line university."
So when will Boudreaux make a decision?
"Once I visit Notre Dame, I'm going to narrow down my list to a top five and research all of those schools and try to take some official visits and try to make a decision then," he said.
TOP 10?? pic.twitter.com/NI314qufBd

— P-MONEY (@ParkerBoudreaux) April 16, 2015