| | |
| --- | --- |
| PAW drill highlights Wednesday practice | |
---
| | |
| --- | --- |
| Wednesday, August 6, 2014 7:20 PM | |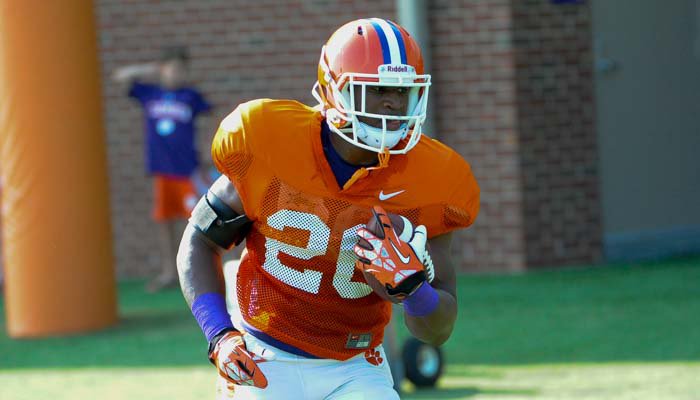 CLEMSON – The PAW drills were back with a vengeance Wednesday, and several younger players stole the show.
Wednesday's practice was the first in full pads for the Tigers, the full uniforms replacing the shells and shorts worn in the first four practices. Wednesday's practice started with the vaunted PAW drills, with offensive and defensive linemen, running backs and linebackers on one end of the indoor practice facility with defensive backs, tight ends and wide receivers on the other.
The result was the kind of controlled pandemonium and chaos that marks the real beginning of fall football and Wednesday's drills didn't disappoint.
The first offensive group up was Joe Gore

Joe Gore
RS Jr. Offensive Tackle
#73 6-5, 283
Lake Waccamaw, NC
View Full Profile , Kalon Davis

Kalon Davis
RS Sr. Offensive Guard
#67 6-5, 340
Chester, SC
View Full Profile , Isaiah Battle

Isaiah Battle
Jr. Offensive Tackle
#79 6-7, 285
Brooklyn, NY
View Full Profile and C.J. Davidson

C.J. Davidson
RS Jr. Running Back
#32 5-10, 203
Clemson, SC
View Full Profile . It took Davidson two downs to break through for a score, running over both the left and right side. Davidson also scored on his second attempt in the drill.
After being beaten on the first two drills, the defense stepped up and Stephone Anthony

Stephone Anthony
Sr. Linebacker
#42 6-2, 244
Polkton, NC
View Full Profile quickly let redshirt freshmen running back Wayne Gallman

Wayne Gallman
RS Fr. Running Back
#9 6-1, 209
Loganville, GA
View Full Profile know it by not only stuffing him on a run attempt, but then picking him up and throwing him to the ground. Gallman didn't run to Anthony's side after the encounter, instead scoring on the right side of the line. Gallman had his highlight moment when he leapt over Ben Boulware

Ben Boulware
So. Outside Linebacker
#10 5-11, 235
Anderson, SC
View Full Profile and raced for the endzone.
One of the highlight moments was freshmen Adam Choice

Adam Choice
Fr. Running Back
#26 5-10, 211
Thomasville, GA
View Full Profile 's first time participating in the PAW drill. Choice showed great burst out of the backfield and once he got close to the endzone he simply used his 5-10, 200-pound frame to bowl over All-American Vic Beasley

Vic Beasley
RS Sr. Defensive End
#3 6-2, 236
Adairsville, GA
View Full Profile for the score.
C.J. Fuller

C.J. Fuller
Fr. Running Back
#27 5-11, 216
Easley, SC
View Full Profile showed why he was one of the most explosive running backs in the state of South Carolina - he was strong and explosive during the PAW drill, at one point just running over Jabril Robinson.
Kurt Fleming

Kurt Fleming
Fr. Running Back
#40 6-0, 233
Louisa, VA
View Full Profile had his moment when he split Dane Rogers

Dane Rogers
RS Fr. Defensive End
#85 6-3, 270
Shelby, NC
View Full Profile and Jabril Robinson

Jabril Robinson
Fr. Defensive Tackle
#96 6-2, 255
Leland, NC
View Full Profile – running through the both of them – for the score.
Stanford transfer David Olson showed leadership - every time it was his turn to participate in the drill, he was constantly supporting and encouraging his linemen and running back.
After the PAW drill, Battle was a little gimpy with an apparent ankle injury and didn't participate in any further activities while we were allowed to watch. He was trying to stretch his leg out, but was in apparent pain. With Battle, not participating, Kalon Davis moved to left tackle and Reid Webster

Reid Webster
RS Sr. Offensive Tackle
#77 6-3, 300
Woodstock, GA
View Full Profile played left guard. Tyrone Crowder

Tyrone Crowder
RS Fr. Offensive Guard
#55 6-2, 322
Marston, NC
View Full Profile then played right guard.
Battle spent time hydrating and working with trainer Danny Poole after the injury.
Christian Groomes

Christian Groomes
Fr. Punter / Kicker
#39 5-9, 185
Central, SC
View Full Profile , a walk-on kicker from Central (SC) Daniel looked good during special teams drills, hitting on every one of his kicks.
Watching the special teams drills gave us a little insight into who the coaches are giving a chance at punt returner. MacKensie Alexander

MacKensie Alexander
RS Fr. Cornerback
#2 5-11, 190
Immokalee, FL
View Full Profile , Adam Humphries

Adam Humphries
Sr. Wide Receiver
#13 5-11, 193
Spartanburg, SC
View Full Profile , Adrien Dunn

Adrien Dunn
RS Fr. Wide Receiver
#82 5-7, 170
Clemson, SC
View Full Profile and Martin Jenkins

Martin Jenkins
RS Sr. Cornerback
#14 5-9, 185
Roswell, GA
View Full Profile were returning punts. Alexander – the redshirt freshman defensive back out of Immokalee (FL) - was explosive and is quick to turn up field after catching the ball. One downside is that he resembled Sammy Watkins

Sammy Watkins
Wide Receiver (2011 - 2013)
#2 6-1, 205
Fort Myers, FL
View Full Profile (at times) by high-pointing the ball when catching punts. Other times, he caught it closer to his body. Jenkins showed that he is fully healthy this season with a quick burst up the field. He was 30 yards up field before anyone knew it, leaving one player to remark, "That's who we need back returning punts."
Robert Smith

Robert Smith
Sr. Safety
#27 5-11, 211
St. George, SC
View Full Profile showed what a team leader he has become during special teams drills. He was on the sidelines with his group constantly asking what the call on the field was and coaching his group up – talking inside and outside technique and how to trail players.
For the first time since we've been allowed to watch practice over the last four years, Chad Morris

Chad Morris
Offensive Coordinator / QBs
View Full Profile applauded his offense's tempo during the "Tempo" period, saying that Deshaun Watson

Deshaun Watson
Fr. Quarterback
#4 6-3, 204
Gainesville, GA
View Full Profile 's group executed with, "Good tempo." Watson once again showed his ability to throw on the on the run and make all of the throws that he was asked to make.
Scouts on hand
Scouts from several NFL teams were in attendance, including two each from the Detroit Lions and Tennessee Titans and individual scouts from the Buffalo Bills, Pittsburgh Steelers, New York Jets, New York Giants, Houston Texans, Oakland Raiders and Kansas City Chiefs.
Cliff Stoudt
Another interested observer was former NFL quarterback Cliff Stoudt, the father of quarterback Cole Stoudt

Cole Stoudt
Sr. Quarterback
#18 6-4, 231
Dublin, OH
View Full Profile . Don't think, however, that Stoudt spent his entire time watching Cole. Like any football guy, he watched all of the position groups go through drills.
Running backs
I don't get caught up in the freshmen too much – who knows how much they can contribute or will play – but every time I watch the running backs Adam Choice just jumps out at me. Physically, he looks like he is ready to play, and he was better than I expected catching the ball out of the backfield as the team ran some wheel routes.
Choice has quick feet for a man his size, and if any of the upperclassmen felt complacent about their spot on the depth chart all they have to do is look at Choice. Considering that Clemson has four experienced guys ready to go and will get Tyshon Dye

Tyshon Dye
RS Fr. Running Back
#23 5-11, 214
Elberton, GA
View Full Profile back at some point, I don't know where Choice fits. But does he look like he can play now from a physical standpoint? Absolutely.
During one of the drills, Tony Elliott

Tony Elliott
Assistant Coach / Running Backs
View Full Profile ran a drill where the put a big mat on the ground. As the running backs were running forward, former Clemson player Roscoe Crosby

Roscoe Crosby
Wide Receiver
# 6-2, 220
Union, SC
View Full Profile would try and strip the ball out while throwing the players to the ground. Later in the drill, Elliott had a long stick with a big boxing glove on the end of it, and he would try to knock the ball out while Crosby worked at stripping the football.
Defensive backs
Watched freshman safety Jefferie Gibson

Jefferie Gibson
Fr. Safety
#38 6-3, 190
Hope Mills, NC
View Full Profile for a while during the last part of practice, and he's so tall and lanky he reminds me of Jayron Kearse

Jayron Kearse
So. Safety
#20 6-4, 215
Fort Myers, FL
View Full Profile when Kearse first arrived. During early drills, he dropped a few passes and was seen doing up-downs to the delight of his teammates.