| | |
| --- | --- |
| Overton caught in the middle of "Wide Receiver U" battle | |
---
| | |
| --- | --- |
| Sunday, July 26, 2015 8:01 AM | |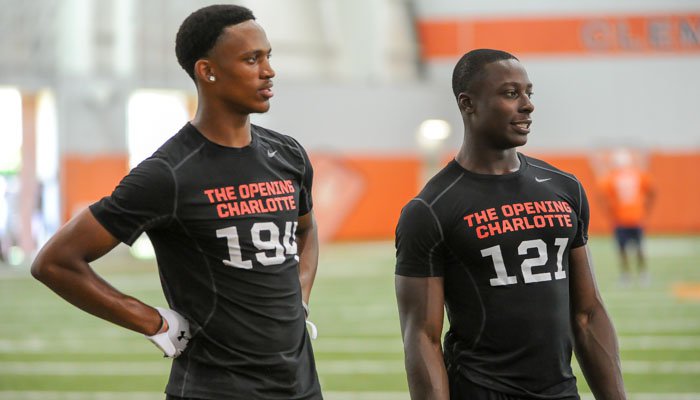 The last time Tennessee and Clemson went head-to-head on the gridiron, the Tigers claimed a 27-14 victory over the Volunteers in the 2004 Peach Bowl in Atlanta.
Lately, however, the two programs have been going head-to-head in recruiting, battles that have spilled over onto Twitter and made headlines across the region. The wide receivers coaches at both schools – Clemson's Jeff Scott

Jeff Scott
Co-Offensive Coordinator / WR
View Full Profile and Tennessee's Zach Azzanni – have battled over which school can claim to be "Wide Receiver U."
Now those two coaches are going head-to-head for 4-star wide receiver Diondre Overton

Diondre Overton
Wide Receiver
6-5, 195
Greensboro, NC
ESPN:


View Full Profile out of Greensboro (NC) Page. Overton spent several days on Clemson's campus working out with Scott in June but worked out for Azzani last weekend in Knoxville.
"The visit to Tennessee was pretty fun," Overton told TigerNet Saturday evening. "I learned a lot of new things when I went to camp there. I spent the night with one of my friends and had a good time while I was there."
Overton said there is nothing really new to report on the recruiting front, including the fact that it's a Clemson and Tennessee battle.
"There's nothing much that's really new. It's just the same old recruiting process," he said. "It's pretty much Tennessee and Clemson battling it out, but I have an interest in other schools like Nebraska. Clemson is definitely still recruiting me hard. They are just trying to get me to Clemson. They're really showing me a lot of love and telling me what I could do for them and what I would come in and be capable of."
Vols or Tigers? It's too close to call right now.
"I'm taking my time with it. I can't really tell who leads right now," he said. "I'm just trying to evaluate every school and just trying to pick the right school for me. I love both of the coaching staffs, and both have great coaches. I feel like both schools will develop me and help me reach my full potential. That's really what I love about both colleges. I don't know what's really different about them, yet, because they both have great facilities. There's not really a big difference."
Overton said he has enjoyed the back and forth Twitter battles between Scott and Azzani and that both coaches have tried to convince him they are the real Wide Receiver U.
"All the time. They try to battle it out on Twitter and all of that," he said. "It's been fun to be a part of."
Overton said his next stop in Clemson would be for a game or games this fall.
"I'm going to try to get to as many games as possible," he said. "I'm trying to spread it out with a lot of schools, but I'll be getting to some Clemson games."
Overton caught 62 passes for 1,187 yards and 11 touchdowns during his junior season at Page.