| | |
| --- | --- |
| "Our guys never flinched" | |
---
| | |
| --- | --- |
| Saturday, January 4, 2014 11:48 AM | |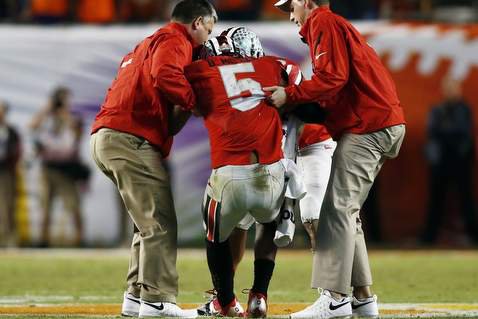 MIAMI GARDENS, FL –During Brent Venables

Brent Venables
Defensive Coordinator / Linebackers
View Full Profile ' final press conference before the Orange Bowl, he took exception to the word "shootout" used by many media outlets in describing the game, but in many ways Friday night's showdown with Ohio State turned out to be just that.
However, Venables felt like his defense never lost control.
The Tigers defense gave up 427 total yards and limited the Buckeyes vaunted rushing attack to just 193 yards in Clemson's 40-35 victory in the Discover Orange Bowl at Sun Life Stadium Friday night.
It wasn't the combination of Carlos Hyde and Braxton Miller that killed the Tigers, however. It was big plays – 11 that went for 15 yards or more.
Clemson's second year defensive coordinator said that despite giving up the wheel routes for touchdowns and the long passes, he and his group never felt like the game was going to come down to the last play.
"The wheel route, they snuck it out on us," Venables said after Clemson's win. "Really, I liked how we were playing. When we gave up big plays, they were chunk yards. But believe it or not, we still felt we were in control. Whatever that means as a play-caller and as a unit, you do have some games where you are like, 'Man, I just hope to get the last stop' and it was kind of that way but also not because I felt our guys had owned them up front. We were leveraging the football very well. Now we missed a tackle on a fourth and short, but they've got great players."
Venables unit was put in several tough situations after a safety, an interception and untimely penalties, but he said they responded the only way they know how – with fight.
"You can't coach that. You try to foster that tough mindedness and the whatever-it-takes, Venables said. "We do that a lot. Our guys just have the willingness to go out and do it, the attitude and toughness that it takes. They played great together and it showed tonight. The sideline was awesome all night. Our guys never flinched. They stuck together and believed they would win and they did."
And, when the Tigers needed the big plays to seal the game, it was the defense that stepped up with a fumble recovery and a pair of interceptions in three of Ohio State's last for drives, and Venables said that he couldn't be happier to win the Orange Bowl on defense.
"You want to win no matter what, but it was fun to watch those guys," Venables said. "As you draw it up - so to speak - and then watch those guys go out and execute it and make it right, to see that in back to back series there late was special. They have a lot of pride. We feel like we've been a solid unit all year and have gotten better. At the right time we made plays at the end of the game. I'm just so happy for those guys. It's a good team, a very experienced team we just beat. We belong. We've earned that right. We're still working, too. We're pretty good, too."