| | |
| --- | --- |
| Orange Bowl could be road to redemption for Tigers | |
---
| | |
| --- | --- |
| Monday, December 9, 2013 3:07 PM | |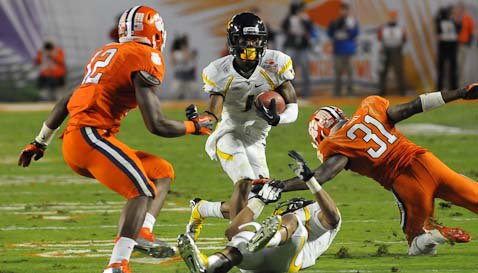 The 2014 Discover Orange Bowl might as well be called the Redemption Bowl for the Clemson Tigers.
Redemption for the 2012 Orange Bowl and the dark memories that linger, redemption for a quarterback that needs to play his best game in a BCS contest and redemption for a program that desperately wants to be considered among the nation's elite.
Playing against an Ohio St. team that has a high-profile coach in Urban Meyer, a team that has a wealth of talent, many might call this one a statement game rather than a redemption game. But it didn't take long for the talking heads on ESPN Sunday night to bring up the Orange Bowl debacle of 2012 and to bring up the fact that Clemson's best win of 2013 was the season opener against Georgia, a team that wound up with an 8-4 record, a multitude of injuries and ended up 20th in the BCS rankings.
After all, this is a society of what have you done for me lately, and Clemson rarely if ever gets the benefit of the doubt from the national media despite being 2-0 against Auburn, 1-0 against LSU and 1-0 against Georgia since the start of the 2011 season.
What resonates – and should resonate just as much as the wins – are the losses to South Carolina and Florida St. and the Orange Bowl loss to West Virginia.
The news came out last week that the Orange Bowl might be having second thoughts about picking Clemson, and that tickets sales was the main concern. That might have been a small concern, but the bowl game is going to make money regardless, and the schools picks up the tab for the unsold tickets. No, the biggest concern for the Orange Bowl had to be the mental scar tissue from two years ago when the Orange Bowl set the kinds of records that bowl games don't like to be associated with.
Bowl games want dramatic finishes, the kind of games that are deemed instant classics and are replayed over and over and over. The only folks that want to watch the 2012 Orange Bowl are West Virginia fans, and even they might get tired of watching the Mountaineers score in almost video game fashion.
I often spend a lot of time talking with other members of the Clemson media about just how good this Clemson team and the program are, and I have to be honest, I can't put my finger on it. I see how this team responded in the win over LSU and won in gritty fashion over Georgia, and think it might be better than people think. Then I see the losses to South Carolina and Florida St., games in which the Tigers implode almost as much as they let other teams beat them, and I wonder just how good the program actually is.
Next up for Clemson is Ohio St., a team with image issues of its own, a team that came within a few plays of actually playing for the national title. For Clemson, however, this one isn't about beating a national power or a team coached by Urban Meyer. This game is about going into a BCS bowl and proving that this team belongs with the nation's elite, and winning a BCS game will do that, even if the opponent is seen by some to be flawed in its own right.
This one is about erasing the stain of 70-35, and you can bet that over the next few weeks, that game will be mentioned more and more, and the national telecast of the game itself will be rife with comparisons. A win won't completely erase the memory of that night, but would go a long way towards blotting out some of it, towards helping Clemson on the recruiting front and setting the stage for next season.
It would also be redemption for quarterback Tajh Boyd

Tajh Boyd
RS Sr. Quarterback
#10 6-1, 225
Hampton, VA
View Full Profile , who needs to play well. Boyd could have left for the NFL after the win over LSU when his draft stock was high, but he came back for his senior season to win a title. That title didn't happen, and Boyd's draft stock has fallen after turning the ball over in losses to South Carolina and Florida St. Now, he has one more chance to shine, a chance at redemption, four long months after the win over Georgia and a full calendar year after the win over LSU.
Redemption for 2012. Redemption for Boyd. It's all on the line, and all we can do is sit back and watch it play out.