| | |
| --- | --- |
| Orange Bowl Media Day: Dancing, fake punts and Venables gets tackled by Shaq | |
---
| | |
| --- | --- |
| Tuesday, December 29, 2015 12:05 PM | |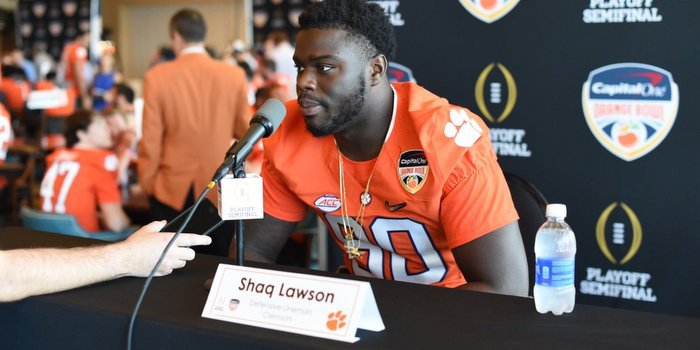 MIAMI GARDENS, FL – Media Day at the Orange Bowl was a huge success.
Clemson football players and coaches met with the media at Sun Life Stadium Tuesday morning in a Super Bowl-style media day free-for-all that included plenty of serious talk as well as laughs.
The highlight? Listening to Tiger defensive players talk about Brent Venables playing quarterback in practice this week. Venables was running a read option and – after a bout of trash talking – defensive end Shaq Lawson laid him out.
Venables laughed about it Tuesday and said he was ok with Lawson popping him, and he even got a stinger out of it.
Ben Boulware said he was jealous.
"I was really jealous," Boulware said. "I've been waiting three years to hit that guy."
We will run plenty of our videos – several of them are hilarious – but here are a few highlights to tide you over until we can get them uploaded.
I talked to Venables for a couple of minutes and he said he has been playing scout team quarterback this week because "there isn't a guy athletic enough to play the part."
His defensive players beg to differ, saying he can't complete a forward pass and has the worst side-arm motion they ever seen.
Clemson's punter talked to us at length about the botched fake punt during the ACC Championship Game. Teasdall said it was supposed to be a rugby-style punt and he felt the pressure and started to run. He said he's good with head coach Dabo Swinney.
"I deserved it (Swinney yelling)," he said. "If I was in his shoes I would have done the same thing. But we've moved past it and I'm just ready to help my team win an Orange Bowl."
Dancing
All of the players told us that Swinney is, without a doubt, the worst dancer in the program. Trevion Thompson and Germone Hopper told us it took them two weeks to teach Swinney to Dab. However…..there were certain players that told us that defensive tackle D.J. Reader might be worse than Swinney.
And, believe it or not, defensive tackle Scott Pagano told us that Dan Brooks might be one of the most underrated dancers.
"He can really get down in those cowboy boots," Pagano said. "He's better than you think."
LeBron's shoes
In case you didn't see, part of the player's bowl gifts were a pair of LeBron James' hightops. The reviews are mixed, but the majority say they just don't like them. Kevin Dodd said it best, "We are grateful for them, but I don't like wearing them. When I get home I am going to put them up and display them as a reminder."
Mac Lain and Norton and the beards
The offensive line is known as "The Beard Gang", and senior linemen Eric Mac Lain and Ryan Norton were hilarious.
Mac Lain said he had a family of squirrels that lived in his beard for a week before he noticed, and that he has woken up with his girlfriend standing over him with scissors or clippers. Does he plan to shave it? Yes, on January 12th.
Norton said he uses 2-in-1 shampoo and conditioner in his beard. He then said that they give the young guys who can't grow a beard a lot of heck.
"We tell them it's okay, that one day they will grow into it," he said. "They just aren't ready. Not yet."
We will have a story later today, but Alexander might have done the most interviews Tuesday and he was very engaging.
My favorite quote….he told me that if I lived in his hometown of Immokalee (FL) I would lose weight because everybody there works. He said he knew he wanted to be successful and help his parents during his freshman year of high school.
Specialists
When you get a chance, go check out my interview with the long-snappers. Those guys are underrated and funny.

Tags:
Eric Mac Lain
,
Ryan Norton
,
Kevin Dodd
,
Germone Hopper
,
Shaq Lawson
,
D.J. Reader
,
Ben Boulware
,
Mackensie Alexander
,
Scott Pagano
,
Andy Teasdall
,
Trevion Thompson
,
Brent Venables
,
Dan Brooks