| | |
| --- | --- |
| Opposing sideline: Ohio State | |
---
| | |
| --- | --- |
| Sunday, December 22, 2013 12:55 AM | |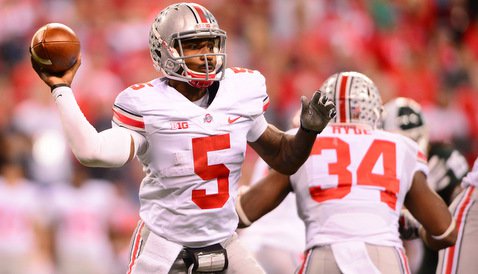 Clemson takes on Ohio State in the Discover Orange Bowl on Jan. 3rf at Sun Life Stadium in Miami Fla., and Buckeye head coach Urban Meyer and a few players recently met with the media to discuss the game.
The following is an edited transcript of those conversations.
Head Coach Urban Meyer
On tweaking the defense
"Obviously we didn't play very well the last two games, and the one we are [about] to play is real. I mean, real real. Tweaks might be an appropriate word and we're still working through that."
On if Braxton Miller runs the ball too much
"Yeah, I think near the end maybe we did. Early in the season, we may have only had one or two quarterback runs. That's where we want to be. We have to throw the ball better, too."
On Braxton Miller and the passing game down the stretch
"I think he did OK. It was a combination of things. We played a couple of pretty good defenses. One game, we were running the ball for a lot of yards per carry. That game dictated that. We did have one weather game and then we played against one pretty good pass defense. Braxton has to play better, but the guys around him have to as well. We just have to get better. It's not just Braxton."
On Clemson
"I know their coaching staff very well...have a lot of respect for them. I know Dabo really well. They have a great offense. Their defense...we're going to have to play our tails off to move the ball against them. They have some very good personnel. A couple of those games they haven't given up much yardage at all. It's going to be a war."
Are you worried about them throwing it?
"Oh yeah. You think?"
On fixing Ohio State's pass defense
"It's not one thing...it's not man coverage; it's not zone coverage. It's all of the above. And then the pass rush...and the time to call the blitzes...making sure the blitzes match the coverages. We just have to play better."
Braxton Miller, junior quarterback
On the Clemson defense
"They're very competitive and go hard every down. They never give up and they fight to the end. I like playing competitive teams because it makes me play better."
On his relationship with Tajh Boyd

Tajh Boyd
RS Sr. Quarterback
#10 6-1, 225
Hampton, VA
View Full Profile and what stands out about him
"I never met him, but we've talked on the phone previous times while working with George (Whitfield). That's the only time I've talked to him. I watched a couple games this year and he can definitely run and pass at the same time. That's a little different from some of the quarterbacks in the Big Ten. Going against myself and Kenny (Guiton) in practice, I feel our defense will be ready for that."
On the passing game late in the season
"It was down. We have to get better on the outside. That's what we're working on right now and that's why we work so hard in practice. We're fixing the mistakes we have made in the games."
On comments made about getting hit too much
"Toward the end of the season your body starts breaking down a little bit and all of the hits add up. That's why in bowl season, you take a few weeks to regroup from all of the games throughout the season."
Ryan Shazier, junior linebacker
On pass defense preparation
"I think we lost some of the fundamentals during the season. Some games we'd show good pass defense and then some games we would show bad defense. So we just need to get back to those fundamentals and doing the key things we know how to do and we've been working on that."
Corey Linsley, senior center
On what they want to prove at the Orange Bowl
"The thing that we are worried about is just showing our character, showing who we are as people and working towards a win. In my mind I'd be extremely disappointed in myself and some of the leaders of this team if we don't come out and do well, just because we haven't faced real adversity like this basically since I have started and since Coach Meyer got here."
Assorted Buckeye Game Notes
• Ohio State and Clemson are meeting for the first time since the 1978 Gator Bowl in Jacksonville.
• The Buckeyes are officially making their first BCS bowl appearance since the 2010 Rose Bowl.
• Ohio State is 5-3 all-time in BCS bowl games.
• This will be Ohio State's ninth BCS bowl appearance, which is tied with Oklahoma for the most appearances all-time in the BCS era.
• Ohio State is tied with USC and Florida for the most BCS bowl wins (5).
• Ohio State's offense set program records this season for points scored (602), points per game (46.3), TDs (82), passing TDs (36) and first downs (334).
• Eight different Buckeyes earned first team All-Big Ten honors this season.
• Senior RB Carlos Hyde is the first RB under Urban Meyer to rush for 1,000 yards in a season with 1,408 yards. He led the Big Ten in rushing in B1G play with 156.1 ypg.
• Hyde and junior QB Braxton Miller (1,033 rushing yards this season) have combined for 1,330 rushing yards with 15 TDs over the past four games.
• Junior LB Ryan Shazier leads the B1G in tackles (134) & TFL (22.5). He has 62 tackles in his last four games (16 at UI, 20 vs IU, 14 at UM & 12 vs. MSU).
• Ohio State and Clemson boast similar rankings on the defensive side of the ball. The Buckeyes are 29th nationally in total defense (362.2 ypg) and 21st in scoring defense at 21.3 ppg while Clemson is 23rd in total defense (351.1 ypg) and 17th in scoring defenses (21.1). Ohio State is second nationally in total sacks (40) and sack yardage (282) plus has 14 interceptions. The Tigers have 33 sacks and 16 interceptions.