| | |
| --- | --- |
| Opposing sideline: Maryland dealing with injury issues again this season | |
---
| | |
| --- | --- |
| Wednesday, October 23, 2013 10:43 AM | |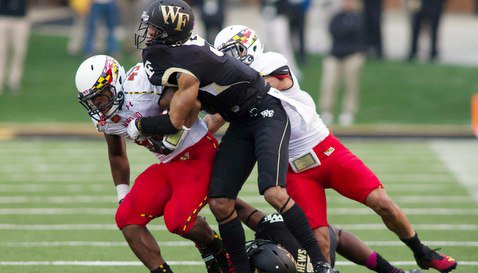 Not many teams across the country have faced more challenges from injuries over the last two seasons than the University of Maryland, Clemson's opponent this weekend in College Park.
The Tigers and the Terps kick it off at 3:30 p.m., but Clemson head coach Dabo Swinney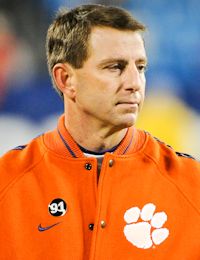 Dabo Swinney
Head Coach
View Full Profile admitted Tuesday during his press conference that it has been difficult to prepare for certain players, because the Clemson coaching staff simply doesn't know who Maryland will have available Saturday.
"It's a little bit of a challenge focusing on those guys because of injuries," Swinney said. "We don't know who is playing where and who is doing what because they've lost key guys with their team. Schematically, we see who they are, but they have new guys. We don't know who they are starting at running back and at quarterback. There are guys maybe coming back on defense, maybe not."
The reality of just how bad things have gotten again this season – Maryland started a freshman linebacker at quarterback last season against Clemson – hit home late last week when at least 10 Maryland players that were listed as first-teamers on the preseason depth chart were injured and unavailable.
That list is a long one – it includes the top receivers (Stefon Diggs and Deon Long), top cornerbacks (Dexter McDougle and Jeremiah Johnson), starting tailback (Brandon Ross) and two starting linebackers (L.A. Goree and Matt Robinson). Johnson, Robinson (Atholton), Goree and Ross are expected to return this season. Goree had been expected to play last week against Wake Forest but had back spasms before the game. Ross left with an unspecified injury, and the status of those players will be updated in Thursday's injury report.
Quarterback C.J. Brown took a nasty hit against Florida St. a few weeks ago, and missed Maryland's win over Virginia with a concussion. He returned last week against Wake Forest, but was pulled by head coach Randy Edsall after two interceptions and three sacks. He was replaced by Caleb Rowe.
Edsall hinted Tuesday that even though Brown had been medically cleared to play, Brown still may not have been in peak condition, but there have been whispers coming out of College Park that Brown is also suffering from an undisclosed injury suffered against Duke.
"What I have to do as a head coach, our doctors and trainers will clear guys to be able to play in the games, but then I think it's my duty and it's my obligation to watch all of our players perform in practice, perform in games, using my eyesight to see how they're performing and if they're not performing up to the standards due to health-related issues, I think I owe to those young men to say that I'm not sure you can end up doing the things you're capable of doing on the field," Edsall said. "Then what I have to do is put somebody else in there so I don't further risk a young man to injury even though that he's cleared, but even knowing what that young man can do and then what I see him doing on the field. I think that's part of my responsibility as a head coach.
"So, as you see the or situation [on the depth chart] that is because of health related issues and what we will do is both guys are cleared and I'll take a look this week as we practice and to see where we're at and then at the end of the week, as we go into the game, we'll make a decision to who will be the guy that will go. But it's not performance related, it was health related and I just feel as though the doctors and the trainers do a great job and they'll never clear somebody to go out and perform and play if they're not capable of playing, but I think there's another part of that which is the coach. Like I said, I think it's my responsibility to watch guys, see how they move, see how they're doing things during the week or in the game based on if something happens and I feel like if they could put themselves in jeopardy, then I think I owe it to those young men and I owe it to our program to have somebody else go in and play."
Edsall said that he can't explain why the Terrapins have been hit so hard by injuries, especially quarterback last season and wide receiver this season, but says it is all a part of the game of football.
He then said that some of his younger receivers will have to step into that void.
"All I can say is that it's football. This sport is pretty much 100 percent guaranteed that you're going to get hurt playing this game," he said. "I don't think there's anyone that has gone through his career without getting hurt. It's unfortunate that we've had the injuries that we have, but there's nothing that we can do about it. I think that our guys will step up and do a good job. I think Amba [Etta-Tawo] will get an opportunity now. And I know that he's excited about that.
"He's disappointed that it happened the way it happened. But he's excited about his opportunity. I think Levern Jacobs will now get more reps. I think he's really done some good things already this year. So now he's got a chance to get on the field a lot more. [DeAndre] Lane, Malcolm [Culmer], Nigel [King], [Abner] Logan and some other guys will get a chance to play. The one thing that we won't do is burning a redshirt that hasn't played. That wouldn't be fair to the young man. Everybody has got to step up their game up. We've got to deal with it."