| | |
| --- | --- |
| Opposing sideline: Georgia Tech | |
---
| | |
| --- | --- |
| Wednesday, November 13, 2013 9:37 AM | |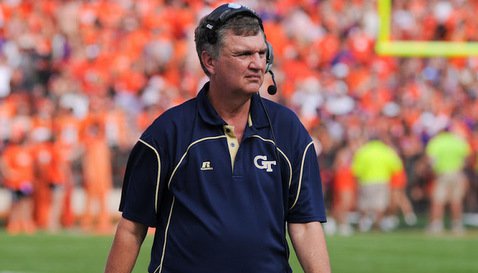 Georgia Tech head coach Paul Johnson thinks that Thursday night's ESPN matchup with No. 8 Clemson will be a litmus test for his team, a team that has rebounded from a three-game losing streak with a three-game winning streak with wins over Syracuse, Virginia and Pittsburgh.
Johnson called Thursday's game a "big challenge" for the Yellow Jackets, and said the game will be a measuring stick of just how far his team has progressed during the three-game winning streak.
"It's certainly going to be a big challenge on Thursday night. Clemson is a tough place to play and they've got a lot of explosive athletes," Johnson said during his Tuesday press conference. "They've got a very good team, as evidenced by their ranking and their record, so we look at it as an opportunity to go in and measure ourselves as a team and see if we've made the progress we feel we've made in the past couple of weeks."
Johnson said that part of the reason for his team's resurgence has been an improved pass rush.
"I think in the last two or three games we've done much better at getting pressure on the passer, that's one thing," he said. "I feel like we've gotten better at blocking on the perimeter. That's certainly going be a big deal this week. I would like to think that we're better at the mechanics of the option although at times it doesn't seem like it, but from what I see in practice I know we're better at. So those are three things right there."
Johnson was asked what Clemson defensive players bear watching, and he mentioned Grady Jarrett

Grady Jarrett
Jr. Defensive Tackle
#50 6-1, 290
Conyers, GA
View Full Profile , Stephone Anthony

Stephone Anthony
Jr. Linebacker
#42 6-2, 235
Polkton, NC
View Full Profile , Corey Crawford

Corey Crawford
Jr. Defensive End
#93 6-5, 270
Columbus, GA
View Full Profile and Vic Beasley

Vic Beasley
RS Jr. Defensive End
#3 6-3, 225
Adairsville, GA
View Full Profile .
"I think that the inside guys are the guys for us. No. 50, the guy from Rockdale County (Ga.), Grady Jarrett, he's one of their captains," Johnson said. "Stephone Anthony, their linebacker, has gotten better. The other DE, Corey Crawford, is a good player. Vic Beasley is a pass rusher guy, and that's probably why he gets more notoriety because when you play against those teams it becomes a bigger deal. I don't know if he's a squeeze and scrape guy, which is what he'll have to do against us, so we'll see how he plays."
Johnson was asked if senior corner Jemea Thomas would be matched up against Clemson receiver Sammy Watkins

Sammy Watkins
Jr. Wide Receiver
#2 6-1, 205
Fort Myers, FL
View Full Profile , and he said it was a possibility.
"There's always a possibility. You don't want to change what you do by game," he said. "I think that's the biggest misnomer out there is that by each game, what are we going to change and do this and match that. More than often, you're better off dancing with the one that brought you. You're better off doing what you do. I've said for years, that's why I love to play teams who get away from what they do defensively and try to put something new in each week.
"My philosophy has been that if they're going to be better in one week than you are in 19 of running it, they were going to beat you no matter what they did. I think it's the same way defensively. What you want to do is to try and contain them, but you don't want to do something you haven't done and try to come in and reinvent the wheel. We've played pretty good defense the last three games. We need to go in and play our system with a few wrinkles and see what happens."
Other notes
On Roderick McDowell

Roderick McDowell
Gr. Running Back
#25 5-9, 195
Sumter, SC
View Full Profile
"He's got good balance. He's ideal for what they do, he gives them a punch. They've had some good backs, [Andre] Ellington was a tremendous back that played there before him. He's a huge weapon in all the zone stuff they run."
On looking at Clemson as a whole
"We've played them, they're our cross-rival in the ACC so we've played them every year. They're a couple hours up the road and they recruit a lot in Georgia, it's just been good games. Last year up there, I don't think the score was indicative of the game. I think it got away from us, but we were up one in the fourth quarter and had the ball on the 12-yard line on fourth-and-one and we fumbled the snap. So they've been good games. This may be the best team they've had since I've been here."
On what stands out about Clemson
"Clearly having the quarterback as a senior. He's gotten more experienced. They've got good skill. They've been good offensively, but this might be their best team defensively since I've been here, just personnel-wise and athletically. They've had some good individual players, but as a whole this might be their best defensive team since I've been here."