| | |
| --- | --- |
| Opponents Beware: Ben Boulware is "angry" | |
---
| | |
| --- | --- |
| Saturday, March 7, 2015 1:17 PM | |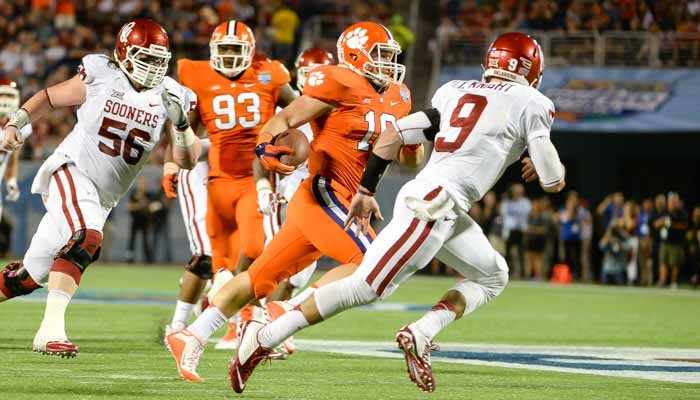 CLEMSON – Ben Boulware

Ben Boulware
Jr. Outside Linebacker
#10 6-0, 235
Anderson, SC
View Full Profile already has a reputation as being rather feisty, whether it's responding to South Carolina fans who attacked his brother on Twitter or mauling Oklahoma offensive players in the Russell Bowl. It might be about to get worse, according to head coach Dabo Swinney

Dabo Swinney
Head Coach
View Full Profile .
Swinney told the media earlier this week that he took freshman quarterback Deshaun Watson

Deshaun Watson
So. Quarterback
#4 6-2, 205
Gainesville, GA
View Full Profile and Boulware, a sophomore linebacker, to Clemson Day at the State House in Columbia last week. Watson and Swinney were swarmed with autograph seekers and people wanting to take pictures, while Boulware finished third.
Swinney now has an angry linebacker on his hands, and he smiled to show how happy he is with that fact.
"He's angry," Swinney said of Boulware. "He's just angry. It's going to be a blast watching him unleash his frustration of two years having to watch Stephone Anthony

Stephone Anthony
Linebacker (2011 - 2014)
#42 6-2, 244
Polkton, NC
View Full Profile and bide his time a little bit. He's a true, true competitor and a guy that takes great pride in his performance."
Boulware met with reporters after that same practice, and as fellow linebacker Dorian O'Daniel rode by on the trailer that takes the players back to the WestZone he barked at Boulware and started yelling, "Junkyard Dog!!!"
Boulware never flinched, even though his jaw clinched, and spoke in-depth about this coming season and the infusion of young linebackers that are trying to do what he has tried the past two seasons – take a veteran's job.
"Every year we're going to be competing. I know when I was behind Shuey and Stephone, I wasn't stupid. I wasn't going to play ahead of them," Boulware said. "I wasn't dumb. But that didn't make me want to let up. I'm going to continue to go in everyday and try to take his job. I understood how special Stephone was. I'm not Stephone. But where I am now, I know those guys behind me are trying to take my job so I'm trying to keep my job."
Boulware was asked about the young linebackers and if he had taken notice of their play during the early part of camp. His answer was in typical Boulware fashion.
"I notice guys annoying me. I've never had someone ask me so many questions," he said. "That's the best way to learn is when you teach. When you have to teach someone a position, a formation, a defense, that's when you learn. Every single time when I come off the field, that dude is asking me 15 questions. I like him doing that. He's eager to learn and he wants to learn this defense. But dear God I'm over there, can't breathe at all, trying to catch my breath and he's asking me, 'What formation was that? What are y'all doing on this? What are y'all doing on that?'"
The main culprit?
" Chad Smith

Chad Smith
Fr. Outside Linebacker
# 6-4, 215
Sterling, VA
View Full Profile . I love it, though," Boulware said. "He's eager. He wants to help this team out."
Boulware said that Smith's constant questions reminds him of when he got his two starts last season – against Louisville and Oklahoma – and he peppered defensive coordinator and linebackers coach Brent Venables

Brent Venables
Def. Coordinator / Linebackers
View Full Profile with his own questions.
"I was so anxious to perform well in those two games that I got to start that I just didn't want to miss the opportunity so I was just going (preparation) overload, just in there every day for hours, texting coach (Brent Venables) and literally annoying him," Boulware said. "I knew I was annoying him."
Venables, the defensive coordinator, laughed about those text messages and said, "He doesn't annoy me one bit. I love it actually."
Venables said Boulware doesn't want to let anybody down, especially his coaches and teammates.
"Ben's a very prideful guy," Venables said. "He doesn't want to let anybody down. Nobody cares more than Ben. He's very invested, very emotionally invested, physically invested. It's a great quality to have but it's also sometimes a bad quality to have because sometimes you can be too hard on yourself. You've got to be able to have a short memory, you got to lead and those kind of things but that's been one of Ben's strongest attributes, how much he cares. He's an emotional player out there on the field and guys feed off of that."
Boulware's dedication took on a new look after the bowl game – a desire to add weight and sickness have caused his weight to fluctuate.
"I was wearing a weight vest in (All-in) drills. I got my weight up to 245 pounds," he said. "I was still trying to keep that speed while pushing the weight up. That had been the main thing holding me back; I wasn't eating good. I wasn't as healthy as I needed to be. So I focused on that this winter. I put on about eight pounds (of good weight). I'm down to 230 now. I got sick. I lost 15 pounds from freaking strep throat. I've got to get that back. I think anywhere from 236 to about 238 is fine with me. I think I can play good at 240. Probably my best potential would be 235, high 230s."
Next up? Being consistent in practice.
"There's some days where you get tired and you don't want to do it, but to perform at that level you've got to make sacrifices and you've got to be in that film room and in your (playbook) and texting coach (Venables) everyday," Boulware said. "That's the main thing I've got to work on, just doing that day in and day out."
About that aggression, however…..Boulware admitted he has relished contact in practice a little too much and it's gotten him in hot water with Swinney.
"I've gotten a lot better than I was in the past," he said. "I know not to do it (hit) now, not when the pads aren't on. I don't want to get cussed out by (Dabo) Swinney anymore. That's happened way too many times."
Swinney agreed.
"Yelling less at Ben Boulware," Swinney said when asked about that Wednesday. "Yeah, that's probably accurate."