| | |
| --- | --- |
| Open date thoughts: Defense salty, but offense needs a certain someone healthy | |
---
| | |
| --- | --- |
| Monday, October 27, 2014 5:25 PM | |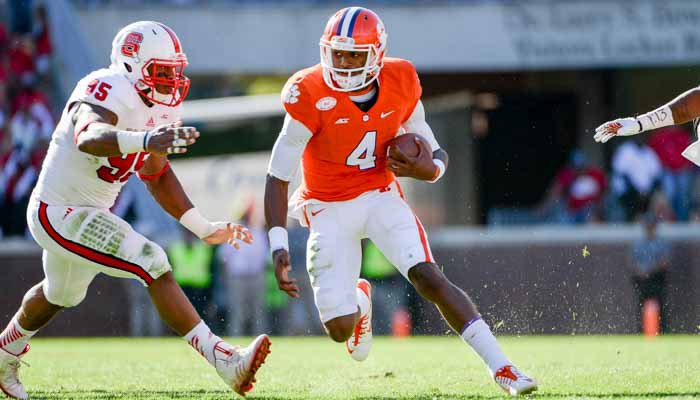 CLEMSON – Clemson's open date is coming at a perfect time.
The Tigers were good – very good – defensively against Syracuse last Saturday and I asked defensive coordinator Brent Venables

Brent Venables
Def. Coordinator / Linebackers
View Full Profile if perhaps the open date is something he would rather avoid considering how well his group is playing. He smiled and said no, that even the defense has a lot of bumps and bruises and could use a week off.
The Tigers were off Sunday, and are off today [Monday] and Tuesday and will return to practice Wednesday as they get ready for the Nov. 6th date at Wake Forest. The Tigers are now third nationally in total defense, are first in tackles for loss and third in sacks. The defense is also first in opponents' third down conversions – opponents have converted just 28-of-122 attempts for a conversion rate of 22.95%. Louisville is second with 29-of-121 (23.97%).
Next week's opponent – Wake Forest – is dead last nationally in total offense and it isn't totally out of the realm of possibility that the Tigers could be first nationally in total defense when the teams meet next week because Louisville (ranked first) hosts FSU this week and Stanford (second) plays against Oregon. I wonder how many times in college football that the nation's best unit has faced the nation's worst, because as of right now Wake Forest is dead last (128th) in the nation in total offense. The Demon Deacons are averaging a paltry 213.5 yards per game. Wake is also 125th in scoring offense (14.8 points per game) and 126th in third down conversations (33-for-118, 27.97%).
That's the good news.
Now, for the bad news, and it is in regards to Clemson's offense.
Saturday's showing was, to put it mildly, abysmal.
The coaches can talk all they want about Syracuse's defense and different fronts and packages, but that kind of showing against a Syracuse team that just doesn't have a lot of talent doesn't bode well for the rest of the season. This team can get by Wake Forest with that kind of showing, but by how much? Ironically, Syracuse is ranked right behind Wake Forest (42nd and 41st) nationally in total defense. So is 16 or 17 points all we can expect out of this offense in Winston-Salem? Beating a really bad Wake team by ten isn't gonna cut it with the pollsters, and it's now obvious that style points on defense can't overcome the miasma that surrounds the offense.
So what's wrong with offense? Is it Cole Stoudt

Cole Stoudt
Sr. Quarterback
#18 6-4, 231
Dublin, OH
View Full Profile ? Is it the offensive line? Is it the playcalling? Maybe, just maybe, it's all three in some form or fashion.
On his Monday morning conference call, head coach Dabo Swinney

Dabo Swinney
Head Coach
View Full Profile said that both of Stoudt's interceptions were "on" the offensive line and that the line has to protect the quarterback better. Yep, I can agree with that. But this offense has gone ultra-conservative at this point – no reverses, no trickery, no sleight-of-hand stuff. Just basic runs and bubble screens with one or two downfield throws per quarter. Swinney said the bubble screens were an extension of the running game, a running game that is still struggling despite Wayne Gallman

Wayne Gallman
RS Fr. Running Back
#9 6-1, 209
Loganville, GA
View Full Profile 's 100-yard effort Saturday.
I tried – as much as possible while trying to write and keep up with Twitter – during Saturday's game to watch the offensive line and the running game in particular and there wasn't a lot to see that was encouraging. Perhaps someone that is smarter than I am can go and look at other teams and tell me how quick they hand off to the running back. Remember the Pistol formation that Clemson went to the last few seasons? Where has that been? In the Pistol, the quarterback lines up four yards behind the center and the running back three yards deeper. The Pistol is designed to let the quarterback read the defense faster, and in certain situations gets the ball out quicker and doesn't give the defense time to react. Clemson's handoffs are slow – at least to me – and it seems that even when the offensive line blocks decent, the defense is still swarming to the ball carrier.
Poor blocking, bad snaps, slow developing plays – all have contributed to the offensive woes. The tempo simply hasn't been there, either, even though we saw glimpses of running a little faster last Saturday. However, you start throwing in interceptions and fumbles on top of all of the above, and you wind up scoring 16 points on a very average Syracuse defense. At home. At night.
So what's the answer? As easy as it sounds….. Deshaun Watson

Deshaun Watson
Fr. Quarterback
#4 6-3, 204
Gainesville, GA
View Full Profile . Watson gives the offense a different look and a different feel. There have been times this season when Watson felt pressure, stepped to the side and rifled a throw to some part of the field for a first down and you just kind of shook your head and wondered how he did that. His running ability alone makes the defense a little more cautious, and he's been really good on deep throws, intermediate throws and short throws. Right now, this offense is limited to the bubble screen and plays around the line of scrimmage. It isn't all on Stoudt – the offensive line takes part of the blame – but the ultra-conservative play calls and short game are a reflection of what offensive coordinator Chad Morris

Chad Morris
Offensive Coordinator / QBs
View Full Profile feels are the limits of the offense and to some extent Stoudt.
Georgia Tech's defense is bad, but if Watson isn't back I wonder if the Tigers will be able to score enough points to beat the Jackets in Atlanta. I've seen enough of Paul Johnson's offense to know that even a good defense is gonna give up two or three or more big plays a game, and it wouldn't be surprising to see Clemson's defense play extremely well and still give up 21 points or more. Would Clemson be able to score more than that without Watson? Two or three weeks ago I would have said yes. Now, I'm not so sure.
Get Well Soon Deshaun. This offense needs you.