| | |
| --- | --- |
| One-legged man no more: Watson embracing special season | |
---
| | |
| --- | --- |
| Thursday, November 26, 2015 10:38 PM | |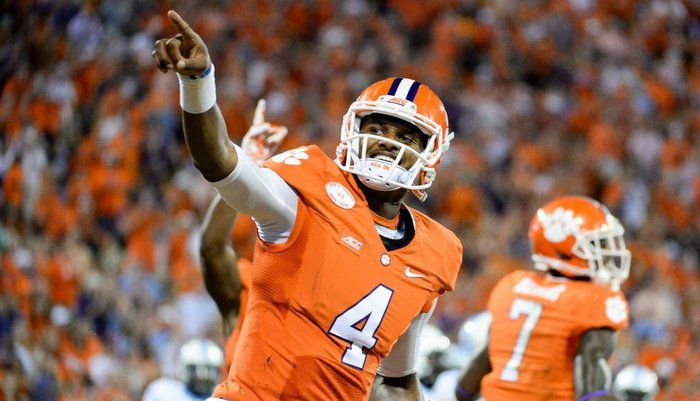 CLEMSON — Deshaun Watson wrote his own chapter in the book of the Clemson-South Carolina rivalry with a performance for the ages a year ago, but Clemson's starting quarterback and Heisman hopeful doesn't spend a lot of time dwelling on that win, the Gamecocks in general or his Heisman chances.
That's just how he rolls.
Watson completed 14-of-19 passes for 269 yards and two touchdowns and rushed five times for another 13 yards and two more scores in last year's 35-17 victory over South Carolina, snapping South Carolina's five-game winning streak in the series. Watson played the game on a partially torn ACL that was held together by a brace over his left knee.
Clemson and South Carolina play for the 113th time this Saturday in Columbia with the teams headed in opposite directions – Clemson is 11-0 and ranked atop the College Football Playoff rankings, while South Carolina is 3-8 and coming off a loss to FCS foe The Citadel.
Watson knows how the Tigers are faring, but doesn't have a clue about the Gamecocks.
"I don't even know their record now," Watson said from the WestZone Monday. "I know we're 11-0, and we're trying to be 1-0 this week. That's how we roll around here."
Watson suffered a knee injury against Georgia Tech in mid-November last season that left his status for the rivalry game in doubt. However, he tore his ACL in practice 10 days before the game, something the coaches kept quiet about until after the game. Swinney had planned to start senior Cole Stoudt, but Watson convinced his head coach he could play and Watson said Monday that the decision to play on the torn ACL was his.
Swinney laid out the guidelines for Watson being able to play.
"For me to be able to go out there and play, coach Swinney said I had to be a playmaker," Watson said. "I didn't want to be that person that holds the team back. I went out there and did what I could. I did pretty good."
It impressed co-offensive coordinator Tony Elliott.
"It goes to show his level of commitment to his teammates, to his program, his mental toughness, his unselfishness to go out and play knowing that he's going to have surgery after the game," Elliott said this week. "He solidified that respect in the eyes of his guys. And I think a lot of that is being paid forward to this season."
The injury concerns lingered into this season, but Watson has started all 11 games and should be able to start number 12 this Saturday.
"I'm just happy and blessed to play in these type of games," Watson said. "I'm just glad to be back and able to play a full year."
His full year has seen him earn a chance at a trip to New York in a few weeks for the Heisman Trophy ceremony. He's completed 70.1 percent of his passes for 2,944 yards and 26 touchdowns through the air he's added six more scores and 642 yards on the ground.
According to ESPN earlier this week, Watson has recorded 380-plus yards in four consecutive games; in the last decade, only former Florida State quarterback Jameis Winston has totaled that many yards more than twice in a row in the ACC. Monday, Watson was named ACC Offensive Back of the Week for the fourth time in six weeks.
Watson makes it all look easy on Saturdays, but he says it's anything but easy.
"It just seems easy and it came all natural, but it took a lot of time and sacrifice and just a lot of hard work, a lot of blood, sweat and tears," Watson said. "Just having those nine months off, it's very hard for me. But hard work and dedication pays off and it's paying off for me right now."
He's a one-legged man no more, and Elliott said his star pupil is embracing the moment.
"He's enjoying the moment," Elliott said this week. "But he also understands, you're going to be judged by what you continue to do, not what you've done in the past. I've never been around a kid at his age that has the focus he has. He knows what he wants. He knows what it takes. He doesn't get distracted. I think that had he not had the injury last year he would've been one of the best (players in the nation) going into that game last year, but unfortunately he had the injury.
"I'm just happy for him. I'm not a guy that says people deserve, but if there's a young man that deserves the recognition he's receiving, it's him because he's done it the right way. It's not going to give him the big head. He's earned the opportunity to have people talk about him the way they have."