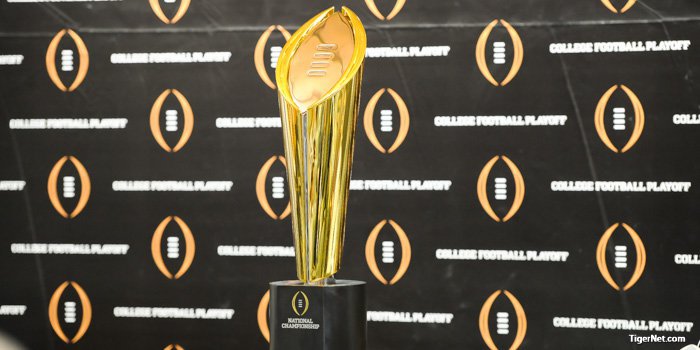 | | |
| --- | --- |
| One More Goal: Swinney says to beat Bama you have to "knock them out" | |
---
CLEMSON – One more goal.
Second-ranked Clemson has achieved all but one of its goals this season – they won the opener, won the division, won the state championship and won the conference title. Now there is one goal left to conquer.
"For us, we've got one more goal. That's one of the things I had to change in the off-season," Swinney told the media Wednesday in the team room at the WestZone. "From day one since 2009, we put five goals up, and we came in here with that first senior group, and kinda said here's our goals. We came up with our commandments and went on about our business, and I always said from day one, 'Boys, if we ever hit all five of these goals in one year, we're going to win it all.' That's where they're set up. It doesn't say win a national championship. That's not the goal because we don't control that. We could be undefeated, and somebody doesn't give us a chance - they don't like us and put us fifth, or there are eight undefeated teams. You could have a great team and have injuries happen.
"There's a lot that goes into winning a national championship. I don't think that has to define whether that's successful or not in college football. I think it's about a lot of things. Our goals were set up since day one to allow us to compete at the highest level. Last year we hit all five, and that fifth one said win the bowl game, but about midway through they changed the rules with this playoff thing, so we had to change our goals to win the closer. It could be a bowl game or a situation like this. I can definitely stand before the team and say if we hit all five goals in one year, we're going to win it all. We've got that opportunity Monday night and looking forward to it."
To achieve that goal, the Tigers have to beat the defending national champions.
"Alabama is the standard. There as complete a team as you're ever going to see on tape," Swinney said. "They don't make mistakes. They don't beat themselves. They put a lot of pressure on all of their opponents. I tip my hat to them. Unbelievable run what they've had under Coach Saban. I've never seen anything like it. It's just incredible the run of success that they've had, the championships and being able to sustain that year in and year out. It's amazing."
Swinney said Bama's offense presents a difficult challenge.
"Offensively, everybody up front is going to play on Sunday. That offensive line, they're all great - every single one of them. This is going to be quite a matchup," he said. "We're good on the d-line, and they're good on the OL. It comes down to that matchup. They've got the best receivers we've seen, easily. Great speed to stretch the field. They've got a great tight end. We saw that up close and personal last year. They've got a couple of running backs - No. 34 has over a thousand yards. He's had a heck of a year. Then, Bo Scarborough, he looks like another Derrick Henry. The quarterback is not a freshman anymore. The guy has played 14 games.
"You've got some juniors that haven't started 14 games in their career. This guy has started at Alabama for 14 games; he's not a freshman anymore. This is a good football player that's well-prepared and has played on the big stage. He's performed. They do a great job in how they've used him, especially early in the season to where he is to this point. Just an excellent group. They make you defend the whole field. That's the other thing that's a little different from the Alabama of old. They're going to stretch you horizontally, vertically. They'll play with some tempo. They've got the quarterback run game, the RPOs (run-pass options). They've got a little bit of everything. A lot of play action, max protection and take shots. They do a nice job of utilizing their personnel and making you defend the whole field from a defensive standpoint."
The defense might be the best that Alabama head coach Nick Saban has fielded.
"Defensively, they're number one in the world in everything. You don't have to watch the tape very long," Swinney said. "Every one of the guys up front is going to play on Sunday. Their linebackers - they've got all of the award winners. Their DBs can play. The biggest thing to me is they're obviously very talented but they're always in position, and that's why they've had so many turnovers. They're just always in position. Well coached and very impressive when you watch them on tape. They play with high energy. They're very multiple in what they do. They don't just throw one pitch. They're going to be in and out of fronts, in and out of personnel groupings and coverages. They do an excellent job, and they tackle well. Complete group.
"Special teams, they've got dynamic players covering kicks, holding up on kicks and returning kicks. It's just a complete team. It's why they are where they are. That's why they've been the standard for everybody."
In other words, it's a chance to play and beat the best.
"For us, just excited to have an opportunity to go play. If you're a competitor this is the way you want it," Swinney said. "You've got a chance to go win a championship, and you want to go play the best. We get that opportunity. It's going to be awesome. It's going to be an awesome night Monday night. Hopefully, the weather is great. The ticket situation is crazy. If anybody is looking for a ticket, I don't have any tickets. It's going to be a lot of fun. I'm proud of our team and what they've done here has been really incredible.
"It's fun to be back in this situation. We had a heck of a game last year in Arizona with these guys, and we're excited to have another opportunity, but we know what it's going to take. You've got to play well for 60 minutes or however long it takes to finish. You can't knock them down. You have to knock them out; that's the only way you're going to beat the heavyweight champ because the draw goes to the champ.

Upgrade Your Account
Unlock premium boards and exclusive features (e.g. ad-free) by upgrading your account today.
Upgrade Now