| | |
| --- | --- |
| Oklahoma talked like a champion, but Clemson played like one | |
---
| | |
| --- | --- |
| Thursday, December 31, 2015 10:24 PM | |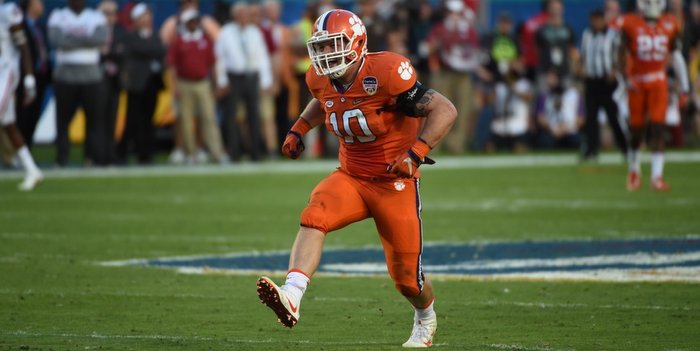 MIAMI GARDENS, FL – Offensive coordinator Tony Elliott looked for Oklahoma defensive end Charles Tapper in the postgame on-field frenzy, but couldn't locate the Sooners' talkative and talented senior.
And that's a shame.
Oklahoma did plenty of talking during the week, most of it initiated by Tapper, who said the Sooners wanted to make the Tigers quit before the game even had a chance to start. Tapper talked through most of the first half, but left tackle Mitch Hyatt – who went head-to-head with Tapper all night – said Tapper quit talking midway through the third quarter as the Tigers exerted their dominance.
Elliott said the Sooners woke up a sleeping giant, and much like Miami did prior to the game against Clemson in this same stadium in late October, they learned they talked to the wrong team.
"Obviously, they made a mistake and they woke up a sleeping giant with the trash talking. That's not who we are or what we're about, but you're not going to antagonize us," Elliott said. "The guys took it personal up front and we told them leaving the hotel that we're going to win this game in the trenches."
Elliott then said the Tigers wanted their pads to do the talking.
"I think it just adds a little extra motivation," he said. "We preach to our guys about being humble and let your pads do the talking, but anytime a team wants to start talking, it's going to add a little extra motivation."
Clemson outgained the Sooners 530-378 and ran 90 total plays. After the Sooners scored on the game's first possession, Clemson outscored Oklahoma 37-10 in a dominating effort.
Elliott said he was surprised that Tapper chose to do so much talking prior to such a big game.
"I kind of was. When I saw what the young man said and let the trash talk begin - I wanted to speak to him after the game, but I didn't get a chance to – that was the same mentality Miami had in this same stadium," Elliott said. "For us, that's not what our culture is about. It's about letting your pads do the talking and may the best man win. At the end of the day you can say what you want to say, but it comes down to one-on-one matchups and are you going to beat the guy in front of you. You use a lot of energy when you spend all of your time talking."
That's why Elliott wanted to have a heart-to-heart with Tapper.
"I have a tremendous amount of respect for his game because he's an unbelievable player. Just go out and represent your team and your university with your play," Elliott said."Let's set an example for the young people who are getting into this game because there is too much in college athletics about the me, me, me. It's a team game. He doesn't need to talk because he's a great player, so he can let his play talk for him."
Hyatt said Tapper talked a strong game – until the third quarter.
"He did a lot of talking, and I didn't even understand it when he said I played like a true freshman," Hyatt said. "So what am I supposed to say? That he plays like a senior? He is a great, great player and I think he played every play. But by the third quarter, I think he was starting to wear down and the talking just stopped. I think we were all too tired to do much talking, but that's a credit to our strength and conditioning program that we can just keep going and going."