| | |
| --- | --- |
| Oh Jake Bentley. Outworked? More like worked over | |
---
| | |
| --- | --- |
| Thursday, May 25, 2017, 12:28 PM | |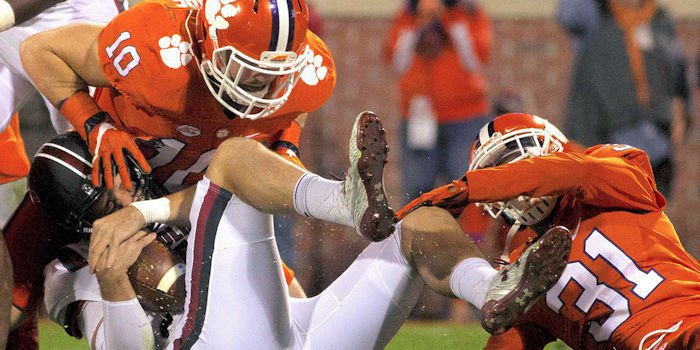 We have a saying in the South when someone says something like that. "Bless." If you don't know what means, ask a Southerner. They'll tell you, and then they'll turn to one of their friends, cut their eyes toward you and say, "Bless."
After I heard the statement – and again if he's my quarterback I am thrilled he is stepping up and taking ownership and wanting to be a vocal team leader – I started to think about outrageous statements in sports like "Never again."
But the best I could come up with was former Iraqi Information Minister Baghdad Bob, who would stand in front of the cameras during the invasion of Iraq and predict Iraqi victory, sometimes with American tanks in the background of the shot. He became a sensation overnight, and now the internet actually has a definition for a Baghdad Bob: "Baghdad Bob," now denotes someone who confidently declares what everyone else can see is false--someone so wrong, it's funny.
Hmm. Considering that South Carolina head coach Will Muschamp pulled Bentley from the game to save the kid's life, well……..
Let's go back and take a look at some of the numbers for that game:
*Clemson scored more points (56) than Bentley had passing yards (41).
*Clemson receiver Artavis Scott had more receptions (9) than Bentley had completions (7).
*Mike Williams caught six passes but had almost as many receiving yards (100) as South Carolina had passing yards (107) in 29 passing attempts.
*The 49-point margin of victory is the largest ever by an ACC school over a SEC school. The previous record also came in a Clemson-South Carolina game, when the Tigers topped the Gamecocks 63-17 in 2003, a 46-point margin of victory.
*The Tigers amassed 622 yards of total offense and 40 first downs in the victory, all-time records for Clemson against South Carolina. The 622 yards of total offense were 11th most in Clemson history and eighth most in Memorial Stadium history.
*Clemson led 21-0 at the end of the first quarter and 35-0 at halftime. The Tigers did everything in their power to not run up the score on the last drive, but South Carolina's swinging door defense was having none of it, and Clemson scored with its third-string QB and a walk-on offensive lineman or two.
*And, let's not forget the generosity of Williams, who gave piggy-back rides on a few occasions.
Jake & @bobbybentley on the #Gamecocks trying to close the gap with #Clemson & how the rivalry game's providing motivation @foxcarolinanews pic.twitter.com/LKOW4ogvkL

— Aaron Cheslock (@AaronCheslock) May 24, 2017
@JakeBentley19 ???????

— Tyrone Crowder (@Incredible_55) May 25, 2017