| | |
| --- | --- |
| Official visit gives Daniel lineman plenty to think about | |
---
| | |
| --- | --- |
| Monday, January 25, 2016 4:43 PM | |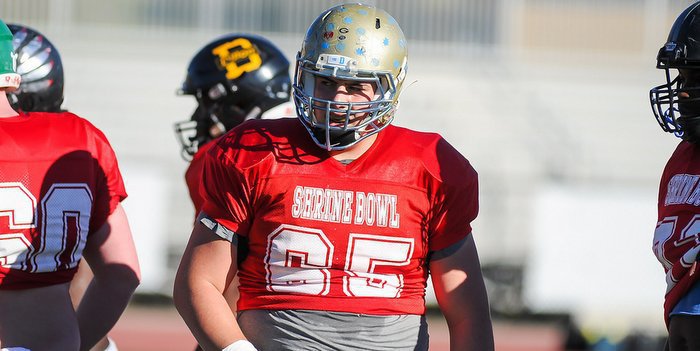 A recent visit to Clemson has given one Shrine Bowl lineman a lot to think about.
Central (SC) Daniel guard/center Cade Stewart took an official visit to Clemson this past weekend and left with a grayshirt offer. Now the Georgia Southern commit needs to think things over before National Signing Day.
"It was a fun weekend. They gave me a lot to think about because it's a good experience," the 6-4, 300-pounder told TigerNet Monday. "I got to see the other side of Clemson from what I'm used to seeing every day because I live here. Just the way they treat the players. It's player first. It seems like a cool thing how they put their team first and then everyone else second."
When a recruit grayshirts, he signs a letter of intent in February but doesn't report for fall practices with his teammates. The recruit then delays entry to the school until the spring semester of his freshman year.
Stewart said the coaches told him he's earned an offer, and they want him at Clemson.
"They just told that I've earned everything I've gotten and to keep my head up and keep playing no matter where I go and no matter what I choose," Stewart said. "They offered me a grayshirt opportunity. I'm committed to Georgia Southern right now. I just need to think it over and talk to my family and find the best for me.
"It's a lot better than being a preferred walk-on because I don't have the money to pay for a preferred walk-on, but just having to pay for only a semester is a good feeling that you'll have a free education after that."
Stewart said he spent time with offensive line coach Robbie Caldwell.
"I've been there so much for camps, and I grew up right up the road from him, so I already knew him," he said. "We just talked about everything we usually talk about - how are things going, how's everybody."
What kind of player would Clemson be getting?
"A football player. A student-athlete," he said. "The things you've been told all of your life to be, I guess I fit that pretty well."
Stewart spent much of last December's Shrine Bowl practice and game practicing and playing beside 4-star Clemson target John Simpson of Fort Dorchester, and the experience taught him he can play with players who have higher ratings.
"I feel that way. John is a good dude, and he may be a little bit more athletic, and he's got the length, and he's a good boy. I love John to death," he said. "It really helped me out to know that I could compete with some of the best players of my time. It helped me with my confidence and it helped me realize that I can compete and that I'm not selling myself short."
Next up for Stewart is a decision, something he says he will have within a week.
"I'm committed to Georgia Southern right now, but I'll be telling them either yes or now within a week or so," he said.