| | |
| --- | --- |
| O'Brien Winner: Watson talks pressure, Chad Morris and Heisman | |
---
| | |
| --- | --- |
| Thursday, December 10, 2015 8:11 PM | |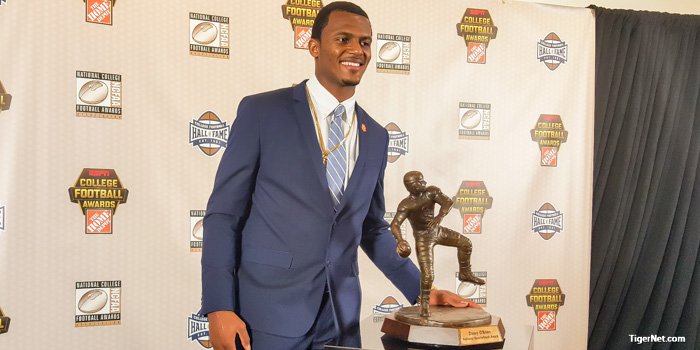 ATLANTA, GA – Deshaun Watson faced a throng of media Thursday evening at the College Football Hall of Fame, and he admitted that for the first time this season he felt uncomfortable and would rather face onrushing 300-pound defensive linemen.
But he did it with his trademark smile.
Clemson's dynamic sophomore quarterback was named as the 2015 recipient of the Davey O'Brien Award, given to the nation's best quarterback. The award was presented Thursday night during the Home Depot College Football Awards Show at the College Football Hall of Fame.
Watson is the first Clemson quarterback to win the award. He is the second Atlantic Coast Conference player in three years to earn the honor after Florida State's Jameis Winston took it in 2013.
Watson was the first award recipient of the night and said he hopes to win the Maxwell Award later tonight.
"It just happened so fast. I wasn't expecting this award to be so soon," Watson said after receiving the award. "I thought it was going to be later on in the show. It's a great way to start off the night and hopefully another one comes later on tonight. It's just special to have the opportunity to do this and represent Clemson well. It's been great. It's something I work for. I thank my teammates and coaches for helping me achieve the award. Without those guys I wouldn't be in this position. It's pretty special."
Watson was joined by his family, including his mother Deann.
"It's great to have the whole family here, especially being right down the road," he said. "Them having the opportunity to see me achieve this award has been great."
Watson threw for more than 3,500 yards with 30 touchdowns and ran for almost 900 yards with 11 touchdowns to lead Clemson (13-0) to a spot in the College Football Playoff.
The other finalists were Trevone Boykin of TCU and Baker Mayfield of Oklahoma, and Watson said he didn't know how he would stack up against such stiff competition.
"Before he called the name, I was a little nervous. Usually I'm never nervous before an awards ceremony or a game, but for some reason today I was," he said, "I was little bit nervous, but it means a lot being the first player at Clemson to achieve this award and to bring it back home to Clemson, South Carolina. Nobody can take this away from me. I want to take my teammates and coaches for helping me out. Go Tigers."
Watson said 815 Harrison Ct, his childhood address and the reason he draws "815" on his sweatbands prior to each game, was never far from his mind this week.
"Always. I never forget where I come from. That's where it all started when I was a little kid playing in the backyard," he said, "With everything going on around me, I just blocked out all of the distractions and was dreaming of moments like this. Now I have the opportunity to make them become a reality and that's great. I'm enjoying it."
Watson also is a finalist for the Heisman Trophy, which will be awarded Saturday night in New York, and he said he wasn't surprised to win the O'Brien or be mentioned as a possible Heisman winner. Why? He expected it last season.
"Last year I thought if I had stayed healthy I would have had the opportunity to do the same thing as a freshman," he said. "That's just the type of person I am - I am very confident in my abilities. I have a great group of players around me, and I thought I would have this opportunity and here I am."
Once the show is over, Watson said he will reach out to former offensive coordinator Chad Morris, now the head coach at SMU.
"I actually talked to him today and right after the awards ceremony I am going to call him," he said. "He said he was doing some home visits, but I bet he is probably somewhere watching it with a recruit. I am sure he is proud of me. I am proud of what he is doing at SMU, and we are always going to have that tight relationship. I have to give credit to him, too. He is the one that came to me when I was 14 years old and gave me the offer and told me that moments like this were going to happen. Now it's coming true."
Watson fidgeted and said he would rather face a defensive lineman than the media.
"Probably standing right here (is tougher). Both of them are pretty fun and it's been great," he said. "This has been a blessing and it's been fun," he said. "My life has been changed and I am just trying to take it all in. I have really been trying to take my time and take it all in."