| | |
| --- | --- |
| Now you see him, now you don't | |
---
| | |
| --- | --- |
| Wednesday, November 20, 2013 11:36 AM | |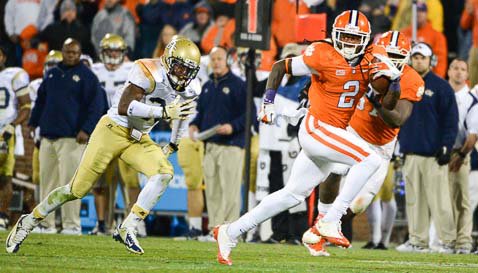 CLEMSON – Prior to the 2009 season, I told anybody and everybody that would listen to pay special attention to running back C.J. Spiller

C.J. Spiller
Pro Running Back
#28 5-11, 195
Lake Butler, FL
View Full Profile , to cherish and treasure every moment he was on the field. My reasoning? Special talents like Spiller – a true superstar – don't come around very often.
It took only two years for another special talent to arrive on campus, however, and that was wide receiver Sammy Watkins

Sammy Watkins
Jr. Wide Receiver
#2 6-1, 205
Fort Myers, FL
View Full Profile , who is re-writing the Clemson record books in the last few weeks of the season. And while both Watkins and Clemson head coach Dabo Swinney

Dabo Swinney
Head Coach
View Full Profile say all the right things about Watkins' future, Watkins will be a high first round draft pick in next spring's NFL draft.
His time here at Clemson will be over, over quicker than the touchdown receptions at Syracuse and Virginia, and for those who won't travel down to Columbia for the final regular season game or to the bowl destination, your last chance to see Watkins in a Clemson uniform will be in Saturday's final home game.
Don't arrive late. Watkins won't get to run down the hill with the seniors who are leaving, and his time on the field might be limited if the score gets out of hand.
Following a solid but unspectacular sophomore campaign that started with his suspension and involved missing time with injuries, Watkins told the media that he would respond in true Sammy fashion this fall, and he has delivered on that promise.
Through 10 games, Watkins has 71 receptions for 1,086 yards and nine touchdowns. He is the only 1,000-yard receiver in the ACC, and he only trails Duke's Jamison Crowder for the league lead in receptions by two. He is a semifinalist for the Biletnikoff Award, given to college football's top receiver, and the television pundits who cover college football call him the nation's best receiver.
After Saturday, his next official home game will be in an NFL uniform, and he told the media Tuesday that he has worked hard to get to this point.
"I paid the price," Watkins said in the WestZone. "Coming into this season it was about dominating every team, putting my face back on Clemson and letting everyone know I can play and be that same guy from my freshman year. I came in this summer, worked the hardest I've ever worked and it's showing on the field.
"I'm practicing hard every day, doing the little things right and coach can't ask for more from me than me. Going into practice and games I perform, listen to things they've evaluated me on and I evaluated myself. I turned into a complete player this year and I'm working hard."
His head coach has noticed the difference in Watkins.
"He's one of the most low-maintenance superstars I've ever dealt with," Dabo Swinney told me Tuesday when I asked about Watkins. "He's genuine and coachable. Whether you kick him in the tail or love on him, he responds. The best teams I've been on, the best players are the hardest workers. Sammy is one of the best and he sets that example for the rest of his team."
Watkins admitted to the media that he never got on track during the 2012 season, and said he didn't put in the work necessary to make an impact.
"I wasn't a practice person. I lagged, I loafed, I stopped. I wasn't finishing catches," he said.
Watkins has taken on the mantle of leadership this fall, and with many of Clemson's younger receivers watching his every move, he has made sure that every move is done the right way.
"Our whole wide receiver corps has a standard, just like the coaches do," he said. "We all hold each other accountable. Last year, we'd let someone lag, loaf, miss a block – it didn't mean nothing. Now you'll see anger if one of our guys lags or loafs or misses a block, messes up on a play.
"It's hard, knowing that every guy, every player, every coach is watching how you're doing things in practice. At the end of practice, they're going to see how you practice. I focus every play, try to go hard every play."
Watkins was reminded that many star receivers take on a diva-like attitude, and Watkins pointed to his flip flops, sweatshirt and sweat pants as an example of how not to be a diva.
"If I was a diva, I'd be dressed up every day," he said. "I go to class like this every day. Flip-flops, I go incognito with my hat on my head. There are no divas on this team. We just come out and play football."
Watkins is seven yards behind Nuk Hopkins for the program's career receiving yardage record and 22 receptions behind Aaron Kelly for the program's all-time receptions mark, something that Swinney reminded the media it took Kelly four years to accomplish.
However, Watkins responded in true non-diva fashion when asked about the records.
"I think they're a great accomplishment, but at the same time, I'm a team person," Watkins said. "I want to be 12-1, go to the Orange Bowl. I want to beat South Carolina. Those are the things I care about. Individual records are great, but at the same time it's better when you're doing things with the whole team and coaching staff."
Watkins was asked about what he's shown the NFL this season, and he said that being physical at the point of attack is the biggest difference in his game.
"I think I've proved I'm a complete player, just by blocking this year," he said. "I didn't block my freshman or sophomore year. I think I've become that this season, just blocking every play if someone's in my area. I think with every play, every catch, I've been doing all the little things. Start, stance, finishing the catch, running the right routes, break points. Those are things I've focused on this year."
Pay attention Saturday, and enjoy.