| | |
| --- | --- |
| Notre Dame's Kelly thinks Irish will be able to handle Death Valley crowd | |
---
| | |
| --- | --- |
| Tuesday, September 29, 2015 5:02 PM | |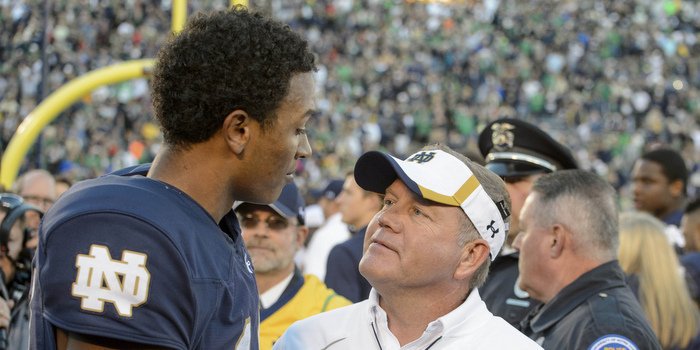 Notre Dame has played in its fair share of big games over the last few years – the national championship in 2012 and at Florida State in 2014 are just two that come to mind – and head coach Brian Kelly thinks those experiences are enough to prepare his players for the challenge they will face Saturday night in Clemson's Death Valley.
Clemson hosts Notre Dame this weekend in a primetime ABC matchup in what will undoubtedly be a noisy and raucous Death Valley, but Kelly believes Clemson's environment won't bother his players.
"I think our football team was well prepared for Florida State relative to being on the road and a loud crowd and all of the things that go with that," Kelly said during his weekly press conference Tuesday morning. "The media presence in pre-game, we had more media presence and cameras than we did in the national championship game, and I thought our kids handled that very well. We didn't have a lot of communication errors on the field. We just didn't make a play or two that we needed at the end. I think we'll continue as most of these kids played in that game, so I think we'll have a lot of carryover. We'll talk in terms of the same kind on environment, I believe, in how we need to prepare."
Notre Dame hasn't played at Clemson since 1977 and Kelly has never traveled to Clemson. He said he isn't sure what type of atmosphere that Clemson has, but he is sure a primetime matchup will bring a loud, energized crowd.
"I've never been there. I don't know," Kelly said. "I would think it's a raucous crowd like we have at our stadium. A good football team makes it raucous. They've got a good football team. It's well-coached. Our team will have to play well. I think if you play well, you tend to quiet crowds down."
To prepare for the noise, Kelly said his team will focus on non-verbal communication this week in practice.
"We'll start today. We'll be on the grass for six periods," he said. "We'll have loud noise pumped in. We'll be in non-verbal cadence throughout the entire practice. It will be a loud environment throughout the entire practice and we'll be working non-verbal cadence as if it's the loudest environment we've ever played in."
Despite never playing in a full road game, Kelly said he think his quarterback Deshone Kizer will be able to function in what should be a hostile environment.
"I would be surprised if the moment is too big for him. There will be those butterflies and that nervousness, but once we get into the flow of the game I think he'll be fine," Kelly said of his redshirt freshman signal caller. "We'll prepare him and make sure he understands all of the things that will happen in that game. I think he's a realist. He knows it's going to be loud and the environment is going to be electric, but he can settle that environment down by playing really well."
Other notes from Kelly's press conference
Kelly's take on Clemson
"We're preparing for a great opponent in Clemson. It should be a great environment. Our guys are excited about the challenge of playing down at Clemson. It's a very difficult place to play, but certainly one they've been looking forward to all season. I think when we talk about Clemson, the quarterback is multi-dimensional in Deshaun Watson

Deshaun Watson
So. Quarterback
#4 6-2, 207
Gainesville, GA
View Full Profile – athletic, can throw it, really surrounded with some playmakers. (Artavis) Scott at the wide receiver position and (Wayne) Gallman at running back. Certainly it's an up-tempo offense but we clearly want to control the offensive line of scrimmage. They're very creative offensively, and I think we know they are very gifted defensively.
"They lost some great players last year, but they just seem to reload on defense. Really impressed with Shaq Lawson

Shaq Lawson
Jr. Defensive End
#90 6-3, 272
Central, SC
View Full Profile , but the entire front four is athletic. You can see that (Ben) Boulware the linebacker is a lot like our Joe Schmidt – very smart and he's the leader on their side of the ball. They have an outstanding secondary. Both corners are great cover corners, size at the safety position. (Jayron) Kearse and (T.J.) Green have great size and range. Very gifted and talented on both sides of the ball. They've had big plays on special teams. It should be a great environment and great atmosphere. It should be the kind of game our guys are excited to be playing in. We know it's going to be a great challenge. We'll begin our preparation today and start working toward Saturday."
On avoiding Clemson cornerback Mackensie Alexander

Mackensie Alexander
RS So. Cornerback
#2 5-10, 189
Immokalee, FL
View Full Profile
"I think he's an outstanding corner. He reminds me a lot of Florida St.'s and LSU's corners. Very athletic. Ronald Darby is vying for rookie of the year honors in the NFL. The nature of college football is such that when the ball is placed on the hash, you can't avoid somebody. If the ball is placed in the center of the field, you can avoid somebody. You have to go play the game because the ball is played a little bit differently. We have to play the game the way it's lined up for us. We have a great deal of respect for him, but we've got some pretty good wide receivers as well."
The carryover from the UMass preparation to preparing for Clemson
"There are some similarities. I think the UMass passing game was a bit more involved. I think this quarterback has the ability to run on us. Getting back to a traditional plan two weeks in a row is definitely helpful. Our d-line was not as sharp last week coming in after the option. I think they're looking forward to this week. We're going to have to play a better offense in all areas – offensive line, receivers, and then the quarterback is the big threat. He's a game wrecker. We'll have to do a better job than we did this past weekend."
On backup quarterback Brandon Wimbush seeing playing time
I think there's more conversation with possibly utilizing him in smaller situations that we can utilize his skillset. We know he's got arm talent. He certainly has the physical ability. He doesn't have the whole playbook down at this point. I'm moving more towards the possibility of getting him into the game regardless of the situation.
Injuries to linebacker Corey Robinson and tight end Tyler Luatua
"Tyler is moving through the (concussion) protocol. He'll be on the field today in a non-contact manner, and if he does well today then he'll move to the next stage, which is cleared for contact. Corey Robinson had a cortisone shot in his knee and he'll be full go in practice today."