| | |
| --- | --- |
| Notre Dame game extra special for Fruhmorgen | |
---
| | |
| --- | --- |
| Thursday, October 1, 2015 1:14 PM | |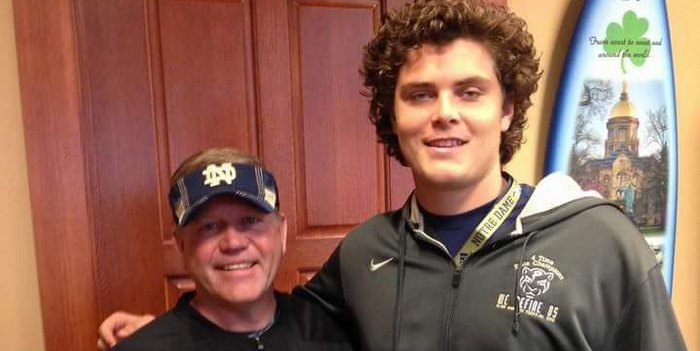 CLEMSON – At some point during Saturday's game against Notre Dame, Jake Fruhmorgen

Jake Fruhmorgen
Fr. Offensive Line
#63 6-5, 282
Tampa, FL
View Full Profile will take the field and line up at right tackle. He will look across the line of scrimmage and see the familiar gold helmets of the Notre Dame Fighting Irish and wonder what could have been.
The freshman offensive lineman out of Tampa (FL) Plant grew up in a family that pulled for Notre Dame, and even though his dad John played at Alabama, Jake also pulled for the Irish and dreamed of playing there.
Saturday he will play against them.
"It's everything. I grew up a big Notre Dame fan as a kid, and this will be a big game for me," Fruhmorgen told the media earlier this week. "It's one of those games that you circle on your calendar when I came to Clemson. My grandpa loved Notre Dame when I was a kid. My step-grandma went to Notre Dame. I'm Catholic, so it's a lot of that, too. It was a big school for me as a kid."
Fruhmorgen's grandfather played quarterback in the Marine Corps and in college and wore No. 63 – which is why he wears the number today – and married an ex-nun that became Jake's step-grandmother. Jake's grandfather was a big Notre Dame fan his entire life, and his step-grandmother continues to wear some kind of Irish attire even when she watches Jake play.
Jake went to camp at Notre Dame but didn't receive an offer, and once the offer came it was too late for the Irish to make inroads.
"They didn't recruit me too hard when I was getting a lot of my offers, and I kind of got mad about that," Fruhmorgen said. "I was a little bitter, but they offered me later on. I wasn't interested anymore, really. Maybe I was a little immature, and I didn't understand why they didn't offer me, but it (the game) will be big for me."
It was a visit from current offensive coordinator Tony Elliott

Tony Elliott
Co-OC / Running Backs
View Full Profile that gave Clemson an edge over the competition.
"I didn't really know too much about Clemson," Fruhmorgen said. "They were my third offer, and I remember Coach Elliott came to see me in person. When they did that, it was kind of special to me. My perception as a kid was just that they were an average, good program, but never could reach the top."
Fruhmorgen wound up feeling at home at Clemson, and as a result, didn't take any official visits to Notre Dame for a game. Or anywhere else.
"I've really only been to two college football games in my whole life," he said. "I went to a Florida game and then Clemson. I went to the South Carolina game last year, and we were winning the game the whole time, so it wasn't anything crazy."
Fruhmorgen is currently listed as the second-team right tackle, and was rushed out onto the field early in the win over Louisville. However, he was injured on his third play and is just now getting back to normal.
"Today (Tuesday) I'll be full go. Yesterday I was running around getting back used to running," he said. "It was the third play when I got in, and I got twisted up and thrown into a pile and landed on my knee. I got hurt there, and it just got stiff after that. I was telling myself that I just missed my chance. I was going in the game and probably going to play the rest of the game and show that I can do this. Things happen for a reason. I'm not mad about it. I just wish it didn't happen like that."
Now that he's healthy, he is preparing to start in case Joe Gore

Joe Gore
RS Sr. Offensive Tackle
#73 6-5, 294
Lake Waccamaw, NC
View Full Profile can't go.
"We're preparing like we're the starters, all of the backups are. I think if we get the chance, we will go in and prove ourselves," he said.
OTHER NOTES
His advice from his dad
"He just says that the game should be a little slower than practice, he always tells me that. He also tells me know the plays to the best of my ability, so the game will be slower."
Do people recognize you on campus?
"Not really. A lot of people don't talk to me on campus. I don't think they know that I play football at all. I don't try to wear to football stuff around campus. You can kind of feel it a little bit. There's starting to be a little buzz around campus."
No respect for Clemson?
"I don't think we're talking about it. We want respect from the whole country not just from any team we play. We talked about it before we played Louisville about how nobody in the country respects us, and we have to earn that respect. I think this is big to show that we can play with the top teams in the country at a high level for a long time."
Potential for this team?
"I think we can get as far as we want to go. People have that stigma that we're not going to win the big games, but Coach Swinney always preaches that we've beaten LSU, Ohio State, Oklahoma. We can play with the top teams in the country."