| | |
| --- | --- |
| Notre Dame? Just another game for Christian Wilkins | |
---
| | |
| --- | --- |
| Sunday, September 27, 2015 12:40 PM | |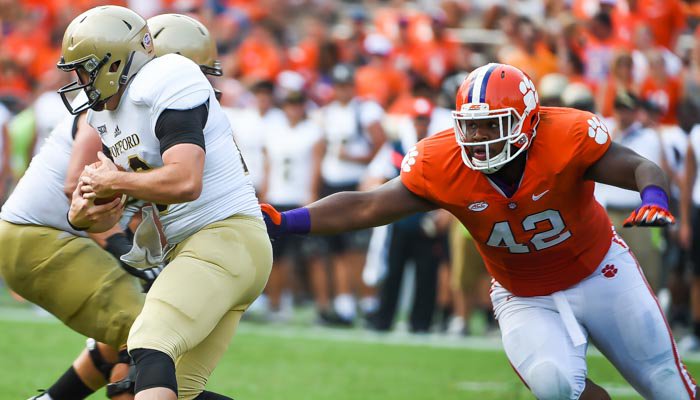 CLEMSON – Christian Wilkins

Christian Wilkins
Fr. Defensive Tackle
#42 6-5, 299
Longmeadow, MA
View Full Profile didn't let the crowd at Louisville affect his nerves, and he doesn't expect a sold-out Death Valley and Notre Dame to affect him, either.
The freshman defensive tackle has been a mainstay on the Tigers' defensive line through the season's first three games, and he told the media last week that once the whistle blows it's just football.
"Different venue and hostile crowd, but it's the same game. It's still another football game. You still have the same job," Wilkins said matter-of-factly. "You still have the same responsibilities. You still want the same result, so you have to do everything to get the same result as we did in the first two games. It was good to have that road game experience. I'll have plenty of more road games where the crowd is hostile, nationally televised. It didn't feel any different."
How nervous did Wilkins look in pregame at Louisville? He was showing off his best dance moves while waving to anyone who would send attention his way.
"Football is an emotional game. I try to do everything to give me an edge," he said. "I'm just excited to play every chance I get. I love the game. I love being a part of it. I love the team camaraderie. I love everything about football. I get really excited whenever I get the chance to play."
Many thought that Clemson's defense would take a step back this season, but Wilkins and company have the Tigers back among the nation's leaders.
"It's just a start and something to build on. Last year's defense was really good," Wilkins said. "They were able to do it all year. It's only been three games for us, so we have a long way to go until we will even be close to being compared to last year's defense. I think we have the capability to do that even be better."
College football fans have seen Ole Miss defensive tackle Robert Nkemdiche catch a touchdown pass this season, and considering that Wilkins has the same kind of freakish athletic ability he was asked if he might been seen on the offensive side of the ball.
"There was a lot of talk of that in recruiting, but now that I'm here all of that is out the window," he said with a smile. "That would be a lot of fun even if I'm in the backfield blocking. It would be nice to have a change and play a little offense."
Next up for the Tigers? Notre Dame. Just don't expect Wilkins to get too hyped about the matchup.
"From a fan's perspective, it's a big game. It's against one of the winningest programs of all time," he said. "From our standpoint, we're not focused on that. We're focused on it being another game. We're not focused on the history. We're just trying to win another game."