| | |
| --- | --- |
| Nothing to play for? Think again | |
---
| | |
| --- | --- |
| Saturday, September 27, 2014 10:14 AM | |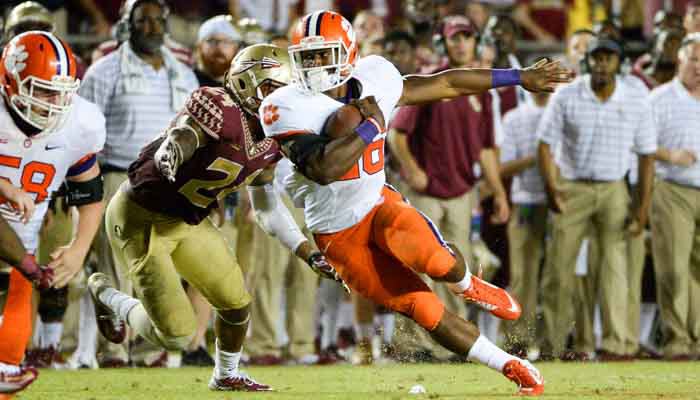 The prevailing sentiment among a lot of Clemson fans following last Saturday's heartbreaking loss to Florida St. was that the season was, for all intents and purposes, over.
No national title or four-team playoff and seemingly no chance at an ACC Atlantic Division title. No need to keep watching, just pack it all in and pull for someone in the NFL.
I have five words for you: What a load of crap.
Maybe I pay too much attention to social media and too much attention to the boards, but there is plenty left to play for this season and there is a chance that this team finishes better than most people predicted at the beginning of the season. More than one national media member predicted this would be a four-loss Clemson team, and the early-season stretch would break this team's will.
One of my Facebook friends is an Army aviator named James Gantt, and he said earlier this week that there was simply no reason to be excited about Clemson football until this team gets to 6-2. Until then, there is simply no reason to be excited.
What a load of crap.
Nikki Steele and I walked out of Doak Campbell Stadium a little after 2 a.m. last Sunday morning, and we dissected and re-dissected the season, the game and this team's chances on the long walk back to the car and the drive back to the hotel.
Yes, this team came up short in Athens and Tallahassee. Yes, those losses sting. But this season is far from over, and there are several reasons to be excited. The number one reason? This team has shown it's good enough to win every game left on the schedule, and that includes South Carolina.
There are other reasons that jump out at me:
*This defense is pretty salty. Take away the fourth quarter in Athens, and this defense has been just as good or better than advertised. In fact, I would say that fourth quarter might have been different had defensive end Corey Crawford

Corey Crawford
Sr. Defensive End
#93 6-5, 276
Columbus, GA
View Full Profile been available. He came back with a vengeance against South Carolina St., and he played extremely well against Florida St. When he sets the edge like he is supposed to, it's hard for teams to run on the Tigers. In fact, here is a great stat: In the fourth quarter in Athens, Clemson gave up a whopping 212 rushing yards. They've given up 135 combined yards in the other 11 quarters.
* Deshaun Watson

Deshaun Watson
Fr. Quarterback
#4 6-3, 204
Gainesville, GA
View Full Profile is reason enough to watch. This freshman is good, and he is just going to get better. His first career start is Saturday, and if you're a Clemson fan you have to be stoked about seeing this kid in action over the next three or four years. A close friend of mine was talking to former FSU quarterback Charlie Ward after the game, and the takeaway is that this kid has the tools and the talent to win that trophy. You know the one. It's too early for all of that, but he's gonna be fun to watch.
*The offensive line was better last week. I had one Florida St. assistant coach tell me that it had been a long time since he had seen Florida St. whipped on both lines of scrimmage in a game like that. I won't go as far as to say that Clemson's offensive line whipped the FSU defense, but they were better. Moving Kalon Davis

Kalon Davis
RS Sr. Offensive Guard
#67 6-5, 340
Chester, SC
View Full Profile to the right tackle spot and getting David Beasley

David Beasley
RS Sr. Offensive Guard
#68 6-4, 323
Columbus, GA
View Full Profile back in at left guard meant Clemson had three seniors on the line – Beasley, Davis and Reid Webster

Reid Webster
RS Sr. Offensive Tackle
#77 6-3, 300
Woodstock, GA
View Full Profile . It's probably the combination we will see going forward.
I spoke to ESPN college football analyst Danny Kanell about Deshaun Watson this week, and he said that he thinks Clemson wins out.
"I think they can. South Carolina is very beatable," Kanell said. "If Clemson can get past that one, I really don't know that anyone out there can slow them down. They have a great shot at winning out and going to a great bowl game."
Nothing left to play for or be excited about? Eleven wins. A win over South Carolina. The beginning of the Deshaun Watson era. Three straight homes starting this week. A dominating defense. There is plenty to be excited about, and it all starts again this week.