| | |
| --- | --- |
| Notes from Dabo's Sunday teleconference, with injury updates | |
---
| | |
| --- | --- |
| Sunday, October 6, 2013 7:29 PM | |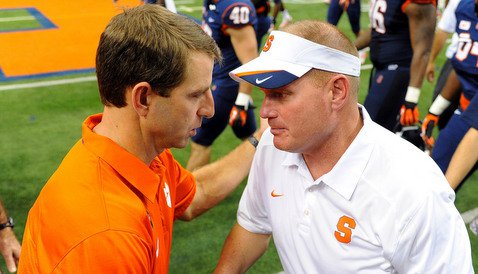 With a big game against Florida State just two weeks away, all of the media and fan attention has turned to the Seminoles.
However, Dabo Swinney's third ranked Clemson Tigers must get past Boston College this week.
Swinney said during his Sunday teleconference that if the Tigers look past a much-improved Boston College team that they will get beat, making the matchup with the Seminoles meaningless.
"We'll get beat [if we look past Boston College], Swinney said. "Our only objective is to get to 6-0, and then we'll worry about the next one after that. We have to stick with our formula. I don't anticipate it being a problem [looking ahead]. We are not talking about those guys before we have our hands full with a very solid Boston College team that is playing with a lot of confidence.
After looking at the film of Saturday's 49-14 win over Syracuse, Swinney said that he was very proud of his team's effort, but there are still many areas that need improvement.
"Big win for us. Thought our effort was tremendous," Swinney said. "Outside of the fake punt, I thought we were solid with special teams and we did a good job with penalties. We had a few critical errors that cost us (defensively). Offensively we got off to a good start. Playmakers made plays with 600-plus yards of offense. Had some negative plays and three and outs and the two turnovers. A lot we can still improve upon."
Swinney was also impressed with the way offensive linemen Kalon Davis and Shaq Anthony played, even going as far as to say that their jobs are safe for another week.
"I was pleased with our offensive line, especially early," Swinney said. "People have no idea what kind of challenge that was. Huge, huge challenge. We really did a good job with our game plan. To be honest, the things that kind of got us were the simpler things. Shaq (Anthony) had some mistakes but played fine. Overall good. We had some moments. Brandon Thomas played well. Kalon Davis is playing really good football for us as well. Shaq didn't do anything to lose his job at this point [at right tackle]."
Starting safety Travis Blanks injured his knee in Saturday's game and Jayron Kearse received some much-needed playing time.
"I tell you what he makes mistakes like all young guys," Swinney said "But the experience he is getting is huge for him. He's a special talent and that's obvious. We are very encouraged with Kearse. We have a long ways to go to where he needs to be from a consistency standpoint. But I'm pleased with the progress he's made. Very rangy. Very physical and he's still developing. I think he's going to be one of those special guys that comes through here."
Other Notes
Other injuries
Martin Jenkins broke his thumb and also his tooth. He spit it out and continued to play. He played 50-plus snaps.
Ben Boulware suffered a knee injury, but an MRI showed no ligament damage. He is listed as questionable.
Travis Blanks suffered a PCL injury and is listed as questionable.
Sammy Watkins suffered a bruised hip. The coaches were trying to hold him out, but he was forced to come back in during the third quarter. It's not serious.
Swinney thanks the fans
"We had a great contingent of Clemson folks there. Really good to have really good support on the road like that. We also wanted to improve from our first road trip and I thought we did that. We wanted to set tempo early and we did that. Very proud of our football team. They are fun to coach. They are having fun."
Players of the game
Offense – Tajh Boyd
Defense – Vic Beasley and Darius Robinson
Special teams – Adam Humphries
On ignoring the trash talk from Syracuse
"That speaks to the leadership on this team. We aren't caught up in the things that don't matter. We spend a lot of time talking about. External things. This game wasn't going to be decided but what somebody said in the paper. It's how you throw and catch. How you tackle. How you run power and not getting distracted by other things."