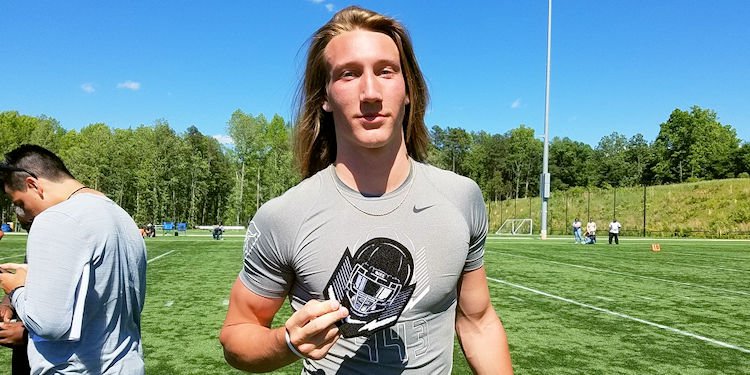 | | |
| --- | --- |
| Not just a tall surfer boy: Streeter says Trevor Lawrence can do it all | |
---
Trevor Lawrence arrived on campus this past weekend with little fanfare. Someone watching his parents drop him off at Clemson, someone that didn't know who he was, would recognize it as a scene being played out on campuses across the country.
Except…Lawrence isn't your normal student. He stands out because of his hair – long and flowing – and his size (he stands 6-6). He's also the top-ranked quarterback in the 2018 recruiting class and is enrolling early so he can get a head start on the Clemson offense before spring practice starts late next month.
Lawrence has the statistics and the resume to make a run for the starting job. At Cartersville High School, Lawrence passed for 13,908 yards and 161 touchdowns. He broke state records for passing yards and touchdown passes that former Clemson quarterback Deshaun Watson previously held. He also threw just one interception against 41 touchdowns during his senior season.
Quarterback coach Brandon Streeter's eyes light up when he talks about Lawrence's potential.
"He's special. I've been recruiting him since he finished the ninth grade. I remember talking to Coach (Joey) King when I got the job here three years ago, I went there the first week because I heard about him and knew about him," Streeter told TigerNet last week. "Brent Venables told me about him because that was his area at the time. Just sitting down with Coach King, I said, 'Alright, I hear about this Trevor Lawrence kid. What is he good at and what does he need to improve?' He just kept saying, 'Coach, he's got everything.' I sit back because I hear that once in a while from coaches and I'm like, 'Well, give me something he needs to improve on.'
"He said, 'Coach, I'm telling you, he's got everything you could possibly want.' He's right. He's got the ability throwing wise to make any kind of throw - in the pocket, out of the pocket, on the move - and he's very accurate. He's got very good arm strength. He's 6-5 or 6-6, 210 pounds. What I was probably most impressed with after I heard all of this is how he can move. He can really move. He's a really, really good athlete. He's not just a tall 6-5 surfer boy that can't do it. He can move and get out of the pocket."
However, Lawrence has to move past incumbent Kelly Bryant (who went 12-2 as a starter), veterans Hunter Johnson, Tucker Israel and Zerrick Cooper and redshirt freshman Chase Brice. How will it all work out with so many quarterbacks looking for the job?
"That's a question for (quarterbacks) coach (Brandon) Streeter. I'm struggling, I just have four running backs. It seems like he's got 12 quarterbacks over there that he's going to have to manage," co-offensive coordinator Tony Elliott joked. "One thing about this program is the best man is going to play and obviously you've got to do it in the meeting room and you've got to come out on the practice field and we're going to have scrimmages to assess. If you take advantage of your opportunity, it's going to warrant more reps throughout the spring."
Clemson head coach Dabo Swinney likes Lawrence's potential.
"This is the No. 1 one player in the country and we've got good players here. They all understand competition. Trevor committed last December and has been one of the most low maintenance recruits I've ever been around," Swinney said. "Competition is going to bring out the best in everyone and at the end of the day, somebody's going to win the job. You're going to have starters, you're going to have backups. And that's life. That's the way it is. So we have a process in place. You go through it and let the chips fall where they may."
Streeter echoed Swinney's "low maintenance" comments, saying that Lawrence has the kind of character that coaches look for."
"It was incredible and I told him that several times. When you have such a high-profile guy and you recruit those guys you are worried because they are getting pulled in different directions," Streeter said. "Trevor was getting pulled from all over the country, but he stuck to his guns and always asked the right questions and always did the right things we asked him to do throughout the recruiting process.
"It all comes down to communication. He communicated so well with me, and it made it so much cleaner. Usually, when those guys are that clean it means they are focused and ready to go, and that is what I am excited about. I know he has a million people pulling at him but he has those blinders where he can just put them on and go to work. That is what I see in him. It was the same way with Deshaun."
Can he win the job?
"He will get an opportunity right away," Streeter said. "We preach from day one that you have to earn it and he has to earn it, but he has a special talent. But I have a lot of guys who have a special talent. I've told him to come in and just be who he is."

Upgrade Your Account
Unlock premium boards and exclusive features (e.g. ad-free) by upgrading your account today.
Upgrade Now