---
| | |
| --- | --- |
| Wednesday, April 30, 2014 3:37 PM | |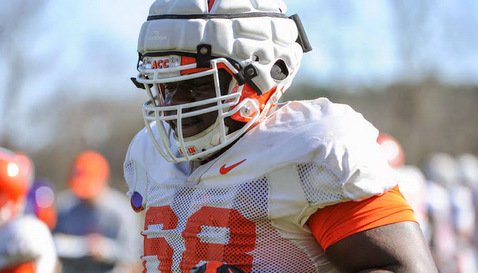 CLEMSON – No more chances.
Offensive lineman David Beasley
David Beasley
RS Sr. Offensive Guard
#68 6-4, 315
Columbus, GA
View Full Profile 's Clemson career has been marked by ups and downs, and the Columbus (Ga.) product is one of four Clemson players who will not travel with the team for the Tigers' August 30 season-opener in Athens due to a violation of team rules.
Despite playing well last season – he had 13 knockdown blocks in 391 snaps over 12 games in 2013 – he was listed as the second-team left guard heading into the spring because of the punishment. Despite the punishment and the slide on the depth chart, he didn't let his problems get in the way of his focus and he received the bulk of the first-team reps at left guard late in the spring.
Beasley told the media late in the spring that he understands why he was listed as second string.
"I think I was second team because I got in trouble," he said. "But I moved back up because I was showing I was physical. Once I did that I moved back up."
Beasley was asked how much it hurt not being able to play in his home state of Georgia for the season opener, and he grimaced during his replay.
"It hurts a lot. I really want to play Georgia," Beasley said. "I was lucky enough to play them once. I just wish I could play them again. I wish it could happen somehow. Maybe a miracle will happen."
One reporter jokingly asked Beasley if he will approach Clemson head coach Dabo Swinney

Dabo Swinney
Head Coach
View Full Profile to request that the punishment be lifted, and Beasley smiled and answered, "Nah, I would never walk up to him and do that."
Beasley said he feels like he has proven he deserves the chance to play, but understands there is still work to do.
"I feel like I've proven a lot since I've been here," he said. "Just how many games I've played and how long I've been playing. Just look at my win-loss record. But I do need to work harder and keep pushing myself harder and harder. Sometimes I think I get complacent. I feel like I need to push myself more than anything – even more than the coaches pushing me."
Towards the end of the spring, Beasley said he was weighing in at 340 pounds, close to the heaviest he has been since he arrived on campus. His goal for the summer? Get down to 320 pounds, and he said that the best way to accomplish his goal – and to keep the weight off – was to, "Back away from the buffet."
"I want to be at 320. I move better and they say it's a big difference when I'm at 320," he said. "I believe I play better at 320."
Despite the fact that most players in Chad Morris

Chad Morris
Offensive Coordinator / QBs
View Full Profile ' offense lose weight during the season – the grind of the practices and the games and the heat all cause weight loss – Beasley said he finds it difficult to keep weight off.
"Well, Friday night you go to the hotel, it's dinner, and it's an all-you-can-eat (buffet), you get a big slush, popcorn and then after coach Swinney leaves, we have a snack before we go to bed, and that might be Chick-fil-A nuggets. It's hard to say no. I've just got to get away from the meal table."
He then said that he thinks he also needs to add consistency to his repertoire.
"I'm very physical, but I need to be more consistent and work on my steps," he said. "When I get tired, I get wild and do my own thing."
He also said he understands this is his last chance to prove himself, and he wants to make the most of it.
"I want to commit myself just a little bit more this season," he said. "I start off at the beginning of the season working so good, and then I put on the extra weight and slow down. This is my last year. I don't have any more chances."