| | |
| --- | --- |
| No lack of swagger: Defense fuels rout of Appalachian St. | |
---
| | |
| --- | --- |
| Saturday, September 12, 2015 7:05 PM | |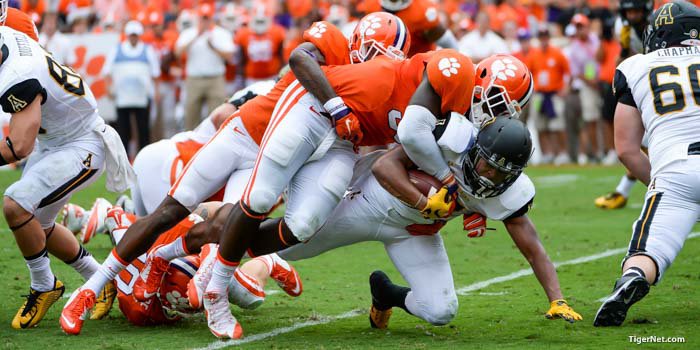 CLEMSON – Seven players from Clemson's top-ranked defense were on NFL rosters heading into that league's first weekend, but don't think the swagger is gone. The swagger is alive and well.
A week after thwarting outmanned Wofford in the season opener, Clemson's first-team unit shut down Appalachian St. for the entire first half and part of the third quarter before giving way to a bevy of reserves. The "new" faces include defensive tackle Carlos Watkins

Carlos Watkins
RS Jr. Defensive Tackle
#94 6-3, 296
Mooresboro, NC
View Full Profile . Watkins scored Clemson's first touchdown Saturday on an interception that he returned 15 yards for the score.
Appalachian St. didn't dent the 100-yard total offense mark until midway through the third quarter, and that came against a lot of second and third-team players, but the game was in doubt early in the second quarter when safety Jayron Kearse

Jayron Kearse
Jr. Safety
#1 6-4, 224
Fort Myers, FL
View Full Profile intercepted App St. quarterback Taylor Lamb in the endzone to thwart a Mountaineer scoring drive.
Kearse said the Tigers proved that all three levels of the defense can defend the pass, and he took particular delight in Watkins getting the team's first touchdown.
"We had a pick on every level - a pick in the back end, the linebackers and the front four. That's real big for us," Kearse said after the game. "That (Watkins' TD) really sparked the team up, and he got us in the endzone when we weren't getting any points. The offense couldn't get in the endzone in the first quarter, so him getting in the endzone, that gave us the energy we needed."
Kearse then said he was tired of hearing that Clemson's defense has question marks.
"We felt like we didn't have any questions to answer. We were going to come out and play hard no matter who we're playing against, whether it's Alabama, Florida State or LSU," Kearse said. "It doesn't matter. We're going to play hard no matter what. We didn't have any questions to answer. We had a great game last week on the defensive side of the ball, and we did the same thing this week. We came in with preparation and we were going to do the same thing this week.
"We definitely feel great about the way everybody is coming out and playing, so that's showing that there isn't a drop-off. Everybody thinks we lost a lot. We lost a lot, but we also gained a lot. We're going to have confidence going in next week. We could've lost this week, and we are still going to have confidence going in this week. We have to go out there and play with that edge and that chip on our shoulder."
Defensive end Shaq Lawson

Shaq Lawson
Jr. Defensive End
#90 6-3, 272
Central, SC
View Full Profile had three of Clemson's nine tackles-for-loss, and he said the 2015 defense has played and will continue to play with an edge. However, he was more focused on next Thursday's game against Louisville than dwelling on the win over the Mountaineers.
"We've been taking that edge throughout the season so far. We've just got to continue to get better and get our depth better with that second group coming in," Lawson said. We're thinking about Louisville right now. We'll come in here and watch some tape before we leave, and get focused on them because it's a short week and a short turn around. We just have to come in here every day and work hard, and come in extra for film before practice. We feel like that will pay off for us coming in here early tomorrow to watch film and get a head start before practice."
"We still have to continue to get better coming into next week. Louisville is a dangerous team, and we're going up there. You're the road team, and we know it will be hype because they lost their first two games. We just have to go up there and be ready."
Lawson said he has told anyone that will listen that this year's defense has the potential to do big things.
"No drop-off. I said that before camp. There isn't a drop-off in this team," Lawson said. "We feel like we have better players than we did last year. We were part of that crew, too, last year. We helped out on that number one defense. I feel like all of our players have different styles and bring something different to the table."