---
| | |
| --- | --- |
| Wednesday, December 18, 2013 8:15 AM | |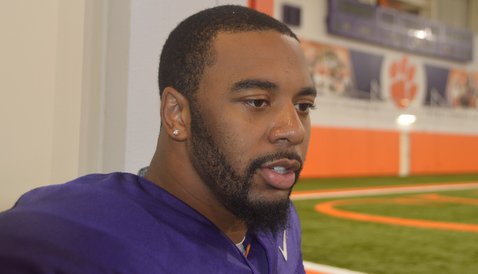 CLEMSON – No regrets.
Clemson quarterback Tajh Boyd

Tajh Boyd
RS Sr. Quarterback
#10 6-1, 225
Hampton, VA
View Full Profile told me earlier this week that he has no regrets about coming back for his senior season, and with the Tigers facing Ohio St. in the Orange Bowl in a few weeks, he has no regrets about choosing Clemson over the Buckeyes during his recruitment and taking a chance on a young head coach named Dabo Swinney

Dabo Swinney
Head Coach
View Full Profile .
Following Clemson's thrilling Chick-fil-A Bowl win over LSU last season, Boyd's NFL stock was high and many thought that he might could go anywhere from the second to the fourth rounds if he decided to forego his senior season and declare for the NFL Draft. Boyd said he went out and played that game with abandon, knowing that it might be his last time wearing a Clemson uniform, and NFL scouts were high on the Virginia native.
Somewhere in a 10-day span between the end of that game and early January, however, Boyd changed his mind and announced he would return for his season, hoping to improve his draft stock, win an ACC Championship and contend for a national title.
The Tigers finished the season 10-2 and Boyd has set almost every conceivable record along the way, but it's safe to say his draft stock hasn't improved and most of the team's goals weren't accomplished. However, he still has no regrets, even if he might have cost himself money.
"No, not at all. Just because of the simple fact that maybe I did lose some money and maybe I didn't. Maybe I can go out there and still earn a first round grade," Boyd said after Monday's practice. "One of the biggest things in life that you don't want to deal with is regret. For me, I will never regret or wonder what could have happened. Leaving this university with unanswered questions as opposed to leaving with things I didn't know, and then I think I made the perfect decision."
Instead, he said he will focus on doing everything he can to impress NFL scouts with the time he has remaining.
"I think everything at this point in the process is going to affect how high I go and just their impressions of me," he said. "Obviously, you will have the Senior Day and Pro Day, but this is about me wanting to end on a higher note. Playing on this stage, in this venue, playing in a BCS Bowl two out of three years is awesome in itself, but I need to play well."
Standing in his way is an Ohio St. program that recruited Boyd heavily, and Boyd idolized former Buckeye quarterback Troy Smith.
"It was really close. They finished No. 2 as far as me going there," he said. "It was a little difficult choice because Troy Smith was my favorite player growing up in high school. Just trying to emulate him and be in the same mold. Getting a chance to go up there and visit in high school and just seeing all the pageantry and just the history behind that program is pretty awesome."
Boyd went to Columbus on an official visit during his senior season, and it was on that visit that he met current Ohio St. quarterback Braxton Miller. The two exchanged numbers and have kept in touch since that time.
"I did hear about Braxton on my visit up there. Some of the alums and players were talking about Braxton," he said. "We've developed a great relationship over the years. Called him on Sunday to make sure he's alright from the previous game and told the boys they better be ready."
Boyd said that finishing his collegiate career against Ohio St. means he has come full circle.
"I woke up Sunday morning and kinda replayed some things in my head trying to think of what the scenarios would be (with Ohio State)," said Boyd. "I was excited about the choice because it's different. You play a SEC team or this or that team seems like every week. Getting a chance to play a Big Ten school, just the historical-ness of Ohio State and what they offer – it's going to be real fun."