---
| | |
| --- | --- |
| Wednesday, October 7, 2015 7:01 AM | |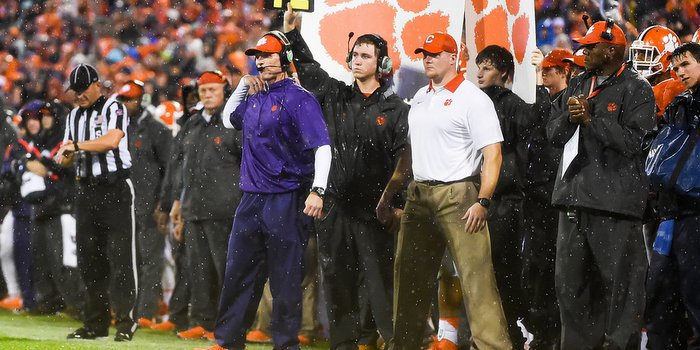 CLEMSON – Clemson's defense was almost perfect through three quarters of Saturday's win over Notre Dame, but if the Tigers are to beat a wounded Georgia Tech team this weekend they will need a full-game effort. Why? Because the margin for error is small.
The Clemson defense held the Irish offense in check for most of Saturday's rain-bogged 24-22 win, but a frantic fourth quarter featured a Notre Dame comeback that allowed the Irish the opportunity to tie the game with just seven seconds remaining. The 2-point conversion failed and Clemson escaped with the win.
Defensive coordinator Brent Venables

Brent Venables
Def. Coordinator / Linebackers
View Full Profile told the media Tuesday that his defense wasn't tired – they just weren't technically sound.
"We let the wheel route happen because we are staring at the quarterback," Venables said. "There were some disappointing things that allowed them to creep back in the game, but it was an awesome opportunity to teach our guys and coach them up after a win. We just broke down fundamentally and with our discipline. We had guys trying to do too much. Really, that wheel route is the one that opened up Pandora's box and got us on our heels. They hadn't done much all day. There is plenty to correct in the first three quarters as well - they dropped a few balls along the way as well. They're a good football team and they showed us a few things that we need to get better at. It's a good learning opportunity."
This week's challenge is stopping Georgia Tech head coach Paul Johnson's vaunted option attack, and Venables said the Tigers can learn from last month's victory over option-oriented Wofford.
"There are some similarities just in terms of option principles. Structurally, there are a few things that are the same and a number of things that are different," he said. "Just from the discipline that it requires and the pad level and the ability to stay on your feet. You have to play with disciplined eyes and really playing an option-responsible technique. Obviously, there is a lot of carryover, and that was just a few weeks ago. I think after being out there last night our guys had a certain level of comfort, if you will."
He then said that Saturday's margin for error will be smaller than it was against the Irish.
"This style of offense because you recognize that the margin for error isn't much at all," he said. "On any particular play when a guy loses his footing or he's slightly out leveraged or slows down on a cut block or stares at the wrong thing, it could be six points. They're really good at exploiting discipline issues and technique issues, where you can get away with a lot of that against other schemes. It's a lot of stress mentally and physically for both coaches and players."
Clemson has done well against Georgia Tech in the Venables area, but he said that he can't rely on his earlier successes if they want to win this week.
"I think you always have to evolve and continue to improvise and try to continue to put your players in a more advantageous position - recognize weaknesses or flaws or areas that you didn't do so well and why you didn't and ways you can be better," he said. "Every year is a little bit different that way, and I think that would apply to most opponents that you play year to year."
Tech's offense runs through dynamic quarterback Justin Thomas.
"Terrific player. Everything goes through him. He's dynamic as both a runner and thrower," Venables said. "Great competitor. Tremendous speed. Makes good decisions. You can't say enough good things about him. He's a terrific player. It's instinctual - the feel of the game, the feel of where the defender is and what a defense is doing and whether to give it or whether to pull it. It sounds easy enough, but sometimes it isn't what it appears to be, and from a feel standpoint he has a unique instinctual skillset. He's got the speed to go along with it and he's got a cannon of an arm and can make a ton of throws."