---
| | |
| --- | --- |
| Sunday, July 27, 2014 8:40 AM | |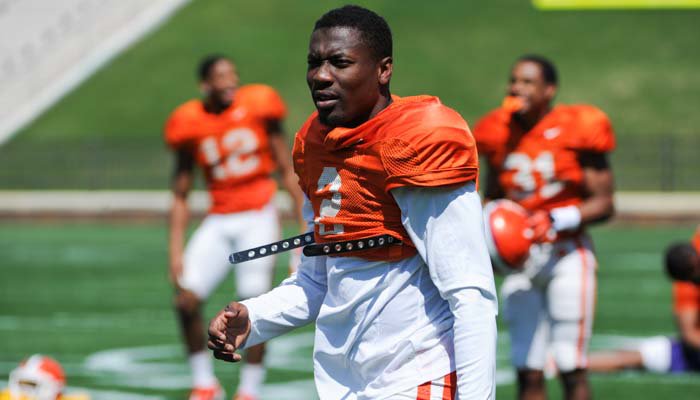 SUNSET, SC – Clemson's secondary has been much-maligned over the past few years, but the members of that group and position coach Mike Reed

Mike Reed
Defensive Backs Coach
View Full Profile hope that the Tigers' defensive backfield is a "No Fly Zone" in 2014.
The online dictionary states that a No Fly Zone is "a designated area over which aircraft may not fly without risk of interception, especially during a conflict." That conflict will be the 12 to 14 games the Tigers will play this season, and Reed hopes that his group has plenty of chances at interceptions.
Photos of the group with that phrase started popping up on social media a few weeks ago, and Reed told TigerNet at head coach Dabo Swinney

Dabo Swinney
Head Coach
View Full Profile 's media golf outing that he is trying to make football fun for a young group of players.
"That is one of those phrases that a lot of defensive backs have come up with," Reed said. "I just adopted it because that's what my kids like. Like I've said, I am a player's coach and I want to make things fun. It shouldn't be all work, and the guys that usually have fun are the guys that have the most success."
The good news for Reed is that he has plenty of talented players to choose from.
"I would say that we have a more talented group back there, some guys that have had an opportunity to sit and watch and learn from just the visual aspect of it. And, the competition level has risen tremendously," Reed said. "It is one of those things where I have a lot of pieces to play with, something I didn't have last year because of the gap in age and experience. These guys athletically can play both sides, and I like the competition level."
One of the bright spots of his group is freshman cornerback MacKensie Alexander

MacKensie Alexander
RS Fr. Defensive Back
#2 5-11, 185
Immokalee, FL
View Full Profile , a former 5-star recruit who missed all of last season because of injury. Reed said that Alexander has something to prove this season, but that Reed was proud of how Alexander handled himself while not playing.
"Mackensie is Mackensie. He came in and had the injury, but he loves the game and it was very hard for him at first," he said. "Mackensie always has something to prove, and that is his M.O. That is nothing new to me. Last season allowed him to see the game in a different light, sitting on the sidelines and watching everybody else participate while he nursed an injury. It was a frustrating time, something that a kid is passionate about and it's something that he loves to do. But it was a learning experience, and it's one of those things where every day is not promised to you. He handled it well, even though there were some frustrating times. But you can say that anytime you are so passionate about something, and he is very passionate."
Reed said that Alexander still has to show that he isn't afraid of reinjuring himself.
"With any injury, the biggest hurdle that you have to overcome is mental," he said. "Because now you have to say, 'Ok, the doctors say I am cleared. I have to trust what the doctors say and then go out there and push it.' With any injury, you are going to have scar tissue and when that scar tissue tears you are going to feel some pain. But he has done a good job of coming in and working hard."
Another player that will be counted on for significant snaps this season is sophomore safety Jayron Kearse

Jayron Kearse
So. Safety
#20 6-4, 205
Fort Myers, FL
View Full Profile , who was thrust into a starting role last season after the injury to Travis Blanks

Travis Blanks
Jr. Defensive Back
#11 6-0, 190
Tallahassee, FL
View Full Profile . Reed said that he is looking for more consistency from Kearse in 2014.
"For me, it's consistency. People like to come up to me and ask, 'Coach, what kind of speed do you like for your defensive backs to have?' Well, it's always good to say that someone runs a 4.3 (40-yard dash)," he said. "But I want a kid that runs a 4.3 10 times instead of one time. At least I know what I am getting every single play. For any of my defensive backs, consistency is the key.
"Because I need guys that I can trust down in and down out. That is what I want is more consistency, and he has to become more consistent for my liking. We will see. Like any young kid, he was thrust into playing earlier than I had expected. Yeah, he had the athletic to ability to play. But coming from high school and going to college, playing against the type of competition we played against, it was very much a mental thing for him. He wasn't used to that and wasn't used to playing 11 and 12 football games."
*Part two of our conversation with Mike Reed will run later.