---
| | |
| --- | --- |
| Tuesday, September 2, 2014 4:47 PM | |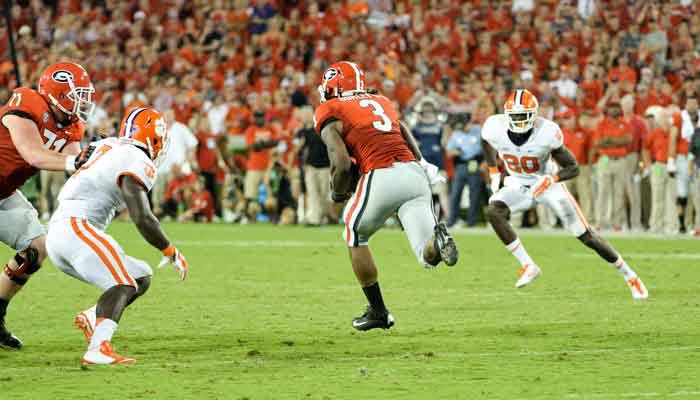 CLEMSON - Most of Brent Venables

Brent Venables
Def. Coordinator / Linebackers
View Full Profile ' Tuesday meeting with the media was spent answering questions about the failures and shortcomings of his defensive unit during the fourth quarter of Saturday's game at Georgia.
His answers were very blunt, and it was evident that Venables was more than a little angry about the way his players finished the game.
"You can use a lot of different adjectives or ways to describe it, but you're pissed," Venables said Tuesday afternoon in the WestZone. "You had a team - from a defensive standpoint - you want the game on the line and you want the opportunity to win the game. We had every opportunity to do that and didn't do it. Georgia was the better team in the fourth quarter and they wanted it a little bit more. They out-executed us and out-played us when the game was on the line. It's water under the bridge now. Hopefully, we've learned our lesson as a team - all of us. As coaches, it's our jobs to teach them, guide them and put them in a position to be successful and obviously we didn't do that."
Venables said that he liked what he saw from his team through the first three quarters.
"We showed incredible fight the first two-and-a-half or three quarters," Venables said. "Not so much, the last part of the game. We didn't finish. I know we're good enough to have a very good defense. We didn't show that, though, on Saturday. The game is 60 minutes long."
However, with the game on the line, his defense didn't take on his excitement and have the toughness or hard-nosed mentality that it took to win a game on the road.
"I was excited. It was three-point game on the road in a tough, hostile environment," he said. "It felt like you had every opportunity to win the game based on how the game was going. They're going to make some plays. By and large, up through the start of the fourth quarter - everybody is up on their feet, got their four fingers up. Let's get excited. This is what we've been talking about. We talked about that exact setup during the day and during meetings. Here comes the fourth quarter, no scoreboard, this is going to be about will. This is going to be about toughness. We didn't match what they had. Obviously, that's disappointing."
It's a hard lesson to learn for 18 to 21 year olds, but Venables is hoping that his players as well as his fellow coaches learn from the mistakes they made between the hedges.
"I know there are a lot of guys hurt because of that," he said. "You can't sit here and dwell on it and feel sorry for yourselves. You've got to get up off the ground and go to work. Hopefully we've learned our lessons from. I believe we have. I have no reservations whatsoever about our guys, their character, their toughness. I know they care. We've got great leadership. We lost a game. We failed. It's tough and it hurts because there's a lot of investment. Our guys have worked incredibly hard. I know what the resolve is. I really do. It doesn't mean you're always going to bat a thousand just because you're a great hitter and you're a hall of fame guy.
"We like to blame and there's a lot of blame to go around starting with us as coaches, but sometimes you forget to give the other team some credit. I hate to do it. I don't like to give them credit, but I also have respect for the game and recognize execution and performance. It hits you right between the eyes when it's on your side of the ball and really what you hope to stand for - having the physical toughness, they're going to run at you, spot the ball, let's go, get on the line. We failed. That's the tough, humbling part of it."
Venables will quickly figure out if his team learned a lesson when they line up against South Carolina State this Saturday in Death Valley.
"This is a game that you can't cheat the game," he said. "You've got to have great respect for the game. Regardless of the opponent, there's a particular mindset and attitude and physicalness that it requires. If you're off your game, if you've got your guard down, if you don't have a great sense of desperation and respect for your opponent and for the game itself, you'll get exposed. Whether it's Georgia between the hedges or its South Carolina State. That's always been our mindset and our mantra. It doesn't mean we always meet that standard, but that's how we talk and coach and teach and try to nourish that type of the mindset."
Other notes
On missed tackles
"Those last 15 plays, we had 13 missed tackles in the last 16 minutes. Positioning was poor. Aggression wasn't what it needed to be across the board. Having that sense of desperation when the game is on the line and you have an opportunity to win it - those things are poor."
On Corey Crawford

Corey Crawford
Sr. Defensive End
#93 6-5, 276
Columbus, GA
View Full Profile
"Corey had an excellent fall camp. He paid a big price for bad choices but he's been paying a price since a long time ago. He had an excellent fall camp. He could've taken the low road and felt sorry for himself knowing that he wasn't playing. That's not what he chose to do. He had the right mindset. He felt bad for his teammates that he left them high and dry."