| | |
| --- | --- |
| No Diet Cokes or Slim Jims for Swinney this week | |
---
| | |
| --- | --- |
| Tuesday, December 1, 2015 1:51 PM | |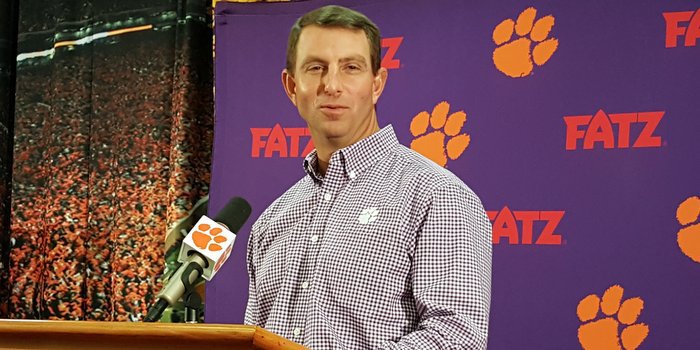 CLEMSON – No Slim Jims and Diet Cokes for Clemson head coach Dabo Swinney this week.
The top-ranked Tigers take on North Carolina in the ACC Championship Game this weekend in Charlotte, and instead of being out on the recruiting trail the Clemson coaches are having a normal week of practice. That means no snacks for Swinney.
"Believe it or not I am really happy to see y'all today. I mean I really am because this means we are in the championship," Swinney said during his Tuesday press conference. "Otherwise I would be on the road eating a Chick-o-stick and a Slim Jim drinking a Diet Coke riding in a car with one of the coaches recruiting, going school to school or home to home. When you are having a press conference this time of year that means you have had a heck of a year. It's awesome to be a part of the championship.
"It's crazy for me to even wrap my mind around my 100th game. That's pretty neat. That's pretty neat. It really is. It's not one of those things you can control or predict. A lot of people's 100th game is against is against East Toboga Community College and it is what it is. But to be in the ACC Championship game with your 100th, it's special regardless, but for it to be such meaningful game is awesome.
"I'm proud of our team. I'm proud of our staff for just an incredible year. What a great year it is has been. It has been special in every regard. To finish 12-0 with our regular season, it obviously is the first time it has happened in 34 years. We are going to try to not wait that long to do it again. I hope it will not be 34 years before we have an undefeated season around here again. it's a privilege to compete for the title. North Carolina is impressive."
Swinney said that North Carolina (11-1) presents a unique challenge.
"North Carolina is an impressive, impressive team. This is a complete football team. That's why they're the Coastal Champion. This a great matchup," he said. "Their offense, they're all back. They've got good depth. There really isn't a weakness. They have a dynamic quarterback who can run and throw, they're good up front, they've got speed and skill all over the field, so it's a complete offense. No question about it. They've got some playmakers. They scored 35 points on us last year. That No. 13 is as fast a guy as we've seen all year. He can fly. He caught one over Mackensie Alexander in the end zone a year ago.
"The biggest difference for them is the defense. Coach Gene Chizik, also a finalist for the Broyles Award, has done an excellent job. They have an excellent scheme. They have created a ton of turnovers and have not allowed as many big plays. They're very confident with their press technique outside. They're very sound fundamentally in what they're doing. Just so impressive. Special teams-wise, that No. 3 is dangerous. He can change a game with one punt return. They've got T.J. Logan back there on kick returns as well. Again, this is a complete team. This is great for the ACC to have a matchup like this. I'm just looking forward to it and looking forward to competing our butts off for the title. We're four quarters away from being the ACC champion."
The last time these two programs met with as much on the line was in 1981, when second-ranked Clemson traveled to Chapel Hill and defeated eighth-ranked UNC 10-8.
"I would say that there's probably going to be some scoring in this game. Ten to eight, I doubt it. If it's 10-8, then we all missed on that one," Swinney said with a laugh. "I don't know what the projections are, but you've got two of the top scoring offenses in this league - one and two. I think the real key to this game is which defense plays the best and the turnover margin. You give these guys a short field or give Clemson a short field, you're in for a long day. That's just the way it is. We score in the redzone, and unfortunately they do, too. Whichever defense can minimize the big plays and whichever team can win that margin, I think wins this game because both team are well coached. Both teams are well matched in a lot of areas. You've got win you win your matchups. A lot of competitive plays. It's just going to come down to who's better in those matchups."
Swinney said the Tigers will have to tackle and play good defense in order to win.
"We need to tackle. That's really important. N.C. State was in position last week but didn't make some tackles early and got in a hole. That No. 8 is very explosive in space. N.C. State is probably sick because they didn't give themselves a chance because of missed tackles. They just didn't make plays. We always want a fast start. We want to play four quarters. That's the emphasis for us this week. Last year we did some great things against them defensively. We were disruptive up front, played good press-man, did a great job with our zone coverage, a lot of good things, but we did not play four quarters. And that's what it will take to play these guys."
OTHER NOTES
"He missed a day or so of practice last week but he was good for the game and will be ready to roll Saturday."
Concern over turnovers
"It's a huge concern but the good news is we're 12-0. We've won despite not playing our best. Look across the country and teams that have lost the turnover margin rarely win. We've lost it six times and we've won six times. I don't recommend that (laughing). I don't like losing the turnover margin. Never again in my coaching career will we ever go 12-0 losing the turnover margin six times. It's just unheard of. The positive, though, is that we do not have to play perfect to win."
The ACC
"You have two top 10 teams. I don't know that we've had that. Iowa and Michigan State are top 10 right now. This team has won 15 in a row and another who has won 11 in a row. We're going against each other and I think it's just a great matchup. A lot of great individual players participating in this game. Our league is strong. All you have to do is look at the results."
Adjusting the practice schedule
"We've tried to be smart with our guys and how we prepare. Our training and strength staff, those things are a factor. This time of year do I really need to see Ben Boulware tackle Wayne Gallman one more time in our inside period? Right now, this dog will hunt. I know that. It's about getting them healthy and having players focused on fundamentals. We have a lot of matchups we have to win on Saturday. We've always been a team that goes good on good twice a week Tuesdays and Wednesdays. Over the last two or three weeks we've tried to be smart when we've gone competitive against each other. Because again, it is a long season."
"Look at any championship team and most have a great quarterback and a great leader. He's special. It's a huge advantage when you have the best player in the nation. It's an advantage for the Patriots. They've got Tom Brady. That's why you want to recruit well and then develop your guys. They've got the same thing too in No. 12. That guy is the second-leading rusher on their team just like Deshaun is for us. That guy has all kind of records for them. He's the same kind of guy. He's a great competitor and they've got an excellent cast around him."
Still approaching this game the same?
"This is championship football. It truly is the biggest game of the year. I say that every week. It is the biggest game of the year. We have no practice next Monday. This is it. We've played 48 quarters and we're flawless, undefeated and we're down to four quarters. The same things that won those games for us can win this game for us. We'll dance with who brought us here. When we roll up to Charlotte, it is a championship environment. It's awesome. Just awesome. It's our third time in that game in my seven years and it's special. It's a privilege to be a part of it. This time last year I'm not happy that we're not practicing and not having a press conference. There are just two teams in the conference practicing right now and we're one of them. So that's a good spot to be in."
Offensive line rotation to change?
"No, because they're playing well. That's why they're playing. Taylor Hearn and Maverick Morris have been playing well. Tyrone Crowder road-graded that guy the other day on the goal line. Jake Fruhmorgen, Ryan Norton, they've played great. I think we're going to be better on the offensive line next year. We've never had five guys on the offensive line getting All-ACC. We've got a true freshman left tackle who isn't even shaving yet. The rhetoric this summer was that we were still a year away from being a good team. I'm glad our team didn't buy into that. This offensive line is going to be really good for awhile and I'm real excited about that. Taylor Hearn is going to be incredible. Justin Falcinelli will be good. Crowder, Fruhmorgen, all of them. They're just going to get better."
"You feel good about where you came from and what you have accomplished. Those communities take pride in their people who go off and have success. This community has watched Shaq Lawson since the Rec at Central where my kids grew up playing. It's incredible the maturation and development he has gone through. He was a basketball player not really committed to football. I think he realized he wasn't a point guard so he got more serious about football practice and developed nicely. I love Shaq. He's one of the easiest guys I have ever coached. He's low maintenance, blue collar, loves to play, loves to practice and has great instincts. He's just tough. And it's not just Shaq. We've got numerous players from this area who have played in college and have had success. I think Shaq leads the nation in tackles for loss. I told him when the South Carolina game was over, he needed to be leading the nation in tackles for loss. And he loves stuff like that. He loves challenges."

Tags:
Ryan Norton
,
Shaq Lawson
,
Wayne Gallman
,
Ben Boulware
,
Tyrone Crowder
,
Mackensie Alexander
,
Maverick Morris
,
Deshaun Watson
,
Taylor Hearn
,
Justin Falcinelli
,
Jake Fruhmorgen