| | |
| --- | --- |
| Next man up: Andy Teasdall talks about earning the job at punter | |
---
| | |
| --- | --- |
| Sunday, April 5, 2015 7:01 AM | |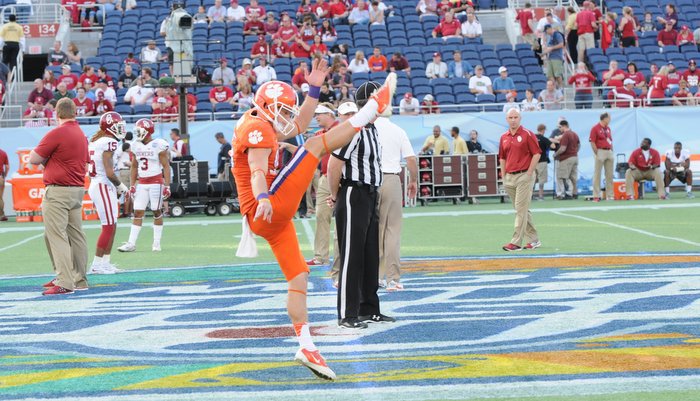 CLEMSON – Andy Teasdall

Andy Teasdall
RS Jr. Punter
#95 5-11, 185
Winston-Salem, NC
View Full Profile came to Clemson with the idea that if athletics didn't work out he loved the campus and the school enough to be happy as just a student. As it turns out, the athletic part is working out pretty well, too.
The redshirt sophomore out of Winston-Salem's R.J. Reynolds High School was a two-sport athlete in high school who knew that he wanted to play in the Atlantic Coast Conference. Teasdall quickly found a home at Clemson and found out just how much loved the school by the lake.
"I came to Clemson because I had a brother who was down here. Every time I visited him I loved it," Teasdall recently told TigerNet. "In high school I was trying to play lacrosse, and I was a better lacrosse player than I was a football player. That didn't work out. I've always `wanted to play ACC sports - to play at that top level - but I came to Clemson with the attitude of 'I love Clemson as a student, and if football works out, that's great. If not, that's great, too. Thankfully it worked out."
Teasdall decided to walk on to Clemson's football team and tried out at multiple positions. He found a home as a specialist despite a lack of formal training with a kicking coach.
"I tried out at receiver, kicker and punter. I've never had a kicking coach but I went to a couple of camps my sophomore and junior years of high school," he said. "But honestly, it's just been grinding day in and day out with all these guys, working with Corbin Jenkins

Corbin Jenkins
Kicker (2012 - 2014)
#32 5-10, 175
Conway, SC
View Full Profile and Ammon Lakip

Ammon Lakip
RS Sr. Punter / Kicker
#36 5-11, 200
Alpharetta, GA
View Full Profile and Bradley Pinion

Bradley Pinion
Punter (2012 - 2014)
#92 6-6, 230
Concord, NC
View Full Profile and Chandler (Catanzaro) and just learning what they do and trying to apply that."
The Tigers have been set at punter the last two seasons, but Pinion decided after the season that he would forego his senior season and enter the NFL Draft. That gave Teasdall the opening he had been looking for.
"We found out that he (Pinion) was going to be leaving right after the semester last year. He told us after the semester and the exams got done," Teasdall said. "He talked to Ammon (Lakip) and Ammon texted me and said, 'Are you ready for next year?' I said, 'What's up?' And then it kind of hit me. I had walked on to this team and I didn't know if I could play at this level until after the Florida St. game last year. I didn't make the traveling squad, but it was after that when I realized I could play at this level."
Teasdall knew right away that he had big shoes to fill – Pinion was the starter at punter and as the kickoff man in 2013 and 2014 and had a 41.1-yard average and 39.2-yard net average on 140 punts in 34 games (25 starts) in his career. He also had 55 punts inside the 20 with only two touchbacks; punted 102 times without a touchback (with 42 inside the 20) before his first touchback in 2014.
"When we were still practicing in Clemson, Coach Swinney took me into his office and told me it [the bowl game against Oklahoma] was a big opportunity for me to show what I can do," Teasdall said. "I had been practicing well and doing things well in practice, but I still didn't expect to get into the game. And then they called my name, and I tried to take advantage of it. It's funny how things work out."
Teasdall had a 43.5 yard average on two punts against Oklahoma in the Russell Athletic Bowl and was quickly anointed as the favorite to win the starting spot heading into the spring.
"I think I've done well. After the hype of the bowl game, I put a little pressure on myself to come out and perform," he said. "That first practice I came out and I was ready and it was a big test for me to show that I could do this. So far this spring, I'm satisfied with what I've done."
Teasdall broke into a big smile when he was asked if he thinks about punting in Death Valley next fall.
"It will be weird. But it will be fun," he said. "We have great fans and a great stadium - I kind of think of it as the Taj Mahal - and it will be fun. I am looking forward to it."