| | |
| --- | --- |
| Next In Line at Wide Receiver U | |
---
| | |
| --- | --- |
| Friday, October 24, 2014 7:01 AM | |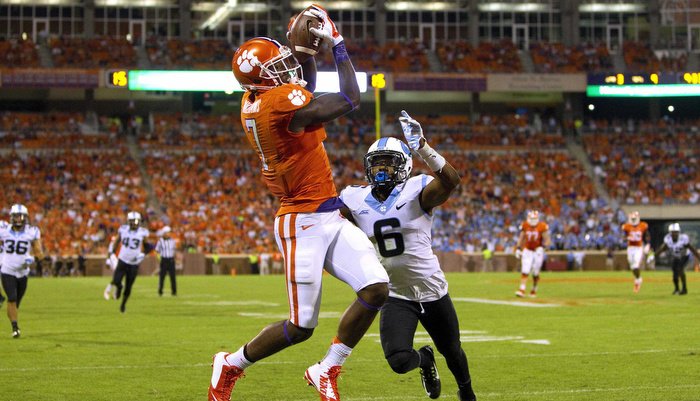 CLEMSON – Is Mike Williams

Mike Williams
So. Wide Receiver
#7 6-5, 208
Vance, SC
View Full Profile the next in line?
Clemson's receivers have drawn praise – and high draft grades – over the last few seasons. Sammy Watkins

Sammy Watkins
Wide Receiver (2011 - 2013)
#2 6-1, 205
Fort Myers, FL
View Full Profile and Nuk Hopkins both drew first round grades, and Martavis Bryant

Martavis Bryant
Wide Receiver (2011 - 2013)
#1 6-5, 200
Calhoun Falls, SC
View Full Profile was a fourth round pick of the Pittsburgh Steelers despite leaving Clemson a year early.
During Monday night's game between Pittsburgh and Houston, Hopkins and Bryant each had big catches in the Steelers' win, and former coach and current analyst Jon Gruden pointed out that Watkins is also from Clemson. He then gushed that he wanted to become the wide receivers coach at Clemson.
The Tigers still have a lot of wide receiver talent on the roster, and if Gruden did turn in his telestrator for a whistle he would have the opportunity to coach the next great receiver in line at Clemson- Mike Williams.
Williams didn't make the freshman splash of Watkins and Hopkins – Watkins was the main option last season, and Bryant was the deep threat. Williams watched and learned, and despite a slow start in August is turning in some impressive numbers.
Williams already has 30 receptions for 671 yards and four scores, good for a 22.37 yards per reception average, a figure that leads the nation among all players with at least 30 receptions.
He told TigerNet earlier this week that he is confident he can step – figuratively – into the big shoes of players like Watkins and Hopkins.
"Just to see Sammy come out on Sunday and get those two scores was exciting," Williams said. "And then on Monday, to see Nuk and Martavis both play on Monday Night Football and they both had great games. For me to be the next guy in line is exciting. Just to hear Jon Gruden say that he sees we have a great group of guys here was good to hear. But I don't think Coach (Jeff) Scott should be nervous."
Williams is not only learning the nuances of how to be a receiver, he's learning how to be a leader to a young but talented group of wideouts.
"We're a young group," he said. "We are trying to grow as a team and get better every week. It's not frustrating at all what's happened the last two weeks because we still were able to win. We are a young group. We're getting there."
However, with the game on the line last week senior quarterback Cole Stoudt

Cole Stoudt
Sr. Quarterback
#18 6-4, 231
Dublin, OH
View Full Profile looked in only one direction, hitting Williams on a 32-yard gain on third down late in the fourth quarter, a play that set up the game-winning touchdown.
"It feels good to know that Cole has the confidence in me to come to me on third down," Williams said. "In practice, I always tell him that if he sees me in a 1-on-1 situation to come to me and that I will make a play for him."
This week's challenge is Syracuse, a team that played a lot of man coverage against the Tigers last season. And got burned. Repeatedly.
"They played a lot of man last year. Hopefully we can take advantage of it," Williams said. "We've got to take advantage of the opportunities they give us. Hopefully we can do that."
If he continues to make plays, Williams said he will gladly step up and be not only the next in line, but "the guy" the Clemson coaches want him to be.
"I can do that. Put it on my shoulders. I can be that guy," he said. "In the spring, the coaches told me they wanted me to be that guy. That is what I am trying to do."