| | |
| --- | --- |
| News and notes from Swinney media golf outing | |
---
| | |
| --- | --- |
| Tuesday, July 15, 2014 12:36 PM | |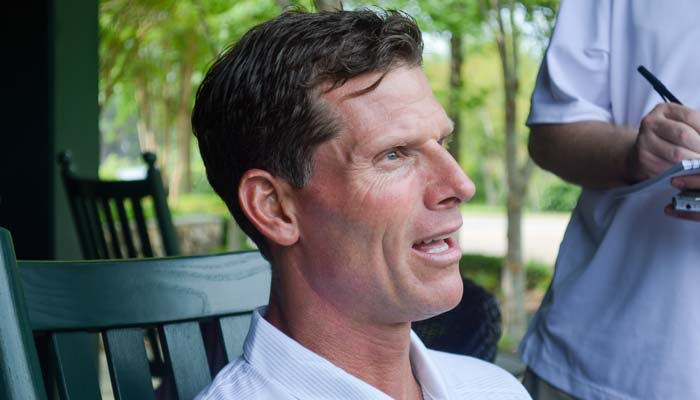 SUNSET – The Clemson media met with many of Clemson's assistant coaches Tuesday morning outside of the clubhouse at The Reserve at Lake Keowee as part of head coach Dabo Swinney

Dabo Swinney
Head Coach
View Full Profile 's annual media golf outing.
Here are some collected news and notes – full stories will follow all week – from the morning interview session.
Tony Elliott

Tony Elliott
Assistant Coach / Running Backs
View Full Profile on Tyshon Dye

Tyshon Dye
RS Fr. Running Back
#23 6-1, 205
Elberton, GA
View Full Profile
"Tyshon should be back by mid-October. Right now, we don't want to push him too hard, too soon. But, I would say that he is at least on schedule, if not ahead of schedule."
Elliott on if freshman Wayne Gallman

Wayne Gallman
RS Fr. Running Back
#9 6-1, 195
Loganville, GA
View Full Profile could start
"It has been Coach Swinney's style in the past to start the guy with the most experience. Now, would we start Wayne Gallman if he won the job in camp? That's a tough question, but if he wins the job I wouldn't have a problem letting him get that first carry at Georgia. He is still a work in progress but had a great spring."
Dan Brooks

Dan Brooks
Assistant Coach / Defensive Line
View Full Profile on facing Georgia
I watched it (last year's Georgia game and film) before spring practice, during spring practice, and since spring practice," Brooks said. "I was watching some yesterday. They are obviously a very good football team. I don't know how many people on our staff have been there, but I've been to Athens many times, coaching at Tennessee for 15 years. It's a tough place to play. It's a very good atmosphere. I know our fans and everybody made it a great atmosphere here and so I'm sure we'll get the same return we go down there."
Dan Brooks on D.J. Reader
D.J. Reader
Jr. Defensive Tackle
#48 6-2, 335
Greensboro, NC
View Full Profile
"I don't really like to single guys out much, but D.J. kind of does. Carlos started early for us last year and then D.J. played some very good ball for us last year," Brooks said of Reader. "In two or three games, he played very well. He's a guy that's where we want him weight wise and he bought into that. He hasn't been involved in baseball and he has made his commitment to football. He's a guy that we're looking for big things from. We all know who he is, but we want him to be what we think he can be."
Dan Brooks on Scott Pagano

Scott Pagano
RS Fr. Defensive Tackle
#56 6-4, 280
Honolulu, HI
View Full Profile
"He got hurt in pre-season. It's one of those injuries that he may have been better off breaking it, because he tore everything up in his ankle," Brooks said of Pagano. "It was a very slow recovery deal. He was frustrated. We were frustrated. Scott wasn't back to even practice until the eighth or ninth week. Obviously, by that time you aren't going to play a guy because you've got a rotation and you've got the players. You don't want to waste a guy's year. Even during spring practice, Scott was still getting back to where he was a year ago right now. I'm telling you and I'm telling them in the staff meeting that I don't know how we're keeping this guy off the field. He plays hard. He's got a great heart. He doesn't like to lose. I see a guy who has worked himself into the mix."
Dan Brooks on Carlos Watkins

Carlos Watkins
RS So. Defensive Tackle
#94 6-3, 300
Mooresboro, NC
View Full Profile
"I think Carlos is getting back close to 100-percent. That was a very unfortunate deal," Brooks said of Watkins. "He played very well during his time up in Raleigh. It's been very much a work in progress to get him back. At times, he felt like he was but I didn't and we talked about that. I took film of him against Georgia and North Carolina State and said, 'Hey, here is what you were, now look at this spring practice film. It's just not quite back.' Coach Batson feels like he's had a really good summer."
Jeff Scott

Jeff Scott
Asst. Coach (WR) / Recruiting Coord.
View Full Profile on Charone Peake

Charone Peake
RS Jr. Wide Receiver
#19 6-3, 200
Moore, SC
View Full Profile
"I've been very pleased with what I've heard. Obviously, we aren't allowed to be out there when they're running around in drills. He's been working extremely hard, in talking with our strength coaches and trainers. They are pleased with his progress. Charone has had a fire to get back and he knows that he has the opportunity to carry the torch for the wide recivers. We haven't gotten back to have our meetings to get an update on his progress, but from everything I'm hearing he's doing everything in the weight room and on the field. I expect early on in fall camp for him to be released to be full go."
Brent Venables

Brent Venables
Def. Coordinator / Linebackers
View Full Profile on people doubting this team
"Apparently, the people on the outside don't think a lot about us as a team. A lot of people don't think that we're a Top 25 team and that's fine, but to me that's an indictment on that they think we lost two guys ( Tajh Boyd

Tajh Boyd
Quarterback (2009 - 2013)
#10 6-1, 225
Hampton, VA
View Full Profile and Sammy Watkins

Sammy Watkins
Wide Receiver (2011 - 2013)
#2 6-1, 205
Fort Myers, FL
View Full Profile ) and that's our whole team. They are questioning everybody else, and they don't think much of them. Within our own conference, they are talking about our secondary. We know that we have a lot of talent back there, but they are way on down the totem pole.
"We are [being questioned] as a program, as well, apparently. We have a lot to prove and we have to earn a lot of respect. If you're a good solid program, you are in the Top 15 or Top 20 no matter what, but a lot of people don't have us there and that's fine. We have to go out there and earn it. Whether you're there and in that group or not, you still have to go earn it to either validate it or prove that we belong."
"The guys up front, a year ago there weren't a lot of household names. More people know who they are, but to me we still have a lot to prove," Venables said. "I know this, in this network of people holding cameras and microphones and us as coaches, we feel like we know what we we're capable of and we know our guys and we have a chance to be pretty good, if not great depending on how hard our guys work and how are leadership comes along and how our chemistry comes along."
Jeff Scott on Germone Hopper

Germone Hopper
RS So. Wide Receiver
#5 6-0, 170
Charlotte, NC
View Full Profile
"He has had some bright spots since he has been here. The biggest thing for him is consistency. Coach Swinney does a great job in the culture that we have at Clemson – the high standards at accountability. I really think that Germone sitting out the spring is a major point in his career at Clemson. It is very similar to Martavis [Bryant] sitting out the Chick-fil-A Bowl. Martavis had to make a decision after that point. I expect Germone to do the same thing and realize that this was a wakeup call and he's not going to have many more opportunities if he isn't going to do the right thing. From everything I've heard this summer, it has all been very positive. If you see him out there on the field in September then that means he decided to do it the right way.
"When he was suspended, he was suspended from everything in the West End Zone. When we were at the football facility, he was in the academic facility. This summer, he has been back full go."
Mike Reed on Mackensie Alexander
"Mackensie always has something to prove, and that is his M.O. That is nothing new to me. Last season allowed him to see the game in a different light, sitting on the sidelines and watching everybody else participate. He handled it well, even though there were some frustrating times. But you can say that anytime you are so passionate about something, and he is very passionate."

Tags:
Brent Venables
,
Carlos Watkins
,
Charone Peake
,
D.J. Reader
,
Dan Brooks
,
Germone Hopper
,
Jeff Scott
,
Sammy Watkins
,
Scott Pagano
,
Tajh Boyd
,
Tony Elliott
,
Tyshon Dye
,
Wayne Gallman