| | |
| --- | --- |
| New football facility shows Clemson is serious about winning the arms race | |
---
| | |
| --- | --- |
| Saturday, February 7, 2015, 7:01 AM | |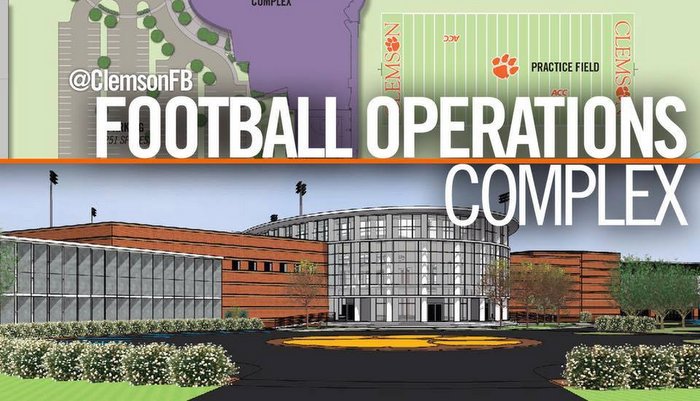 Dabo Swinney

Dabo Swinney
Head Coach
View Full Profile calls "Clemson Google."

Friday, the Clemson finance and facilities committee unanimously approved the concept for a state-of-the-art football operations center connected to the new indoor practice facility, which sits across Perimeter Road Memorial Stadium.

In other words, Clemson is determined to compete in the arms race with the Jones – in this case programs like Alabama and Oregon.

The complex is set to include a locker room, meeting rooms, coaches' offices along with strength and conditioning, sports medicine and a dining area. The new facility will sit beside the indoor practice facility and existing practice fields. The budget for the project is $62 million.

The university hopes to break ground in early 2016, with plans to open the center sometime in spring or summer 2017.

Currently, Clemson's football players have to dress in the locker rooms at Memorial Stadium and take a tram across Perimeter Road, dodging traffic each step of the way. The new facility will allow the team to meet, work out, dress and practice all in the same area. Memorial Stadium will be saved for game day.

The current office space inside Memorial Stadium will be used for athletic department staff - I've heard many will get to move out of the aging Jervey - and football will move its entire operation to the other side of the street.

During Swinney's high school football camp last June, visiting high school coaches and players were in awe of the new plans including rumors of a theme park-style recreation area for the student-athletes. In an age when the wow factor counts for a lot – and it does with impressionable young athletes – the Tigers will have enough wow factor and more to compete on the national stage.

Times are changing at the school, and for the first time in recent memory the academic side and President Jim Clements is working hand-in-hand with the athletic side. Athletic director Dan Radakovich

Dan Radakovich
Director of Athletics
View Full Profile and Swinney are on the same page. The Board of Trustees proved Friday its willing to go the extra mile.
Auburn announced Friday that they were building a new scoreboard in Jordan-Hare Stadium – imagine a high-definition television the size of a football field – and will be able to show it off to prospective athletes during recruiting visits.
The world of college football is in an arms race – fueled by television money and high ticket prices and booster donations – and doesn't appear to be slowing down. If you're just now building an indoor practice facility, you're already behind in the arms race.
Clemson and the rest of the ACC is already at a disadvantage when it comes to money – the lucrative SEC Network is a boon for the schools in that conference – and has to spend its money strategically and "get the most bang for the buck."
It's all about staying ahead of the competition in the arms race.